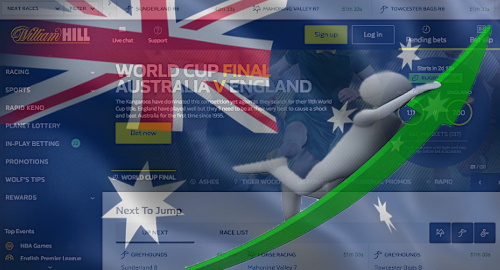 New statistics show that Australian gamblers are spending more money on sports betting but the activity remains a relative sliver of the nation's overall gambling expenditure.
On Tuesday, the Queensland Government Statistician's Office released the 33rd Edition of the Australian Gambling Statistics (AGS) report, which tracks the ups and downs of the entire range of legal gambling products available to Australian punters.
Australians spent a total of A$23.65b (US $17.9b) on gambling in fiscal 2015-16, which works out to nearly $1000 for each one of the 24m-odd Aussies. The bulk of this spending (A$12.1b) came via gaming machines, followed by casinos (A$5.2b), TAB race betting (A$3b), lotteries (A$2.1b) and sports betting (A$921m).
Sports betting's relatively minor importance to the nation's overall gambling market was also on full display in last week's Gambling Activity in Australia report by the Australian Gambling Research Centre.
While sports betting came in at the bottom of the AGS charts, it outpaced all comers in terms of the year-on-year expenditure growth, rising 13% from fiscal 2014-15. That was significantly higher than the overall gambling growth rate of 3.9%, and was driven by a 28.3% rise in fixed-odds sports wagering.
That said, it must again be emphasized that sports betting remains but a pimple on the furry ass of Australia's overall gambling market. Per capita sports betting expenditure was a mere A$49.55, dramatically less than gaming machines (A$650), casinos (A$280), lotteries (A$115) and TAB race betting (A$110).
Regardless, sports betting is the whipping boy du jour for Australian politicians, including South Australia Deputy Premier John Rau, who this week threatened to 'name and shame' online sports betting operators over their alleged failures to ensure underage gamblers can't access betting products.
The Advertiser quoted Rau telling the state parliament that he'd received "disturbing" reports of online bookmakers using "unsolicited advertisements to children and … other vulnerable people" encouraging them to open online betting accounts. Rau said these tactics included "unsolicited bait advertising, cold canvassing and no proof of age or identity being required to commence betting."
Rau declined to cite any sources for his claims, and it isn't clear that he actually has any proof to back up his claims, as he encouraged the alleged recipients of these unsolicited gambling come-ons to report it so that he'd have some actual names to shame.
South Australia has taken the lead on clipping online betting operators' wings, including the imposition of the first online point of consumption tax (POCT) this July. Other states have followed up with their own POCT plans, while the federal government is mulling a national POCT program.
South Australian legislators are currently mulling the findings of an as-yet unreleased review of the state's gambling sector, which was overseen by former judge Tim Anderson. The government is reportedly considering its regulatory options while it awaits word on how the federal government plans to proceed.
Comments