Extreme Live Gaming, part of the NOVOMATIC Group, has further reinforced its provision of content to its clients with the launch of a new 'Reel Roulette game featuring the hugely popular and successful 'Reel King™' brand.
Utilising this patented technology Extreme has combined its unique and innovative interface with the established and heritage Reel King™ brand, to provide its Operators across the globe with a unique and exclusive game.
Launched in November 2017, the Reel King™ Roulette game provides a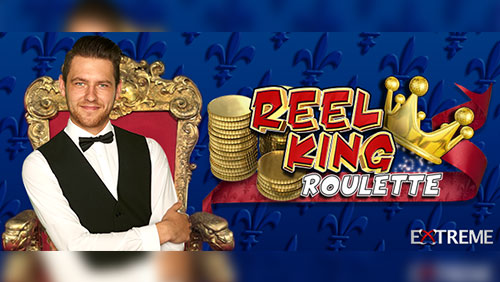 trio of gaming opportunities for players. As well as all the regular roulette bets and options Reel King™
Roulette also features an exclusive fixed-odds side bet option with the 'Reel King™' assets at the heart of the action. In addition those Operators with access to Novomatic content can also launch a mini Reel King™ slot game alongside the main roulette action.
Extreme Live Gaming's founder and CEO Darwyn Palenzuela, commented: "What is so exciting about this feature is the combination of Novomatic established revenue generating assets with engaging Live Dealer product supported by our range of promotional tools. Developing engaging and value-adding content is the heart of what we do at Extreme and Reel King™ Roulette is the latest example of that.
About Extreme Live Gaming:
Extreme Live Gaming became part of the NOVOMATIC Group of Companies in 2014. The company was originally founded in 2013 with the ambitious brief of taking live casino gaming to a whole new dimension of competition and entertainment. Through this acquisition NOVOMATIC UK has set down a bold new marker in the online live casino space with the aim of delivering the ultimate world class gaming experience. The Extreme Live Gaming portable platform delivers a distinctive and intuitive casino experience to players straight from their portable device.
About NOVOMATIC:
The NOVOMATIC Group is one of the biggest international producers and operators of gaming technologies and employs more than 24,000 staff worldwide. Founded by entrepreneur Professor Johann F. Graf in 1980, the Group has locations in more than 50 countries and exports high-tech electronic gaming equipment and solutions to 80 countries. The Group operates more than 235,000 gaming terminals in its some 1,600 plus gaming operations as well as via rental concepts. Through its numerous international subsidiaries the NOVOMATIC Group is fully active in all segments of the gaming industry and thus offers a diversified omni-channel product portfolio to its partners and clients around the world. This product range includes land based gaming products and services, management systems and cash management, online/mobile and social gaming solutions as well as lottery and sports betting solutions together with a range of sophisticated ancillary products and services.
For more information please contact:
Mark Allison
Chief Commercial Officer Extreme Live Gaming Limited
Mobile: +44 7799 410161
mark@extremelivegaming.com
Press Release
press@extremelivegaming.com
Comments