Hard Rock International (HRI) property president Matt Harkness had his hands full these past few months as he tried to scrub away the not-so-good memories left by the shuttered Trump Taj Mahal casino in Atlantic City.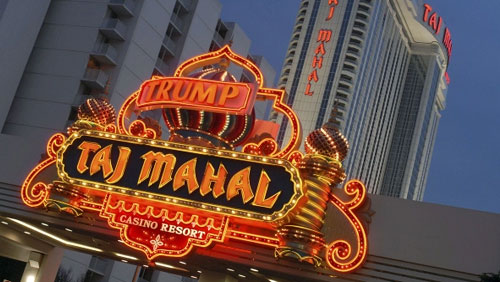 Trump Taj Mahal, which became the symbol of all the things that was wrong with Atlantic City, was sold to HRI by billionaire Carl Icahn in March for $50 million — about 4 cents on the dollar from the $1.2 billion Trump spent to open it in 1990.
Harkness has done his best to erase the visible influence of the man who is now president of the United States.
Philly.com reported that Hard Rock unveiled the casino resort's first new signage at the work site on Tuesday.
Present during the simple ceremony were investment partners in the Hard Rock project, Joe Jingoli Jr., CEO of Joseph Jingoli & Sons, which has led redevelopment projects in New Brunswick and Camden, and Jack Morris, CEO and president of Edgewood Properties.
"So this project means a lot to us. … We want to be a part of what we believe will be a new feeling, a new day for Atlantic City," Morris said, according to the news report.
Everything that signified the Taj Mahal is gone, from the fake gold embellishments to the phony Persian Turrets and elephant statues.
The Taj Mahal sign, which surprisingly became a subject of an ownership dispute in court, was the first thing to go after the failed integrated resort closed in October last year.
When the new 2000-room casino hotel opens in summer 2018, it will bear the signature Hard Rock logo and its ubiquitous guitars, and pieces of rock n' roll memorabilia like instruments, clothing, ephemera pertaining to the music industry.
"We're going to have the fun, relaxed vibe that we specialize in at all of our properties … but what you will see here will be like nothing else anyone has seen along the East Coast," Harkness said, according to the news report.
He added that it will bear "absolutely no resemblance to what was there before."
Comments