888Poker Ambassador, Chris Moorman, has won a 26th Online Triple Crown, and now sets his sights on achieving the same feat in the live realm.
Chris Moorman isn't after the money.
"My motivation is always to get the accolades rather than the money," the most prolific online multi-table tournament (MTT) player in the universe told PokerStrategy during a recent interview. 
888Poker must be paying him too much. 
It's sweet to hear Moorman talk about grinding to create a legacy. Typically, you only hear this talk amongst the people who check to see if they have made the Forbes Top Sportsmen List.
But let's make things a little more robust for the lad.
Sometime in the past 24-hours, Moorman won the $55 buy-in, $10,000 Guaranteed Monsoon on the 888Poker Network to record his 26th Online Triple Crown.
26th!
The Online Triple Crown is an accolade created by PocketFives, the online poker forum and rankings site, and methinks they may have to make it a little tougher.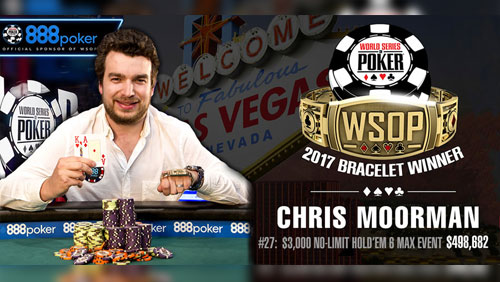 According to the flagship rankings site, a player must win three different tournaments on three different poker networks during a seven-day window.
Each tournament must have at least a $10,000 Guarantee, contain a minimum of 100 players, and have a buy-in of a cent or more. Satellite's don't count.
I don't know about you, but I'm more likely to see a spacecraft land than to achieve something like that, but the kingpins of the online poker world are making a fine art of it.
The Online Triple Crown dates back to 2005. Ten players earned the accolade that year including Cliff "JohnnyBax" Josephy, Frank "gator93" Hernandez, and a player known as The Beat – all three won it twice.
Things began getting a little out of control in 2010 when we had 152 Triple Crown achievements. In 2013 it reached an all-time high of 208. So far this year we have had 24.
Top 10 Winners
1. Chris 'moorman1' Moorman – 25
2. Nicolas 'PokerKaiser' Fierro – 21
3. Peter 'Belabbacsi' Traply – 11
4. Kel 'Aces_up4108' Beattie – 10
5. Sam 'TheSquid' Grafton – 10
6. Mickey 'mementori' Petersen – 9
7. Andreas 'R4ndomr4gs' Berggren – 7
8. Aleks 'alexd2' Dimitrov – 7
9. Roman 'Romeopro' Romanovskiy – 7
10. Roman 'MatveichukR' MatveichukR – 7

Speaking to PokerStrategy, Moorman explained how he didn't play online as often these days, instead preferring to pursue the Live Triple Crown. In stark contrast to the online distinction, only seven players have achieved the feat since 2008.
In 2014, Moorman outlasted 534 entrants to win the $1,015,460 first prize, and achieve his first leg of the Triple Crown, when he took down the World Poker Tour (WPT) LA Poker Classic.
Earlier this year, the Essex native won a World Series of Poker (WSOP) bracelet, beating 959 entrants to win a $3,000 No-Limit Hold'em 6-Handed event for $498,682, securing the second leg of the three.
And now Moorman is after a PokerStars Championship.
Or should he focus on a partypoker MILLIONS title?
With partypoker rolling out a 2018 MILLIONS schedule containing over $100 million in guarantees, by the time Moorman wins the live Triple Crown it won't exist, it will be something like the Fab Four.
Either way, something tells me that the 888Poker Ambassador will win his 27th Online Triple Crown way before one of the other two behemoths fall under his spell.
Comments