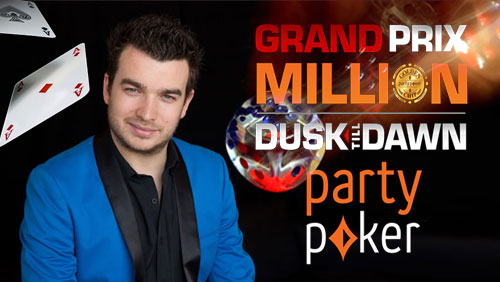 Online legend Chris Moorman bags his 25th online Triple Crown, and first PokerStars Sunday 500 victory, and partypoker's inaugural Grand Prix Million is facing a huge overlay.
Chris Moorman has had a sterling week.
The most successful online tournament grinder of all time bagged his 25th Triple Crown, won his first PokerStars Sunday 500, and appeared in the Top 10 of Ranking Hero's inaugural Hero Score rankings.
According to PocketFives, on May 8 Moormanwon Everest Poker's $77 buy-in iPOPS event for $15,000; a day later he topped the field in 888Poker's 'The Crocodile' for $6,800, and then on May 15 he won a $109 No-Limit Hold'em Turbo event on PokerStars for $2,800. That's nine more than Nicolas 'PokerKaiser' Fierro sitting in second spot with 16.
The success didn't stop there.
On Sunday, Moorman defeated 1,000 players to win the PokerStars Sunday 500. It's the first time he has ever won this event. He picked up $87,400 for the win. Keven Stammen (8th) and Andreas Berggren (9th) also made the final table.
He now has over $12.7m in online earnings, most of which will be spent on his wedding this summer.
Oi Oi won the @PokerStars Sunday 500 outright with no deals

— Chris Moorman (@Moorman1) May 18, 2015
Moorman's success has made him one of poker's true stars. This week Ranking Hero's community recognized that fact when he was voted ninth in the inaugural Hero Score rankings: a ranking system catering for poker prestige, skill and influence. Moorman was one of only two players in the Top 10 that weren't from North America. Patrick Bruel from France was ranked sixth, Phil Ivey is at the head of the charts, and interestingly the aforementioned Nicolas Fierro is ranked 20th.
Partypoker Grand Prix Million Facing a Huge Overlay
The UK is a hotbed of poker action at the moment.
After 30 SCOOP events, players from the UK have cashed 4,362 times, made 73 final tables, and won nine events. England is also one of the highest ranked countries on the live poker scene, according to the Global Poker Index (GPI).
One thing is for sure, they love their poker in the UK.
So when Dusk till Dawn (DTD) and partypoker announced plans to host a $100+$20 buy-in $1 Million Guaranteed Grand Prix, one would have expected hands to have been chewed off Walking Dead style.
DTD Owner Rob Yong is currently going apoplectic on the DTD blog as they are currently staring at a shortfall of 2,110 players – that's $211,000 of dead money.
"Never have I had such a lackluster response from players, what have I done wrong to these players?" Yong wrote on his blog.
Although players can choose to participate in the event either live or online, you can only buy-in online through your partypoker account. That being said, you can walk into DTD and open up an account and register online.
Yong and his team are urging people to pre-register online so they can make arrangements for staffing. Keeping costs low, as well as making sure they are adequately staffed is important. They have also forked out £35,000 erecting marquees in the hope that the event will sell out.
"I feel like putting my head down the toilet and letting my worst enemy flush it." Wrote Yong.
Let's hope it doesn't come to that.
There are numerous ways to get your hands on any potential dead money. Starting Days are available, both online at partypoker and live at DTD, from now until 10am Sunday morning.
Comments