Lee Davy catches up with Ranking Hero co-founder, Nicolas Levi, to talk about the social media network's latest development: The Hero Score.
Nicolas Levi was one of France's most distinguishable and successful poker players for many years. These days his visits to the felt are sparse. Instead, he spends his time creating the most diverse, innovative and interesting social media platform for poker players on the planet.
Ranking Hero is 18-months old. It's a different beast than the one that first emerged from the mind of Levi and his companions. It's about to evolve once more with the creation of Hero Score Ranking.
I caught up with Levi to talk about Ranking Hero's progression, and learn more about the Hero Score concept, and this is what he had to say.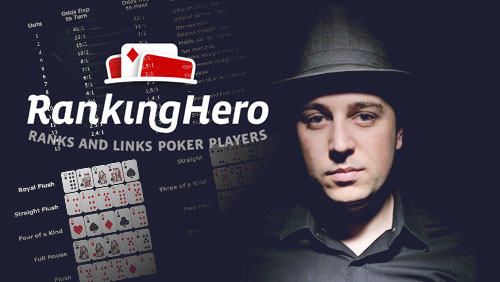 Ranking Hero is now 18-Month's Old…What's Been Happening?
"We arrived with a lot of optimism about bringing a social media network into the industry. We faced an immediate hurdle. We knew people would only come if there were a big community. It was a Catch-22 situation. We played around with various concepts for a while, went back to the drawing boards on several occasions, but in the last few months everything has been amazing. Our traffic is increasing, and we have a greater understanding of our community.
"In the beginning, we wanted to do too many things at once. We made it too complicated. In recent months we have cut things out and simplified things. Now when you come to Ranking Hero its obvious where the value is as a player. With all the sponsors giving things away, the rankings having a very social feeling to it, but I am very excited right now because we are about to launch our biggest project yet, which is our Hero Score."
Tell me about Hero Score.
"All sports have their industry ranking such as the PGA, and they are very good in terms of an aspirational model, but we also think poker is different. It's not just a sport – it's also a game. So we decided to do something completely different and create rankings of poker prestige and influence. If you rank people by the money they have made it doesn't tell the whole story. Also, don't forget, those rankings don't tell you how much they have lost.
"It's like comparing companies by who is spending the most money. WE want to know who is creating the better contribution: where does Apple fit against Tesla, or McDonalds? So we are introducing a ranking system that has an actual meaning: how much does a poker player do for the industry. We think it's needed. A lot of people are complaining about the pros that just care about making money. If that were all you are going to say about them, then why would they want to do anything else?
"The Hero Score has three dimensions. The first is results, because the best poker players naturally get prestige. These results compare live and online, so the likes of Moorman, Kaiser, and Isildur will now be considered. Then there is a dimension for popularity. Suddenly, people, like Dan Bilzerian pops up. You also get some local stars. Patrick Bruel is mega famous in France, and he pops up because he single handedly created the fourth biggest poker market in the world. The third is contribution. Here we look at what someone has done – like a Linked In resume – so you can say that you created a blog; streamed on Twitch, etc., and this gives you a base amount of points. Then the community can up vote for these things. The more people do this, the more relevant the scores get.
"I have looked at the tables. They look pretty solid. It will evolve as the community continues to rank these people. As we reward people for doing meaningful things in the industry, it gives people a reason to do well. We have beta tested this for eight months and it's the most exciting thing we have done."
How important is it to find something different like this?
"I would say it's not just important to be different, it's the whole point. If you come to a mature industry, like poker, then you have to ask why are we here and what are we doing? We want to generate conversation. People talk about results and rankings so we need these to make people feel at home. At Ranking Hero you can see what they have won live and online, where they are posting, Facebook, Twitter, and you can congratulate them when they cash. It's a one-stop shop for every activity in the poker industry for a player. It's a completely different value proposition from everybody else, and it took a tremendous amount of time to build. We couldn't be more different."
What did you think of the names that came out in the initial Hero Score Rankings?
"At first there were a lot of surprises, and this is why it took eight months to release. We wanted a ranking that had some industry heavy weights, some that were not so famous, and some big stars that also contribute to the poker industry, like Dan Bilzerian. It's not like Nadal who just plays tennis, and shoots a few adverts. When you look at prestige and influence in poker, over that last few years, Dan Bilzerian is there.
"Chris Moorman has always been one of the most respected poker players in the online world. He has also had some great live results, but he is also young. By combining both his live and online influence he scores high. We also score lifetime contributions. This is why Doyle Brunson is in the rankings. Sometimes it's difficult to get the balance right between history and rising stars that come and go. We tweaked the algorithm to ensure this was fair. This may need tweaking in the future. It will be what people make of it. If people want someone in the Top 10 they can do something about it."
This is also a big risk…can you imagine Dan Bilzerian as your number one hero?
"If the worse that can happen is a lot of people talk about our rankings then that isn't a bad thing. The way it works, I doubt he would ever be number one. The vast numbers of people who come to Ranking Hero are poker players. We don't have many people who come onto our site who are just interested in guns and naked women. If it becomes a popularity contest then we will tweak the algorithm. Bilzerian scores high on influence, but very low on contribution and results."
Patrick Bruel's inclusion shows you have a strong French influence. What other countries are prevalent on the site?
"We are fairly big in the UK, and growing in eastern Europe and Nevada. A lot depends on the sponsors we get. Because we work with the Aria, Caesars and the Venetian, we get some of their customers finding out about us. Also in Europe we create a lot of promotions. We currently have a package for the Unibet Open, and in the next two weeks we will give out a package for the Battle of Malta. These come from participating on Ranking Hero, playing on a few cheap events, with tons of added money, or go on Ranking Hero and enter certain quizzes and win packages that way."
Any markets you are specifically targeting?
"At the moment we are focusing on growth in the UK and English speaking markets. We are looking at Italy and Asia, but it's opportunity based. We need some partners. I don't speak Chinese for example. People are interested in what we do, and can see how novel it is. The general plan is to take it step by step and not to move too fast."
Global Poker Link and My Poker Pal have risen up since you started. Do you keep an eye on the competition?
"Naturally we keep an eye on other sites, but we stand by what we said to the people who were bigger than us when we launched. Poker is a big community and people should be able to use more than one forum at a time. People who go on Pocket Fives also go on 2+2 for example. We are not competitors to people because we don't close off our traffic. On the first page of Ranking Hero we detail what's happing in poker. We help people find content, and that sends people to other places. I have spoken to both of those organizations on numerous times. We go to companies and approach them to use Ranking Hero. That models works for us. It's too late to fight for your own turf. The poker industry doesn't need that.
"It's all about innovating. The poker social network is a cliché. Social networks are a cliché. If you aren't differentiating from Facebook, then you aren't doing anything. Facebook is my main competitor. It's so hard to get people off Facebook. They don't know who I am, but for me it's about pinching some of that Facebook time. We are Facebook on steroids for poker.
"The Hero Score is not just for the poker greats. It's for every single player in the world. We will have data on you. Come to Ranking Hero, upload some information, and we will create a score for you immediately. Contribution in poker is not just about playing. Anyone in the industry can be scored in the Hero Rankings."
Here is the current Hero Score Top 10
1#
2#
3# Phil Hellmuth
4# Erik Seidel
5# Doyle Brunson
6# Patrick Bruel
7# Antonio Esfandiari
8# Dan Bilzerian
9# Chris Moorman
10# Michael Mizrachi