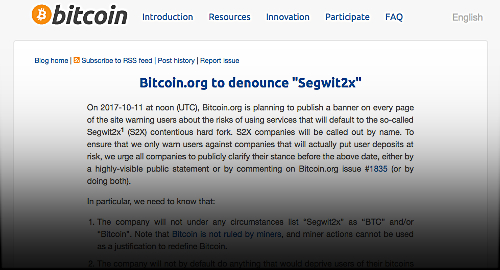 Bitcoin information website Bitcoin.org is coming out with guns blazing against those who have signalled support for SegWit2X, the protocol change embedded in the BTC1 software clients that stemmed from the New York agreement.
On Thursday, the website published a blog post announcing that it will publicly denounce on October 11 supporters of the hard fork scheduled to happen around November 18. In its announcement, Bitcoin.org threatened to place banners on every page of the website "warning the risks of using services that will default" to SegWit2X.
"S2X companies will be called out by name," the post stated. "To ensure that we only warn users against companies that will actually put user deposits at risk, we urge all companies to publicly clarify their stance before the above date, either by a highly-visible public statement or by commenting on Bitcoin.org issue #1835 (or by doing both)."
Specifically, Bitcoin.org demands that such companies will not list the SegWit2X chain as "BTC" or "Bitcoin" nor will they do anything to "deprive users of their coins." This may include crediting BTC deposits only as S2X deposits, although providing access to S2X coins is "acceptable." Lastly, the companies must also continue to provide normal service to non-S2X users.
"We consider it tolerable for companies to support S2X in ways that do not contradict the above three points, such as by supporting both Bitcoin and S2X simultaneously as separate cryptocurrencies," said the Bitcoin.org team.
Fifty companies are included in Bitcoin.org's warning, including Bitcoin.com, bitFlyer, Bitfury, Bitmain, BitPay, Blockchain, BTC.com, BTCC, BTC.TOP, Circle, Coinbase, Digital Currency Group, Genesis Global Trading, Genesis Mining, Jaxx, ViaBTC and Xapo, among others.
The threat of public condemnation has, unsurprisingly, caught the ire of many SegWit2X supporters. BTC1 developer Jeff Garzik said the announcement follows the long line of actions in Bitcoin Core's "culture of reprisals," which also included his dismissal from the group's repository early this year.
Meanwhile, Eric Vorhees, CEO of ShapeShift, which was also included in the list, called Bitcoin.org "an explicit PR tool of Core." In a reddit post, Vorhees said "Using bitcoin.org for political positions… not a good precedent. Don't people here often condemn Roger [Ver] for using bitcoin.com in the same way?"
By declaring that "SegWit2X has nothing to do with SegWit," the people behind Bitcoin.org are, for all intents and purposes, affirming their intent to kill the SegWit2X hard fork. But in doing so, they are also freeing all the miners to publicly say the obvious—that BTC is no longer Bitcoin.
This brings us to the question, which is now the one true Bitcoin? We have distributed server processing system ethereum, which has sent the cryptocurrency space into an initial coin offering (ICO) craze. We also have another group of miners who wants to create yet another version of Bitcoin on October 25, and they're calling it Bitcoin Gold. And then there's Bitcoin Cash, which can be considered the only adult fork as it continues to move forward post the August blockchain split with over 8,000 blocks processed as of September.
Despite being a new coin in the market, Bitcoin Cash has been receiving support from members of the community, particularly those who have been pushing for a blocksize increase. Early Bitcoin investor Roger Ver is a Bitcoin Cash fan himself as he believes it is "much more in line with the original version of Bitcoin."
Bitcoin holds particular appeal for the online gambling industry, which, for years, has been the target of misguided government policies that aim to protect state-owned gambling monopolies and restrict the individual's freedom to decide how to spend their entertainment dollars. However, sending the digital currency now comes with a hefty price tag, partly because the Bitcoin network's transaction capacity is still stuck at 1MB of data per Bitcoin block.
This is the reason why Bitcoin Cash exists and now forging ahead. And the entire gambling industry needs to move across, along with their clients, who may need the help of the operators to transition into the new chain, so that nobody will be left behind on Bitcoin when it inevitably loses relative to Bitcoin Cash value due to the large transaction fees.
Comments