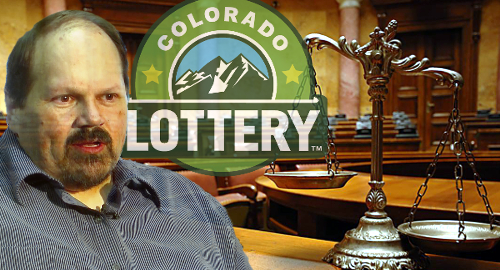 Lottery fraudster Eddie Tipton may be behind bars, but his shenanigans are still giving his former lottery bosses multi-million-dollar headaches.
On Thursday, the Associated Press reported that Boulder resident Amir Massihzadeh had filed a lawsuit against the Colorado Lottery, claiming that the jackpot he scored in 2005 would have been significantly larger were it not for Tipton's illegal antics, which forced Massihzadeh to split a $4.8m jackpot with two other winners.
To refresh your memory, Tipton (pictured) was the former head of computer information security for the Multi-State Lottery Association, a position he used to secretly install software on a lottery mainframe that produced specific sets of winning numbers on specific dates, allowing Tipton and his co-conspirators to collect millions of dollars in illegitimate jackpots in five different states.
Tipton's scheme unraveled when the group tried to claim its largest score, a $16.5m Iowa Lottery Hot Lotto win in 2011. Surveillance footage ultimately revealed Tipton buying the ticket and investigators traced Tipton's connections to multiple lottery wins claimed by his brother Tommy and their mutual friend Robert Rhodes. In August, Eddie Tipton was sentenced to 25 years in prison.
Massihzadeh learned two years ago that one of the other two winners with whom he split the 2005 jackpot was Tommy Tipton, while the other winning ticket was redeemed by a limited liability corporation linked to two lawyers associated with Tommy. The Tipton brothers claim that the lawyers – who've yet to be charged with any crime – somehow obtained the winning numbers from the brothers and played these numbers without the Tiptons' knowledge.
Massihzadeh assumed the Colorado Lottery would pay him the full value of the jackpot, but the lawsuit claims the Lottery "has refused to honor its obligation to Mr. Massihzadeh." Massihzadeh originally accepted a lump sum of $800k, which he now believes should be tripled. Throw in 12 years of interest on the unpaid balance, and Massihzadeh says the Lottery owes him another $4m.
The Tiptons have left a trail of similar lawsuits in their wake, including the man who won the Iowa Lottery Hot Lotto jackpot the week after Tipton's bogus 2011 win, and who now maintains that the jackpot would likely have rolled over, thereby entitling him to the whole shebang.
Thousands of other lottery players have joined a class action suit, based on their belief that they've been cheated out of their rightful spoils, a feeling that you'd think they'd be used to by now after years of failing to be struck by lightning.
Comments