The brains behind the successful online poker training site RunItOnce have launched a new Daily Fantasy Sports product called Draftboard.com, and not a new online poker room like people are expecting.
September 2016, Phil Galfond announces to the world his intention to open an online poker room.
The timing was brilliant.
Pissed off grinders had thrust PokerStars into the role of the bad boy and in rides one of the white knights of poker to put things straight.
A year later, Galfond opens a Daily Fantasy Draft (DFS) site.
Wait?
What?
Before you get your knickers in a twist, Galfond hasn't been spending his time refining his Dan Bilzerian look, and creating a DFS site, leaving the online poker room on the back burner.
"I've acted more of a consultant," Galfond wrote in a blog post on the RunItOnce (RIO) online training site.
In that same blog post, Galfond explains that the entire RIO team are nuts about DFS, and spearheaded by his good friend and business partner Dan Quinn; they believed it was time to get into what Galfond described as a "fiercely competitive industry."
Entering a fiercely competitive industry is going to leave most startups with ribs poking through their skin, but Galfond believes his team are coming into the game with something different.
Introducing Draftboard.com
Draftboard.com intends to focus on the NFL DFS market with NBA beginning when the NBA begins.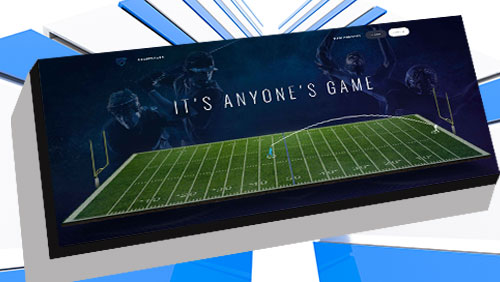 Like Sam Cooke, I don't know much about history, biology, or DFS, but reading between Galfond's lines it seems the DFS industry suffers in the same way as the online poker industry.
"The structure for DFS competition got set up in a way that would scorch the ecosystem," wrote Galfond. 
Quinn and his team will plant two Jack and the Beanstalk-type beans in that scorched earth.
The one that's sure to grow the quickest is Draftboard Live. 
I used to play Football Manager on my PC when I was a kid. When it came to game time, you watched a screen, fingers crossed, waiting for the name of one of your players to turn up in the goals scored column. Over the years, Football Manager evolved, and instead of watching names, you got to look at the game.
It's like comparing a fishbowl to the aquarium at the Atlantis Resort in the Bahamas.
The DFS world is a 2005 version of Football Manager, and Draftboard aims to revolutionise that by allowing you to see your players in action on a single field so you can sweat each move.
Check out this review at Legal Sports Report to see the animation in action.
The second system levels out the playing field by limiting professional DFS players' opportunity to continually pick on the weaker players thus sending them to a different hobby such as windmill watching or rainbow chasing.
The new system, called FairMatch, separates low and high stakes lobbies, introduces a random opponent selection process, and provides an innovative multi-entry system.
"Perhaps I'm biased, but I think they've built something beautiful. I'm very, very proud and I feel lucky that I get to be a part of it," Wrote Galfond. "We focus on what we believe is most important – the fun and excitement of the game, the connection between fans and athletes." 
If you want to try Draftboard and live in a country that doesn't classify creating an imaginary team and betting against other willing owners of imaginary teams akin to perjury, then they are running a nice promotion.
Draftboard will hand each new account holder a free buck, which can then be parlayed into $10,000 each time the current NFL record is broken. As Draftboard is fresh out of the box that score is zero, so you will never have a better chance of winning five digits.
Comments