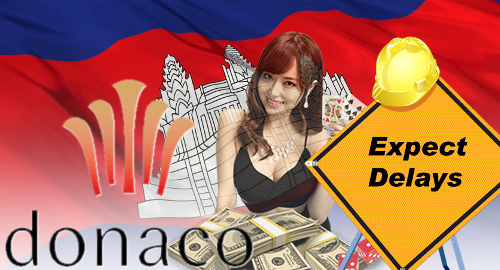 Asian casino operator Donaco International's plans to launch online gambling operations in Cambodia may not actually happen until well into the new year, according to the company's chief executive.
The Australian-listed Donaco, which operates the Star Vegas casino in Poipet, Cambodia and the Aristo International Hotel in northern Vietnam, first announced its possession of a Cambodian online gambling license in October 2016.
In August, Donaco used its latest fiscal year earnings report to announce that its online operations would launch in September. Last week, Donaco CEO Joey Lim Keong Yew hinted that the launch date could be pushed back until October.
But in a newly published interview with The Edge Malaysia Weekly, Lim was asked about the October launch date, only to reply that the timeline was "maybe not so soon." Lim then said it could take "maybe six to seven months to develop the platform and integrate it with our [customer relationship management."
While Lim offered no explanation for why Donaco had previously felt confident enough about the integration to offer the earlier timelines, he did say that Donaco's online site would offer both sports betting and live dealer casino table games.
Lim continued to play coy with the identity of the company with which it has partnered on its online gambling operation, saying only that Donaco was "working with a solutions provider who has the platform games, to acquire these games … it is like a game publisher as well."
Cambodia is currently in the process of finalizing its long-delayed update to its gambling laws, with the cabinet expected to receive the final draft text sometime this month. The law is expected to include new rules for the country's licensed online gambling operators, who by law are forbidden from allowing local residents to gamble online.