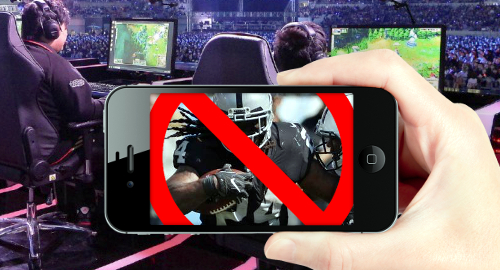 A new study says young American adults are spending far more time watching eSports online than traditional sports, while the new National Football League season's TV ratings are tanking (again).
Limelight Networks has released a white paper on the State of Online Video 2017, which showed US adults watch online sports coverage for an average of 1.37 hours per week compared to 1.15 hours for online video gaming and events (aka eSports). The global averages were 1.35 hours per week of traditional sports and 1.03 hours of eSports.
However, male viewers aged 18-25 years consumed 1.95 hours per week of eSports content compared to 1.67 hours of traditional sports. Females of the same age watched 0.82 hours of eSports compared to 0.74 hours for traditional sports.
For those younger male viewers, eSports ranked second only to movies (2.02 hours) as the most popular online video content. For young females, eSports ranked second from the bottom, behind TV shows, movies, user generated content and news, with traditional sports coming dead last.
As one might expect, the script gets flipped as one goes higher up on the age chart. Even males in the next oldest demo (26-35 years) consume more traditional sports (2.03 hours per week) than eSports (1.75 hours) with the lowest eSports tally coming (naturally) in the over-60 bracket.
NFL TV RATINGS IN FREEFALL
The fact that younger viewers are increasingly turning away from traditional sports is bad news for leagues like the NFL, which is watching its terrestrial viewing audience shrink faster than George Costanza in a swimming pool. The league reported a 12% year-on-year decline in TV viewership for its season opener last Thursday night, the fourth straight year the opening night numbers have fallen.
The numbers were no more encouraging for Sunday's afternoon games, which saw CBS's regional games' ratings falling 17%, Fox's regional games down 28%, and the Fox national game down 17%. The opening game of Monday Night Football's doubleheader was down 12.5% while the Chargers v. Broncos encore managed to slip only 7%.
Last year's ratings declines were blamed on Americans being (a) distracted by the presidential election race, and (b) turned off by Colin Kaepernick's anthem protests. This year's opening week slide is being blamed on viewers switching to news networks to follow Hurricane Irma coverage. Tune in next year, when the NFL blames its latest double-digit declines on Donald Trump's impeachment trial.
Amazingly, the NFL's saving grace could come from what it has always demonized: sports betting. Nielsen surveys have suggested that legal sports betting would give NFL ratings a serious shot in the arm, so fingers crossed that the US Supreme Court does New Jersey a solid following the oral arguments expected later this year.