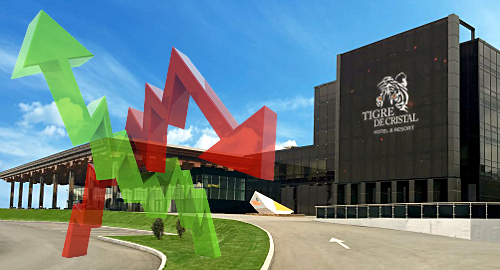 Lawrence Ho's Tigre de Cristal casino in Russia's far east saw its VIP gambling turnover more than double in the first half of 2017.
On Thursday, the Hong Kong-listed Summit Ascent Holdings Ltd filed its report card covering the six months ending June 30, during which gaming and hotel revenue rose one-fifth to HKD 204.6m ($26.1m), while adjusted earnings improved by 62% to HKD 57m. However, a series of notional non-cash one-offs resulted in the company recording a net loss of HKD 5.4m for the period.
Just to be clear, Summit Ascent holds a 60% stake in Oriental Regent Ltd, which has a wholly owned subsidiary called G1 Entertainment Ltd that runs the Tigre de Cristal in Russia's Primorye gaming zone near Vladivostok. G1 also pays Summit Ascent a management fee equal to 3% of Tigre de Cristal's gaming revenue.
Tigre de Cristal's VIP turnover hit HKD 8.4b in H1, up 140% year-on-year, while VIP revenue rose 48% to HKD 79.7m. VIP turnover through the first two months of August totaled HKD 4.25b, putting it on track to break its previous quarterly turnover record of HKD 5.6b in Q3 2016. However, that Q3 record was set with a daily average of only nine open tables, half the property's current average.
Things weren't as bright at the mass market tables, which reported total table drop falling 16% to HKD 1.9b. The company blamed Russian legislation that forces foreign gamblers to convert their currency to rubles in order to buy chips, which the company believes discourages gamblers from making sizeable bets. The company says it continues to lobby the government to amend this rule.
On a more positive note, mass table drop has improved in Q3 to date, thanks to improved marketing and the closure of some of the pesky illegal gambling dens and "internet slot parlors" in the region.
Slots volume was up 16% year-on-year and shows continued momentum in the current quarter. Russia introduced a new visa regime in August, and the company expects this to have a positive impact on its foreign mass table and slots business, and also possibly "incrementally enhance" the VIP numbers.
Tigre de Cristal's Phase I includes a 121-room hotel, and H1 hotel occupancy was called "stable," although the 88% rate recorded on weekends dipped to 43% on weekdays.
The design and construction requirements for Tigre de Cristal's Phase II project are currently being refined and the company hopes to open Phase II's first stage in the second half of 2019.
Comments