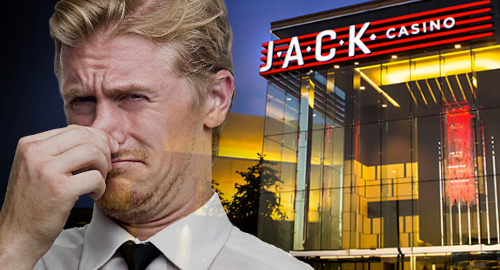 A Kentucky gambler who was booted from an Ohio casino for allegedly soiling himself has brought new meaning to the phrase 'shit out of luck.'
On Wednesday, a Danville, KY native who gave his name only as 'Tyler' to Cincinnati's Fox television affiliate WWIX was asked to leave the local JACK Casino (formerly Horseshoe Cincinnati). The casino claimed that Tyler was shown the door because he'd defecated in his pants, but Tyler claims that this false allegation is a stain on his reputation.
According to the casino, which is operated by Rock Gaming, three other patrons witnessed Tyler tossing his soiled undies in the men's washroom before returning to the gaming table. Other patrons reportedly complained of the noxious odors emanating from Tyler's person, which the casino claims forced its hand in excreting Tyler from the premises.
Tyler called bullshit on the casino's allegations, even providing WWIX with a photo of the unsoiled pants he claims to have been wearing at the time he was turfed. A casino spokesman claims they have visual evidence of Tyler's shame, but they can't release it without a court order.
Tyler offered an alternate explanation for why he was turfed, claiming that he'd traveled to the casino to take part in a "$1k free money giveaway" in the casino's poker room. Tyler claimed to have won the contest twice and that the venue turfed him to prevent his winnings from growing any larger.
Tyler, who called the whole incident "beyond strange," implied that he was mulling legal action against the casino. "They have to have some type of punishment. They have to have some type of humiliation themselves, if they falsely accuse someone of pooping their pants that did not."
JACK Cincinnati Casino is by no means the first gaming venue to be subjected to unwanted waste products. In 2015, security cameras in an unidentified UK arcade caught a gambler dropping a deuce right on the floor near the machine he was playing. The year before that, a drunk gambler shat on the glass door of the Rivers Casino in Illinois after being asked to leave for pissing his pants. Decorum, people.. Decorum.
Comments