In this week's Calling the Clock we remind you that Scott Blumstein won the World Series of Poker Main Event but all anybody wanted to do was talk about John Hesp; Patrick Leonard wins three back-to-back monsters, and PokerStars Power-Up looks likely to prevent North Korea from launching a nuclear missile.
The suffocating days and nights of the World Series of Poker (WSOP) are over for another year, after Scott Blumstein, a 25-year old professional poker player from New Jersey, won the $8.15 million first prize, and the new title of Champion. 
It was his only WSOP event of the summer.
He had never before competed in the Main Event.
Nobody remembers the losers, but this year is different.
We will remember the 2017 WSOP Main Event more for the immaculate gradations of colour splattered on the front of John Hesp's blazer, than any of the other final table combatants.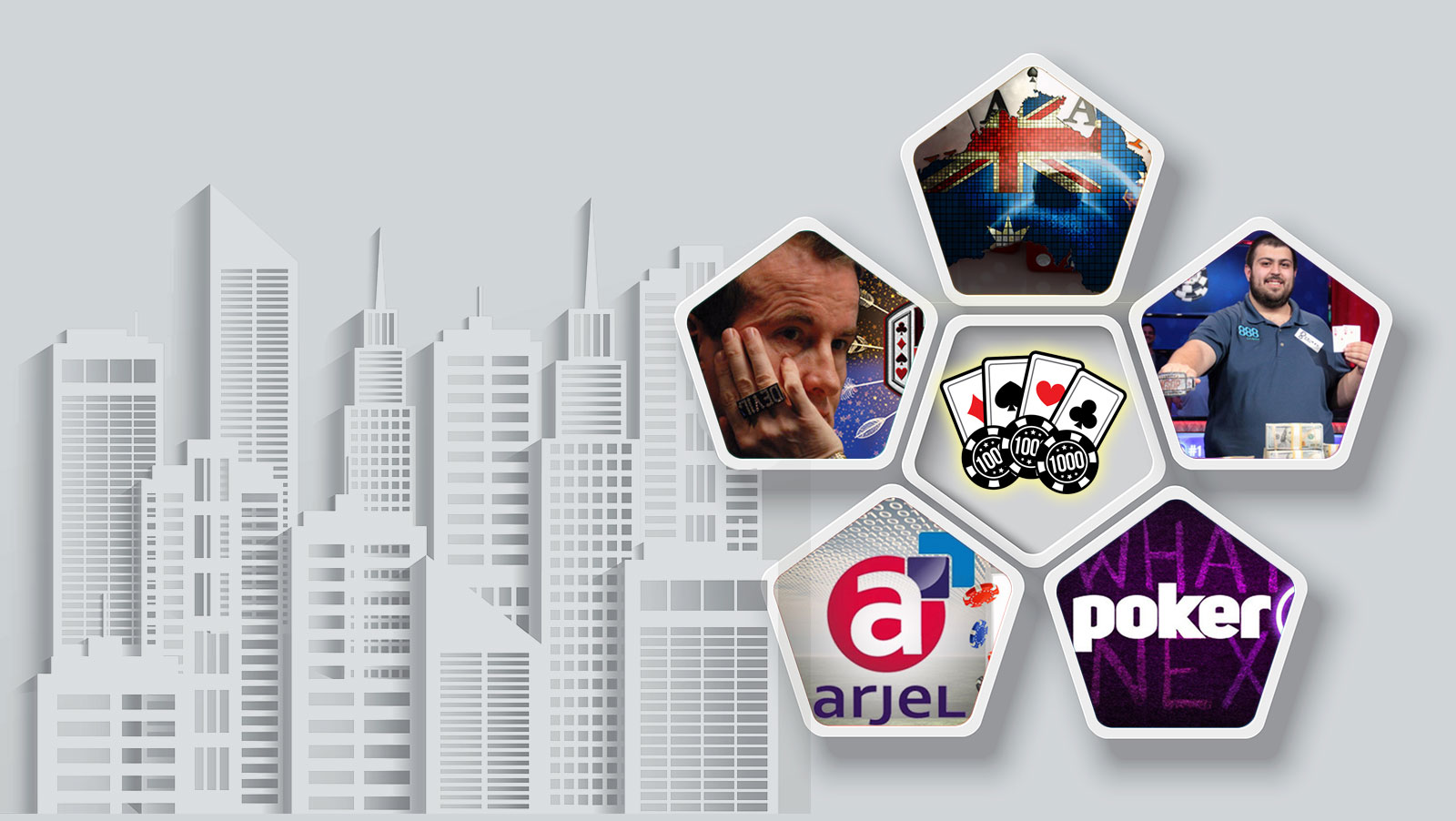 Sorry lads, but when a 64-year-old Grandfather from the North of England, who only plays in a £10 rebuy event in his local casino once a month, turns up at the WSOP Main Event dressed like he should be the lead in a Blackpool cabaret act, and nearly takes the thing apart at the seams, well that's all I see.
There was an explosion of Hesp mania, and if it hadn't been for a sick cooler that saw Blumstein flop top set, and Hesp turn two-pairs, who knows what would have happened to that $8.15m.
You can catch up on my recap, right here.
Final Table Results
1. $8,150,000 – Scott Blumstein
2. $4,700,000 – Dan Ott
3. $3,500,000 – Ben Pollak
4. $2,600,000 – John Hesp
5. $2,000,000 – Antoine Saout
6. $1,675,000 – Bryan Piccioli
7. $1,425,000 – Damian Salas
8. $1,200,000 – Jack Sinclair
9. $1,000,000 – Ben Lamb
As part of the WSOP Main Event thrills and spills, Dave 'Devilfish' Ulliot, and Phil Ivey became enshrined into the Poker Hall of Fame. Ivey was a lock; Devilfish a surprise. I shared my thoughts on why the Poker Hall of Fame should have a little think about why they waited for two-years after his death to seal the deal.
Check it out.
Live Tournament News from All Over The Globe Including a Lava Like Heater From Patrick Leonard 
I love the filterless way Patrick Leonard goes about his business. I remember reading a blog post, way back when, and Leonard was questioning his ability to handle the mind fuck that a series of $25,000+ buy-in events can produce.
I think he has figured it out.
On the 10th July, Leonard defeated 40 entrants to win the $25,000 Aria High Roller and $403,200 first prize. Three days later, and he did it again, this time beating 35-entrants to capture the $386,400 first prize. Leonard jumped in an Uber, headed to the Bellagio, watched the fountains while doing a bit of business, ponied up $10,000 to play in the Bellagio Cup XIII, and beat 271 entrants to take the first prize of $475,940.
$1.2m in the space of four days – it was so quick I didn't even notice.
Sorry, Patrick.
In other live tournament news this week:
Steffen Sontheimer continued his recent good run of form by taking down the Poker EM €27,000 buy-in High Roller, at Austria's Casino Velden for €430,000.
Javier Gomez defeated a field of 688 entrants to win the $561,349 first prize in a $5,000 buy-in Card Player Poker Tour Venetian Main Event after cutting a three way deal with Martin Jacobson and Paul Hoefer.
Matthew Vignali defeated 1,658 entrants to take home the $80,648 first prize in the record-breaking $350 buy-in Mid-States Poker Tour (MSPT) Main Event in Wisconsin, the largest field ever held in the state.
PokerStars held two events this week: Taehoon Han won the $74,651 first prize when he won the PokerStars Festival Main Event Korea, and Philippe Le-Touche won the €143,000 first prize competing in the same event in Lille.
Timothy Chung earned £29,900 when he beat 285 entrants in the £550 buy-in Microgaming Poker Tour in Manchester. Aik Chuan became the first player to win back-to-back Asian Poker Tour (APT) Main Event titles when he captured the $19,760 top prize at APT Philippines, a fortnight after winning the same event in Cambodia. And after a cracking run in the WSOP that saw him take home $2.1m+ in earnings, Dario Sammartino is the new 2017 Global Poker Index (GPI) Player of the Year (POY) front-runner, replacing Nick Petrangelo at the head of the pack.
Online Poker News: ARJEL Begin Shared Liquidity Application Process; Australians Cross Fingers, Toes, and Scrotums, and PokerStars News, News, and More News 
ARJEL Chief Wizard Charles Coppolani released a PDF, this week, explaining the application process for online poker operators wanting to have a piece of the soon to be alliance of the regulatory bodies in France, Italy, Portugal, and Spain. It was in French. I translated it. It was pathetic. Read about it, right here.
Online poker players in Australia can do nothing except cross their fingers, toes, ovaries, and scrotums as the Environment And Communications References Committee decide whether the creators of the amended Interactive Gambling Act made a teeny-weeny mistake when they decided to ban online poker, classing it as in-play betting?
The Australian Online Poker Alliance (AOPA) did a superb job rallying the troops, with up to 200 submissions fighting for the right to play online poker Down Under ending up on the desk of the committee. They make their decision in September.
Read all about it here.
If you were thinking poker was heading into a Black Hole of death and dung beetles, then don't worry, PokerStars is going to save the day.
After a two-week trial of their eSports/Poker illegitimate love child PokerStars Power-Up, the new game is heading to mobile and the real money arena.
It may be a story that only takes up 70 words of this article, but when we look back, we will see that this was Genesis of the new way people play this game.
Do you know what really grinds my gears?
People who play poker really, really, slow, when they play live, and manage to make their decisions in less than 30-seconds when they are playing online.
The live game is being taken care of thanks to the likes of 888Poker, and their vow to introduce shot clocks in all 888Live Main Event and High Rollers, and this week, PokerStars decided to drop the hammer on their online Tommy Tankers.
Starting July 31, PokerStars will run a fake trial (I mean…come on) at the $0.01/0.02 NLH & PLO ring games, that will see players having to make their decisions a whole lot quicker than they did before.
This much quicker, in fact:
1. Pre-flop decisions not facing a raise – you now have 12 seconds, and not 18.
2. Pre-flop decisions facing a raise, and post flop – you now have 15 seconds, and not 25.
And there won't be a single bleat about it.
Bits and Bobs
If you want something to read while roller skating around your kitchen, while eating celery dipped in hummus, then why not try learning how to be a professional poker player like Ashley 'sickhangover' Hunt, learn why Phil Ivey uses his absence to increase his power, and have a punt on what original programming will turn up next at PokerGO after I pick four ideas out of my ass.
Time, ladies & gentlemen, please.
Someone has just called the clock.
Comments