Another peek underneath the largest organ in the human body to see what's making professional poker players tick, with a look at the routines and habits of Ashley 'sickhangover' Hunt. 
Ashley 'sickhangover' Hunt is an online poker player for the renowned poker stable, BitB Staking; founded by high stakes regulars Patrick 'pads1161' Leonard, Tomi 'elmerixx' Brouk and Samuel '€urop€an' Vousden.
When you look through your telescope at poker's constellations, you won't see Hunt as a star. But he turns a profit playing cards while the rest of us have to make do with a real job.
Learn how.
When did your aspirations to become a poker player begin? 
"I started playing poker when I was a teenager; it started as games with my brother and sisters, then online with play money, freerolls, and eventually real money. Back then it never occurred to me that this was something that I'd make into a career. I guess I began to consider it an option when I had my first string of successes." 
How do you spend the first hour when you wake up? 
"Snoozing my alarm mostly! Why are those few extra minutes so good!?" 
What time of the day do you find it easier to play poker and why? 
"I find it easiest to play from 7 pm onwards as I'd consider myself a bit of a night owl, however, I start playing most days around 3 pm and finish between midnight and 4 am." 
Do you have defined goals for how many sessions you play in a week?
"I aim to play 30 games per day, 5-6 days a week. My stable request a minimum of 400 games per month, but 500+ is my target. I usually play 6-8 tables at once."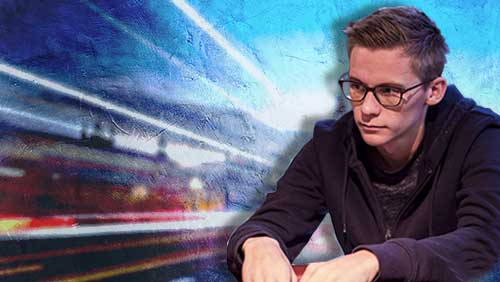 Where do you play online, what types of games, and stakes? 
"The main sites I play on are Pokerstars, partypoker and 888 Poker. I play exclusively large field MTTs, with an average stake of around $20-$25. The largest tournament I play each week is the $215 Sunday Million and the $109 partypoker Main Event." 
Do you have a specific routine that you go through before you begin an online poker session? 
"On days that I plan on grinding I get up at 11 am. I'll have some breakfast, usually some cereal, a probiotic yoghurt and some multivitamins. Then I will read one page of 'The Daily Stoic', this gives me a small bit of stoic wisdom each day. I'll then try and get to the local fitness centre to swim a few lengths. When I get back to my desk, I'll meditate on headspace.com for 10 minutes, mostly trying to improve my mindfulness and focus. I'll then either have a two-hour study session with my stable or run through some tagged hands from my last session." 
When you first sit down to play poker how do you begin? 
"I try and settle into the session and remember all the key factors to look for when playing. I'll usually start with just a few tables and add more and more as the session goes on." 
Describe your grinding station set up. 
"I have a small utility room at home, adjacent to the kitchen, that I've converted into my grind centre! I have a large desk and two good sized monitors. I have a window which gives me natural light during my session, and the room generally has no distractions, except a small Chihuahua scuttling around my feet." 
What tools do you use when playing poker? 
"The main tool I use is PokerTracker; it tracks all the hands I play and provides information in real-time that aid in my decision making. I also use some other small tools such as StarsHelper that make multi-tabling a lot easier, providing hotkeys and managing bet sizes." 
What are your thoughts on listening to music when playing? 
"I've tried grinding with music, without music, with different genres and with relaxing sounds; all have their pros and cons. Most of my sessions I play different things depending on my mindset, everything from grime and drum and bass to classical music and sounds from nature." 
What system do you use for taking notes on your opponents? 
"PokerTracker 4." 
Do you have a specific warm down routine after you have finished a session? 
"Yes, I review some key pots from the day and post anything I'm unsure about on the BitB forums. I'll then study Spanish for a little bit, either on Duolingo or with one of my Spanish friends abroad, over Skype. I usually then spend an hour or so either playing shooting games online or watching a Netflix series in bed, something mindless where I don't have to think too much. I'm sure it'd be better to read a book or meditate some more… but that's not as much fun." 
What do you do on the hour every hour when playing online? 
"Grab some fruit, more water, use the bathroom and let the dog out to do the same! There really isn't much time to do anything else. If I'm feeling a little tired I'll either do some press-ups, hop in the shower or take a breather outside." 
What do you eat and drink when you play? 
"I generally take one day off each week to shop and prepare food, so I'm not cooking whilst I play. I'll always start the day with a whole grain cereal and some fruit. Usually, I'll have a snack and one main meal. The snack will usually just be a sandwich and a piece of fruit or a packet of crisps. For Dinner, I'll either eat a meal I've prepared earlier in the week, such as some chicken or fish with vegetables and potato or if I've got nothing else prepared I'll make something that requires little work, like a jacket potato. I only drink water nowadays, I used to drink coke and lemonade, but now I just prefer to drink water, knowing that it's doing me and my brain good." 
What is your process of review? How do you educate yourself about poker? 
"I'm quite lucky in that I have such a close group of people that I study poker with, both within my stable and outside it. I'd usually use a bunch of tools to visualise ranges (Flopzilla, Power Equilab), simulate situations (PIOsolver, ICMizer, CREV) and calculate the maths and equities behind hands (Equilab). I think, however, the most useful tool is your brain and the opinions of other players you respect." 
How do you improve your mental state? 
"Again, I feel very fortunate that BitB has such an outstanding mental game coach, James Whittet. Since joining, we have had sessions once a month with him which have changed my perspective on the game and life dramatically. The meditation I've been doing, almost daily, for the past several months has also had a big impact on my mental game. 
"The key is to distance yourself from your emotions and the unhelpful thoughts you have. If you say, "Jeez, I'm never lucky, I always lose the big flips deep in tournaments" – First ask yourself, is this true though? Am I really unlucky? Considering you're reading this you most likely have a home, a computer or phone, you're probably well fed and clothed. I'd say you're quite lucky in the grand scheme of things. Consider a gratitude journal if you're having these feelings often. 
"Secondly, even if something is true, consider, is this thought useful? Will this in anyway help my situation or change what has happened? Why worry about something you cannot control? Accept what has happened and direct your energy to the things you can change; perhaps you made a slight sizing error the hand before or ran a bluff vs. a player that does not enjoy folding?" 
How much of your time is spent playing versus learning? 
"I play around 50 hours per week and study approximately 12 hours, so about 80:20." 
How do you know when to stop a session? 
"I feel very confident with my mental game, due to this I rarely feel the need to end a session early. If I've made some decisions that I'm unhappy with I will try and understand why this has happened and adjust accordingly. If I am feeling tired or under the weather, I will try and get some fresh air on the break, a quick shower or some exercise. If none of this helps, only then will I consider ending a session early." 
Are you consciously trying to emulate the style of a particular player? Do you have people you look to as models for your game? 
"I have a bunch of players that I respect immensely and aspire to be like, most of them are either in BitB or have been involved at some point! If I were to build myself in their image I might choose, the exploitative creativity of Patrick Leonard, the theoretical knowledge of Graftekkel, the mental perseverance of James Whittet, the end-game precision and heart of €urop€an and the personality and table presence of Ian Simpson. What a player that'd be!" 
Is poker easy? Does it come naturally to you? 
"No, it's not easy; it's an infinitely complex game, and even the best players make errors almost every time they play. Personally, I feel that I have very limited 'natural poker ability'. I am quite good with numbers, and I have a logical approach to things, but I think I have got to where I am today by working very hard. In fact, I have a quote on my desktop wallpaper that reads, "I am not a genius – the only way I'm going to be successful is if I work my ass off every day!" 
What is your favourite moment in poker? 
"Although the trip was not financially successful, my best poker moment was winning a package to play in Punta Cana, and taking my mum with me. It gave me the realisation that the career I had chosen could give me the freedom to travel and give back to the people that were there for me throughout my life." 
What books have helped improve your game (doesn't have to be a poker book)? 
"I've never really been a poker book guy. There is so much more information on the internet and most of it is more reliable and often free. Without a doubt, the biggest improvements to my game have come from talking to players that are better than me. If someone was to ask me, "how do I improve my game?", I'd tell them to seek out coaching from players who are well respected in the poker community. If they didn't have the money to do this I would say get on forums like twoplustwo and twitter, there is an incredible amount of free information that is given out all the time; you just need to know where to look." 
Was there ever a time when you didn't want to play poker? How did you get out of the funk? 
"Yeah, when I was first getting into the game I made some terrible bankroll decisions (to say the least) that had me never wanting to play cards again. I knew that when I restarted playing things would need to be different. Since then I've approached the game in a much different way. I'm much more analytical with things and treat the game much more like a business. I am my own boss, and I need to be harsh on myself sometimes! "No, Ashley, you can't have a week off in June! The best players in the world are in Vegas, get your ass to your desk and fire up those tables!" 
What is the one thing you know you must change after answering these questions? 
"Keep working – It's a constant process to improve and maintain an understanding of the game, but I need to remember to make time to enjoy life too!"
Comments