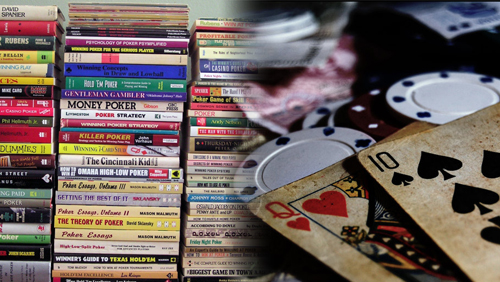 If you want to reach the top of any profession, then the easiest way to get there is to find someone who is already there and get him or her to guide you every step of the way. On the face of it, it's a simple premise, and yet a lot depends on the ability of the mentor to teach, and it's this facet that makes the poker book such an interesting topic to dissect.
I imagine my learning curve is pretty much the same as most wannabe poker players. You start by playing a few games, next you purchase a poker book from one of the games greatest players, and then you join an online training site and watch some videos before finally investing in a personal coach. From there you play some more, find a tribe of highly successful poker players, wheedle your way in and then start dissecting hands, set ups and scenarios.
So where does a poker book stack up when you compare it against the other forms of training material that is available?
"The problem that poker books have is the sheer amount of interactive training that's available. You have online training sites with video analysis and a whole host of great forums. Books are never going to be able to cover that depth of information." Said John Eames of IveyPoker.
The point Eames is making is pure evolution. Poker is a dynamic game. It changes everyday and yesterday's bestseller becomes nothing but a date for firewood for the day that never comes. Does this mean the vehicle of paper information is dead?
"It's Harrington on Hold'em for me, although it's a bit old now, it taught me the fundamentals of tournaments, back in the day." Said Phil Conneller, Editor, BLUFF Europe.
Martin Jacobson seems to agree with Conneller: "Back in the day it was Harrington on Hold'em for me, but I haven't read a poker book in a while."
"I think they're a little bit outdated by today's standards, but I'd say the Harrington on Hold'em series, because I think it changed how a lot of people thought about poker at the time." Said Leon 'flippetyflop' Louis.
It seems the Harrington on Hold'em series by Dan Harrington is a favorite amongst the players, and after reading the series myself I concur. For a new tournament player this book taught you the fundamentals of the game, and his series on live cash games did likewise. There are other books that fall into the 'fundamental game theory' category also.
"It was Super System 2 for me. A really important book for me at the time I read it." Said Richard Trigg
"The Theory of Poker by David Sklansky was one of the best for me." Said Andy Moseley.
"Super System was ground breaking." Said Matthew Pitt, Editor, UK Pokernews.
The million-dollar question seems to be are these books still relevant for the modern poker player?
"When I read Harrington's tournament books they were very worthwhile, but in this day and age they just don't apply anywhere near as much as they once did. That being said, they are just as useful at the beginner to intermediate stage." Said Jon Spinks.
I've heard enough, and hopefully so have you. If you are a beginner and want to read a poker book to improve your education then your selected picks must contain the Harrington on Hold'em Series by Dan Harrington, Super System by Doyle Brunson and The Theory of Poker by David Sklansky.
One book that I think bridges the gap between Sklansky, Brunson, Harrington and the modern brigade perfectly are the Easy Games series of books by Andrew 'BalugaWhale' Seidman. It's a poker book that reminds you that it's not enough to simply be a great player; you also have to be great at getting complex points across by the use of simple English language. Seidman is not just a great player, but a superb coach and wonderful writer.
All four of those poker books are designed to help increase your understanding of the technical side of the game, and one of the most important components of a sound technical game is an understanding of mathematics, and whilst all four of these books will touch on the basic mathematical premise, there is still room in the market for a great book on this subject. Bill Chen tried to fill that gap with The Mathematics of Poker, but ran into the problem that books need to be entertaining as well as laden with information. Chen just didn't cut the mustard, and his book just makes a great doorstopper.
"I think there is room for a book that has a lot more math based discussion in the bigger pre flop spots, rather than the timeless classic quote, 'he could be light let's jam'." Said Spinks.
One way that books can overcome this problem is by mixing the mundane mathematics with some exciting stories or gameplay dissection. One of the first books to successfully attempt this sort of thing was Every Hand Revealed by Gus Hansen; which was a look into his thought process as he won the 2007 Aussie Millions.
"The only poker book I have ever read was Gus Hansen's. It's not s strategy book per se, but at the time I thought it was interesting to see how he played." Said Eames.
"I thought Every Hand Revealed by Gus Hansen was an excellent book," said Shaun Conning.
Hansen's idea spawned a deluge of derivatives that included Jonathan Little's Secrets of Professional Tournament Poker series, Kill Everyone by Lee Nielsen, Tysen Streib and Kim Lee and Winning Poker Tournaments One Hand at a Time by Eriz Lynch, Jon Van Fleet and Jon Turner. All great books that allowed you to share in their journey, but this time with varying view points for each spot.
"Kill Everyone has a state of the art discussion on poker, which is rare. Most books are more often written by people past their prime." Said Nicolas Levi.
"One of my favorites when I was reading poker books was Winning Poker Tournaments One Hand at a Time by Eriz Lynch, Jon Van Fleet and Jon Turner. I loved the way it was set out and the fact that you could assess different approaches and learn different concepts from three players perspectives. Rather than learning one light bulb moment I learned to understand and appreciate different styles of play and this helped with my own thought process." Said Conning.
Imagine you had two players who were identical in terms of technical ability. There will be two things that separates these two players. The first would be luck and the second would be decided on who has their shit together off the table.
When I was reading all of these technical poker books I always felt something was missing. I was doing chunks through tilt and none of these books dealt with that issue in any depth. Then one day I read Elements of Poker by Tommy Angelo and I had found someone who knew what was inside of my head.
"Elements of poker has so much wisdom." Said Levi.
"Elements of poker is right up there." Said Pitt.
Jared Tendler took mental game coaching to a totally different level. His Mental Game of Poker series is one of the most popular modern poker books on the market. Matthew Hilger touched on the subject when he released the Poker Mindset back in 2007, and whilst that was a good book, Tendler's is worlds apart.
"I haven't actually read a lot of books on outright poker strategy. The books I focus on relate to brushing up areas of my game I really like to work on such as The Mental Game of Poker by Jared Tendler." Said Fraser McIntyre.
What's next? Does the paper book have the legs to go another mile? I think it does, and the secret lies in poker's variation. There has never been so many derivatives of NLHE tournaments than we have today. There is definitely mileage in writing a poker book on the optimal play for each type of tournament.
Then you have the uprising of mixed game action with the likes of Matt Ashton becoming the star of the World Series of Poker (WSOP) without coming anywhere in a NLHE event.
"As someone that learnt mixed games purely by playing and thinking myself. I definitely wish there had been some more in depth stuff on mixed games. There is a huge gap between good and great players in this game, and there is a definite gap in the market for this type of book." Said Spinks.
So come on Ashton, pick up that quill and get dipping.
Poker Books Every Player Should Own
1. The Harrington on Hold'em Series by Dan Harrington.
2. The Theory of Poker by David Sklansky.
3. Easy Game by Andrew Seidman
4. Every Hand Revealed by Gus Hansen
5. Kill Everyone by Lee Nielsen, Tysen Streib and Kim Lee
6. Winning Poker Tournaments One Hand at a Time by Eriz Lynch, Jon Van Fleet and Jon Turner.
7. Elements of Poker by Tommy Angelo
8. The Mental Game of Poker by Jared Tendler
Comments