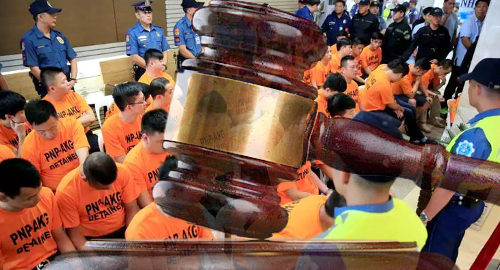 Philippine authorities have dismissed charges against 30 foreign nationals suspected of belonging to a kidnapping gang that preyed on casino gamblers.
Last week, Philippine National Police (PNP) and Bureau of Immigration (BI) agents arrested 44 foreign nationals in a series of raids that led to the rescue of Wu Yan, a Singaporean woman who'd been abducted from the Solaire Resort and Casino and held against her will in a Manila hotel room.
On Tuesday, the Philippine Department of Justice dismissed charges against 30 of the detained foreigners – mostly Chinese nationals – citing insufficient evidence to proceed with the prosecution. Part of the DOJ's reasoning stemmed from Wu Yan's inability to identify any of the 30 foreigners as having participated in her abduction and detention.
A resolution approved by Acting Prosecutor General Jorge Catalan Jr. stated that "not an iota of evidence was presented to show that [the 30 foreigners] conspired with the alleged kidnappers of complainant Wu Yan." This absence of evidence connecting the individuals with the crime "indubitably will result to the dismissal of the complaint" against them.
The BI had begun deportation procedures against the 44 arrested individuals for violating the conditions of their tourist visas. The 30 suspects whose charges were dismissed have been released from detention pending deportation while the other 14 suspects, including the alleged ringleader, will remain in lockup until the completion of the criminal proceedings against them.
PNP officials had characterized the gang as loan-sharks that targeted high-rolling gamblers at Manila casinos. The gang was said to be linked to at least 11 similar kidnapping cases since 2015.
Wu Yan told police she'd been on a prolonged losing streak at Solaire when she was approached by three men and a woman who lent her money. Wu Yan continued to lose money, prompting the four to suggest moving to a different casino, ostensibly to change her luck.
Instead, the gang took Wu Yan to the hotel room, where they roughed her up and made a video to send to her family demanding $180k to secure her release. But her family contacted Philippine authorities, who then staged the series of raids that led to her rescue.
Meanwhile, police are reportedly on the trail of another loan sharking gang, also run by a Chinese national, but which also includes some Filipino members.
Comments