The former Intabill founder, Daniel Tzvetkoff – a man who helped bring down online poker in the States – is currently loving life as a vertical farmer in Brisbane.
I get it now.
When Daniel Tzvetkoff was working in a Brisbane Pizza Hut, he always had a steely determination to remain in the food industry. The whole Intabill, processing $543m in gambling money, and nearly spending his entire life behind bars was just a stepping stone.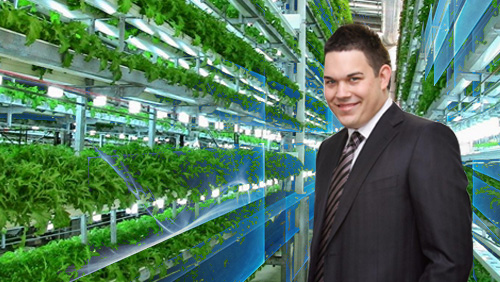 The former Aussie playboy, once referred to as The Wolf of Las Vegas, is back in business, only this time he is not making millions processing the funds of online poker players, but he has returned to his foody roots.
Tzvetkoff has appeared in the CourierMail talking about his new startup Stacked Farm; Australia's first vertical farm, providing pesticide-free, environmentally friendly herbs, and vegetables for local businesses.
Speaking to the CourierMail reporter, Tzvetkoff, 33, said he had no desire to return to the playboy lifestyle that saw him once purchase a $27m mansion. Instead, preferring to spend as much time with his family as he can.
The lad can still make money though.
"I could create ten products right now that would just churn money." Said Tzvetkoff. 
Product #1 = food
At the height of his powers, Tzvetkoff was earning millions of dollars per week as his payment processing company Intabill acted as the conduit between the big online poker rooms and Stateside punters.
Intabill collapsed in 2009, and in 2010, Tzvetkoff was arrested by the feds for breaking almost every rule in the Unlawful Internet Gaming Enforcement Act (UIGEA). Facing 75-years behind bars, Tzvetkoff turned informant, helping the FBI to shut down online poker in the US.
"I should have listened to my parents," Tzvetkoff told The CourierMail when asked about the millions he frittered away during his time in online poker.

The Daniel Tzvetkoff story was picked up by the Welsh writer, James Leighton, who turned the story into a bestselling book Alligator Blood: The Spectacular Rise and Fall of the High-rolling Whiz-kid who Controlled Online Poker's Billions published through Simon & Schuster.
The last I heard, Alligator Blood was very likely to end up on the silver screen.
I wonder if the Director has ever heard of vertical farming?