WGES 2017 continued today at the W Hotel in Barcelona, the most senior event of the year dedicated to C-level professionals working in the gambling industry.  Today marked the start of the event's two day "Main Summit", attracting a larger crowd than yesterday's Regulation Day due to panels and presentations covering a variety of pertinent topics.
Delegates gathered in one big conference room for the morning's presentations and after a networking lunch, three tracks were held across three separate rooms followed by a late afternoon keynote presentation on the Asian market and a happy hour roundtable discussion session.  This evening delegates will be treated to a networking drinks reception followed by a gala BBQ dinner and official conference party hosted on the top floor of the W hotel.
Today's anticipated CEO panel featured industry notables Mor Weizer of Playtech, Jesper Karrbrink of Mr. Green, Werner Becher of Interwetten and Gavin Hamilton of Red Tiger Gaming.  Delegates were especially entertained by the debate between Weizer and Karrbrink on the concept of Omni-Channel and if it falls under the umbrella of innovation in our industry with Weizer defending "yes" and Karrbrink defending "no".
In fact, Karrbrink feels strongly our industry has been lacking in innovation, with so little changing on the expo floor of industry events such as ICE over the past decade.
Both Karrbink and Werner talked on the current landscape of operators having to work with third party suppliers for their games as opposed to developing in-house, simply because one or two games won't cut it any more…players expect hundreds of choices and the suppliers are best suited to deliver the best games.
As the moderator of the session, I pointed out how William Hill's new CEO recently said "institutions and shareholders have become a bit more understanding about grey markets" and asked the panel how we actually define grey vs. black markets.  All panelists agree we need grey markets in order to make ends meet, especially in a climate of strict regulation in white markets.
Werner who represents a private company has a bit more freedom when making such choices, but Karrbrink who represents a public company agreed grey markets are grey until we start getting caught…then they turn black.  "It depends on where the shareholders like to go on holiday", he joked.
When asked what the CEO panel will be discussing in five to ten years time, Werner told CalvinAyre.com, "Google predicts in ten years nobody will use a smarphone or a tablet anymore. So the displays of the user interfaces will get smaller and smaller and smaller and in 10 years probably only wearables will be the connection to the internet and that will be a big thing for us because what about our usability? We have to present a lot of data to motivate our users to bet on".
"What I think will not be a topic anymore in ten years will be a discussion about privacy and data protection because at that time everyone will publish all information freely", he added.
When asked how his organization is able to innovate if all their games are outsourced to third parties, Karrbrink told CalvinAyre.com, "For us it's the brand of course…its user experience.  When you are at the site you should feel welcome, taken care of…we have to excel in marketing, we have to be clever on SEO we have to be clever on CRM, we have to be clever on programs, on everything.  Its about people.  The company with the best people is the company that will grow the fastest", he said.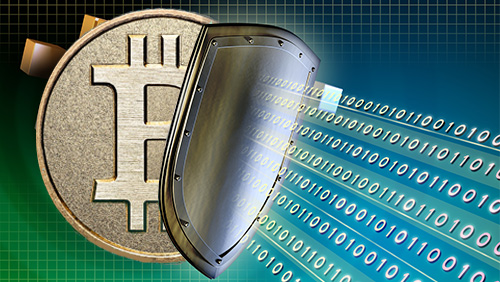 Today's "Keeping pace with technological advancements, customer expectations and driving user engagement panel" featured Vahe Baloulian of BetConstruct, John Coleman of Microgaming and Richard Carter of SBTech.  All three panelists emphasized the importance of using big data to identify problem gambling and always keeping the customer in mind as opposed to focusing just on the technical side.  They also emphazied the importance of building strong partnerships with their operators and to avoid being "creepy" as a result of over-personalization.
Blockchain as a revolutionary technology was covered by Adam Vaziri during today's afternoon sessions.  Vaziri pointed out how the integration of Blockchain into gambling operators' platforms will make the job of regulators much easier, if not removing the need for them all together.  Every single process is transparent and can be audited, with absolutely no room for cheating the customer.
This afternoon's keynote session featured Kevin Clayton, CMO of Galaxy Entertainment Group.  Clayton provided an overview of the history of revenue generated in Macau and emphasized the importance of catering to the millennials even though they are not the biggest spenders at the Macau casinos.
In September, Galaxy's chairman Lui Che Woo said it was too early to say Macau was making a comeback in terms of revenue, but seeing as the market has posted 11 straight months of year-on-year gains, Clayton's outlook on Macau's growth is positive.
When it comes to attracting VIP customers and sensitivity around junkets after the recent sentencing of Crown Resorts staff in China and Galaxy's souring experience with junket operator Iao Kun Group, Clayton emphasized the importance of differentiating one casino from the next in order to attract the valuable VIP Chinese customer.