Macau, China, June 2017 – Day 1B of the APT Main Event has been bagged and tagged!
After eight rounds of sixty minutes each, the final heat of the main concluded and what remained were 49 players out of the 74 that signed up. Finishing at the top of the heap was China's Yang Song with 241,300 in chips. Yang skyrocketed to the leader's seat midway through the last level after shipping in all of a player's chips. While we didn't see the action, we heard a loud "whoaaa" so we went to find out what happened.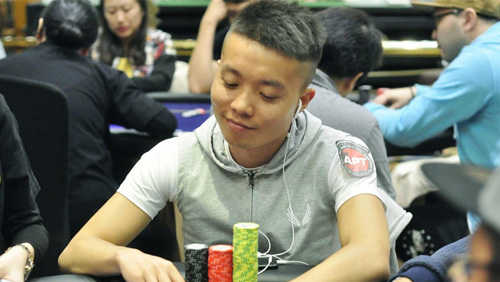 According to another player at the table, Yang was on the button and raised to 2500 with blinds at 500-1000. The big blind player three-bet to 8500 and Yang called. On a rainbow flop of A-J-5, big blind bet 7500, Yang raised to 25k, and was called. On the turn was a rag card. Big blind checked to the aggressive Yang who fired out a 35k bet and big blind called. On the river, a 10 card dropped; big blind checked, Yang shoved, and bb called for all his chips. Yang showed his K-Q broadway straight and that's when the "roar of shock" erupted.
Another player also up in the chip rung was China's Peng Fei Liu with 215,100 in chips. Peng was the leader for a good part of the day until Yang landed that big pot. Other notables also making it through were Thomas Ward, Weiyi Zhang, Tetsuya Tsuchikawa, Seitaro Aso, Saul Oliver Fortea, Zarvan Tumboli, and two-time APT Main Event champion Henrik Tollefsen. Tollefsen finished in third position with 173,700 in chips.
The day also had its share of casualties. Among them was APT Finale Macau 2016 champion SJ Kim, Victor Chong, and yesterday's top Head Hunter, Manoj Pentakota.
The Asian Poker Tour has been running its APT Macau 2017 event at the Macau Billionaire Poker room in the Babylon Casino since June 14th and will be running until June 22nd. The APT Main Event returns tomorrow for Day 2 starting at 1pm.
Main Event live updates will be available starting tomorrow, so make sure to bookmark the Live Updates page.
For media inquiries, you may contact:
Monique D. Suñega
Email: [email protected]
Comments