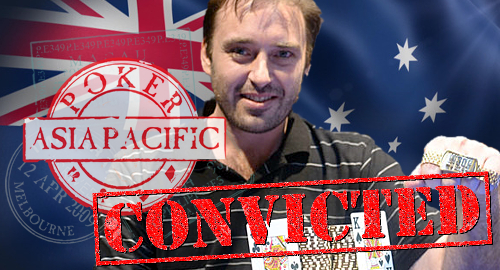 Australian authorities have claimed their first online poker scalp after a poker site operator was convicted for violating the country's gambling laws.
On Monday, the Southport Magistrates Court convicted Luke Brabin of violating the Interactive Gambling Act, which permits only online sports betting activity to take place in Australia. Brabin was charged last August with providing an illegal gambling service, the first such prosecution of an online poker operator under the 16-year-old Act.
Brabin was charged for activity at his play.pokerasiapacific.com online poker site between April and August 2016. On August 10, Poker Asia Pacific's Facebook page issued a statement saying it was suspending its services "until pending legal action regarding the Interactive Gambling Act is resolved."
That message optimistically stated that the site expected to be offline "for 2-3 months" and its operators were "confident of obtaining a positive result given the current landscape of the online poker market." However, the site remains offline to this day.
The Australian reported that the 37-year-old Brabin, who won a gold bracelet at the 2014 World Series of Poker Asia-Pacific meet in Melbourne, earning over A$131k in the process, was fined A$10k by the court.
At the time the charges were filed, the Poker Asia Pacific reps claimed they were actively lobbying to have poker excluded from the list of online gambling activities prohibited under the Interactive Gambling Act. But the Australian government has since introduced amendments to the Act that remove any ambiguity in the original Act and double down on the online poker prohibition.
The proposed amendments will empower the Australian Communications and Media Authority (ACMA) to issue civil penalties of up to A$1.35m per day for individuals and up to A$6.75m for companies deemed to be flouting the Act. The Australian reported that Brabin's prosecution came as the result of a referral from the ACMA.
The legislative push to explicitly ban online poker, casino and other non-betting verticals has led to a flurry of international online gambling operators exiting the Australian market. Amaya Gaming's PokerStars brand has yet to join this stampede for the exits, but Amaya's management has said it will block Australian players within 30 days of the proposed amendments becoming law.
Comments