With the Golden State Warriors sweeping the Utah Jazz on Monday only one NBA playoff game is scheduled for Wednesday, and it is Game 5 between the Boston Celtics and Washington Wizards in a series that could very well go the distance.
Odds courtesy of OddsShark.com
The home team has won and covered the spread in each of the first four games, with the Celtics losing the last two at Washington by a combined 46 points.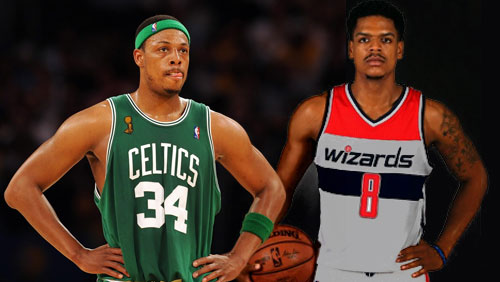 Boston won the first two games at home by double digits and heads into Game 5 as a 4.5-point favorite. The question is, will bettors finally see a close matchup, or will the blowout trend continue? To be fair, Game 2 was competitive until overtime, when the Celtics pulled away and ended up winning 129-119 behind 53 points from point guard Isaiah Thomas.
That remarkable performance by Thomas was a little more than a week ago on May 2, and he has dedicated this postseason to his younger sister who was killed in a car accident during the first round. However, he was not happy with the officiating in Games 3 and 4 on the road, as he scored 32 points combined and failed to make it to the free-throw line in Sunday's 121-102 loss.
Thomas was 18-of-20 from the charity stripe in the first two games at home, including 12-of-13 en route to his 53-point effort in Game 2.
The Wizards saw their backcourt of John Wall and Bradley Beal turn things around at home, and they now hope to continue their strong play on the road. Wall has actually played well both at home and on the road, averaging 27.8 points in the series and scoring 40 in the OT loss opposite Thomas. But Beal has made just 13-of-34 shots (38.2 percent) in Boston, averaging 20.5 points there compared to 20 per game on 15-of-28 shooting (53.6 percent) at home. Both will need to step up to steal Game 5.
The Celtics have won the past seven meetings with Washington both straight up and against the spread at TD Garden, backing up their home-court advantage there even more. All of those games were decided by at least eight points too, so another win by at least that margin would move the home team to 5-0 SU and ATS in the series.