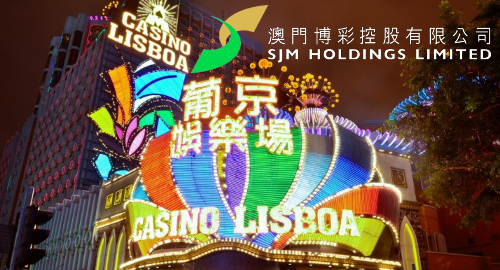 Macau casino operator SJM Holdings posted higher profits despite lower revenue thanks to increased activity in its premium mass business.
Figures released Thursday show SJM's gaming revenue falling 5.3% year-on-year to HKD 10.4b (US $1.33b) in the three months ending March 31. Despite the decline, adjusted earnings inched up 0.7% to HKD 843m and profit rose 3.3% to HKD 580m ($74.5m). SJM's earnings margin improved half a point to 8% during Q1.
Despite the overall Macau market's recent VIP gaming rebound, SJM's VIP operations continued to struggle, with turnover down 11.3% to HKD 157.7b while VIP win was basically flat at 3.13%, the net result of which was a 12% fall in VIP revenue to HKD 4.9b.
On the plus side, mass market gaming revenue improved by 1.9% to HKD 5.2b, and SJM CEO Ambrose So Shu Fai credits the improvement to gains in the high-margin premium mass business. Slots revenue fared less well in Q1, falling 3.7% to HKD 257m.
SJM's decreased emphasis on VIP was reflected in its table games makeup, as the average number of VIP tables in action during Q1 was 315, 54 fewer than the same period last year, while the average number of mass tables grew by 77 to 1,375. The average number of slot machines on SJM casino floors was down 12% to 2,549.
SJM's share of the overall Macau casino gaming revenue pie continued to contract in Q1, dropping 3.3 points to 16.9%. SJM has yet to launch operations in the Cotai region and while the company says work on its $4b Grand Lisboa Palace "continues to make great progress," the property's opening has been pushed back to H2 2018.
SJM was founded by Macau casino icon Stanley Ho, who long since disengaged from an active role in the business. His fourth 'wife' Angela Leong serves on SJM's board of directors, and the company will vote on June 13 whether to appoint Daisy Ho, Stanley's daughter by his second 'wife', to the board to replace longtime Ho advisor Rui Cunha, who announced last month that he wouldn't seek reelection to the board at the company's upcoming AGM.
Comments