Professional sports bettor David Oancea, known to many as "Vegas Dave," has entered a not guilty plea before a federal court in Las Vegas on Wednesday.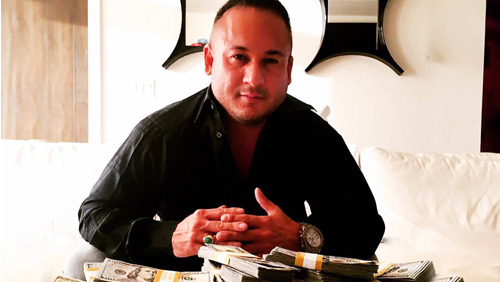 The prolific gambler made his federal court appearance to deny the charges that he used fake or different social security numbers on more than 170 large transactions, according to the Las Vegas Review-Journal.
He stood in front of U.S. Magistrate Judge Nancy Koppe for a few minutes before the Metropolitan Police Department officers took him into their custody on separate misdemeanor charges of domestic battery. Judge Koppe has scheduled the trial of Oancea's case on June 20.
In a press statement he posted on Twitter, Oancea decried what he described as "dubious criminal charges" that Federal authorities lodged against him. His lawyers, on the other hand, called out the government's actions as vindictive.
"Vegas Dave strongly maintains his innocence and is shocked that his betting success in which he has paid large amounts of taxes has led the government to improperly charge him," said Oancea's statement, which was prepared by his lawyers David Chesnoff, Richard Schonfeld, Paul Padda and Thomas Pitaro.
This will be my only press release; prepared by my legal team of David Chesnoff, Richard Schonfeld, Paul Padda, + Thomas Pitaro. #vegasdave pic.twitter.com/dbMnJeD0wG

— Dave Oancea (@itsvegasdave) April 20, 2017
Meanwhile, Judge Koppe gave Oancea 30 days to sort out the outstanding battery charge. She also thumbed down the request of Assistant U.S. Attorney Kilby Macfadden to prevent Oancea leaving the country on an upcoming business trip to Mexico.
Bookmakers fined for illegally sending wagers to US, Costa Rica
In other US sports betting news, Lady luck must be smiling upon two South Mississippi bookmakers who have been found guilty of their involvement in an illegal online sports betting operation in the U.S. and Costa Rica.
The Sun Herald reported that bookmakers Russell Miller and Christopher Anthony avoided going to jail after a U.S District Court judge decided to just slap each of them with minor fines and probation instead of a possible two-year jail term and a hefty $250,000 fine.
Chief Judge Louis Guiorola Jr. on Wednesday handed Miller a $5,000 fine and three years of post-release supervision order, while Anthony was told to pay a $3,000 fine and endure one year of probation.
Anthony and Miller were accused of conspiring to transmit wagering information. Their third cohort, identified as Kenneth Schmitt, was sentenced last March with three years of probation and a $5,000 fine.
Court documents showed both men traveled to Costa Rica on April 24, 2014, to deliver a payment to the person who set up gambling websites for illegal sports books.
Miller was involved in the conspiracy for nearly seven years, from Sept. 2009 through April, a bill of information said. On the other hand, Anthony's involvement allegedly began April 4, 2014, and continued through April 24, 2014.
They admitted that they were in Costa Rica on April 24, 2014 during their plea hearings in January. They said they were there to hand a payment to the person who set up gambling websites for sports books.
Comments