Security officers at Sheldon Adelson's Sands casino in Bethlehem made history last week, when they signed a union contract with the casino operator.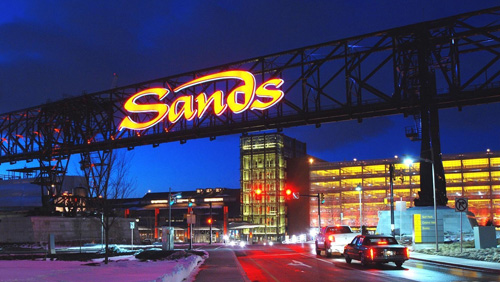 Last Wednesday, members of the International Union, Security, Police and Fire Professionals of America signed a three-year contract with Sands Casino Resort Bethlehem that will give its security guards an 8 percent pay increase—effective immediately—as well as a seniority structure and a greater say in work rules for its 146 members, The Morning Call reported.
David Hickey, president of the union, said the contract was approved in a 70-6 vote.
Under the contract, Hickey said most guards will receive a raise between $1 and $1.21 per hour, but they will have to pay union dues equivalent to 2.5 hours in wages every month.
Signing the union contract marks the end of the security guards' nearly six years' battle with Adelson, who has managed to keep his casino empire free of union contracts for nearly three decades. The group is only unionized workers among the 2,500 at Sands in Bethlehem, and the only union members in a parent company with casinos not just in Bethlehem, but also in Las Vegas, Macau and Singapore, according to the report.
Despite the group's victory, Sands officials are confident that there won't be "additional unionization efforts."
Sands spokesman Ron Reese told the Las Vegas Review-Journal that they don't expect other employees to organize another union "because our pay, benefits and working conditions have always exceeded those negotiated by unions."
The security officers first voted to unionize in 2011, but was thwarted by Sands who appealed the decision to the National Labor Relations Board several times. In 2015, however, an NLRB panel in Washington, D.C., upheld a 2012 NLRB court ruling ordering Sands to recognize the guard union and to enter into bargaining sessions.
Comments