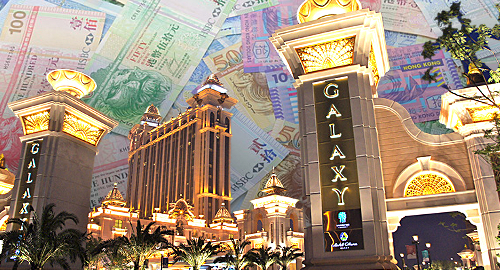 Macau casino operator Galaxy Entertainment Group (GEG) boosted its 2016 profits by more than half despite only modest gains in gaming revenue.
Figures released Tuesday show GEG's full-year revenue rising 4% to HKD 52.8b (US $6.8b) while earnings rose 18% to HKD 10.3b and net profit shot up 51% to HKD 6.3b ($811.6m). GEG chairman Lui Che Woo called the results "very credible and solid" given the well-publicized challenges of the overall Macau casino market.
Lui said GEG had worked hard to keep costs to a minimum without impacting customer service standards or interfering with efforts to expand its mass market business. GEG enjoyed "virtually 100%" occupancy at its hotels and non-gaming revenue gained 18% year-on-year to HKD 3.2b in 2016.
GEG's overall gaming revenue was up only 2% to HKD 49.5b, with mass market revenue improving 19% to HKD 21b and VIP revenue falling 8% to HKD 26.5b. Reflecting the overall Macau market's Q4 performance, GEG's fortunes improved in the last three months of 2016, as VIP revenue gained 3% to HKD 7.2b.
GEG's flagship Galaxy Macau property had a solid year, with revenue gaining 7% to HKD 38b and earnings up 22% to HKD 8.5b. VIP turnover was down 12% from 2015 but VIP win rate improved to 4%, keeping the VIP revenue decline to just 2%, while mass market win rose one-fifth and electronic gaming revenue was up 8%.
The StarWorld Macau property posted similar VIP down, mass up ratios but overall revenue fell 9% to HKD 11.8b. However, stricter cost controls kept its earnings decline to 2%.
The family-friendly Broadway Macau property, which lacks any VIP gaming tables, had a breakout year, with revenue up 59% to HKD 676m, of which HKD 197m was non-gaming.
Looking forward, GEG says it hopes to begin construction on Galaxy Macau's Phases 3 & 4 within the next couple of months. GEG says the new additions will have a "significant focus" on non-gaming, particularly in regards to MICE (meetings, incentives, conferences and events), entertainment and family-friendly facilities. GEG finished the year sitting on cash and liquid investments worth HKD 22.6b, of which HKD 16.7b is net cash, versus just HKD 5.9b of debt.
Comments