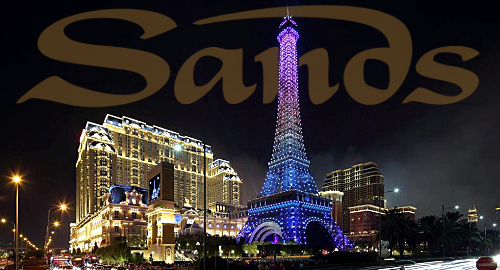 Casino operator Las Vegas Sands saw profits fall 15% in 2016 despite the Macau market's rebound in the second half of the year.
Figures released Wednesday show Sands' revenue rising 7.4% to $3.08b in the final three months of 2016, while adjusted earnings gained 6% to $1.12b and profits rose 9.2% to $509m, although the profit rise was largely attributable to $64m in favorable currency exchange.
For 2016 as a whole, revenue slipped 3.5% to $8.77b, operating income was down 12.2% to $2.5b and profit fell 15% to 'only' $1.67b. The company blamed the profit decline on lower revenue, opening expenses for the new Parisian Macao and "non-recurring legal costs," including paying multiple seven-figure fines to US regulatory agencies and a reported payout of up to $100m to former Sands China CEO Steve Jacobs.
The Sands China operation in Macau continued to drive Sands' results, reporting Q4 revenue up 12% to $1.66b while profit slipped 8% to $348m. Full year revenue was down 2.5% to $6.7b while profit slumped 16% to $1.22b.
Sands has made a point of focusing its Macau operations on the mass market and CEO Sheldon Adelson said Sands' mass segment enjoyed 16% growth in Q4, its strongest showing since Q2 2014.
Adelson said the new Parisian Macao generated revenue of $344m and adjusted earnings of $95m in its first full quarter of operation but the Parisian's success was offset by declines at Sands' other Macau properties.
VIP gambling turnover was down double-digits at the Venetian Macao (-14%), Sands Cotai Central (-31.5%) and Sands Macao (-48%), while the lowly Four Seasons bucked the turnover trend by inching up 2.8%.
Mass market table drop was also down everywhere except (again) at the Four Seasons, although these drops were mostly in the low single-digits.
The Parisian's VIP turnover totaled $3.3b, slightly less than half the Venetian's $6.9b, but the Parisian enjoyed a stellar 4.52% VIP win rate, well above the 2.7%-3% expected range.
On the ensuing analyst call, Sands President Rob Goldstein rejected suggestions that the Parisian's opening had cannibalized Sands' other properties, with the exception of Sands Cotai Central, which Goldstein said couldn't compete with the fact that the Parisian is just "too damn attractive" for the mass market customer. Goldstein did say Sands had undisclosed plans to improve Sands Cotai Central's "attractability."
In Singapore, Marina Bay Sands reported revenue up 2.8% to $723m and earnings up 8% to $366m, despite both VIP and mass turnover being in negative territory for the quarter.
Stateside, Sands' Las Vegas operations saw flat casino revenue while convention and retail revenue rose nearly 10%. In Pennsylvania, Sands Bethlehem was also flat overall thanks to cold tables and hot slots.
SOUTH KOREAN NOISES AND PRICEY MALLS
Interestingly, despite Vietnam having recently announced plans to conduct a three-year trial of allowing local residents to enter casinos, the country's flag no longer appears in Sands' presentation graphic indicating its principal areas of future development interest.
Adelson didn't reference Vietnam on the analyst call, but he did say there was "more noises coming out of Korea," which Sands has long been pressing to relax its own ban on locals in casinos. Adelson was cagey on the details of these South Korean noises, saying only that "it could happen."
Adelson also said the company will proceed with plans to sell a 49% stake of its retail mall operations in Singapore, from which the company expects to realize between $3b and $3.5b. Adelson crowed that either one of these numbers would make it "the most expensive mall sale in the world."
Adelson also couldn't resist referencing his newfound buddy, President of the United States Donald Trump, saying that like the president, Adelson was "a good negotiator" and might try to boost the mall's sale price into the $4b range, although he conceded that might be pushing things.
Comments