Three streets of pure value including a High Roller victory for the former European Poker Award winner Leon Tsoukernik, the final update on the Full Tilt remissions process and partypoker release two new games.

 Three news stories that don't carry enough meat on their bones to satisfy your appetite in one sitting but make quite a meal when cobbled together.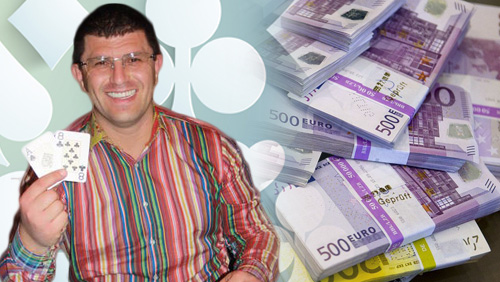 Leon Tsoukernik is the latest man to make his money away from the poker tables to win some money at the poker tables.
And it was a lot of money.
The Kings Casino owner and former European Poker Award (EPA) winner, defeated the mercurial talent of Charlie Carrel in heads-up action to take the €741,100 first prize in the €50,000 Super High Roller at the European Poker Tour (EPT) in Prague.
Tsoukernik started heads-up with a 3:1 chip advantage over Carrel when he eliminated the Finnish pro-Juha Helppi in third. The final hand saw Tsoukernik getting it in with the worst of it KJ>AK, but a jack on the turn and a king on the river won him the tournament with two pairs.
Carrel is making a habit of appearing at the top end of these things. He finished third in the €25,000 Super High Roller at the Masters Classic of Poker in Amsterdam for €64,350 and runner-up in the €10,250 High Roller at the same event for €144,615 in November.
Then in December, Carrel has won the €5,500 High Roller at the World Poker Tour (WPT) Prague for €38,808, finished third in the €10,300 High Roller at EPT Prague for €159,545, and now runner-up in this one for €535,250.
Here are the ITM finishes.
1. Leon Tsoukernik – €741,100
2. Charlie Carrel – €535,250
3. Juha Helppi – €341,150
4. Viacheslav Buldygin – €341,150
5. Paul Newey – €200,000
6. Julian Thomas – €152,915
7. Anthony Zinno – €123,520
The Full Tilt Remissions Process is Over
 After five and a half years, the Department of Justice (DOJ) and Garden City Group (GCG) returned almost $115m to around 45,000 former Full Tilt customers after a final wave last month.
According to Haley Hintze over at Flushdraw, the ninth and final tranche of repayments led to 1,000 former players receiving a combined $2.7 million.
All of that means, of the $160m owed to former American-based Full Tilt players $45m heads to the coffers of the DOJ and GCG. That stroke of luck has come about due to a combination of players who couldn't be bothered to ask for their money back or were denied for a variety of reasons such as being an affiliate or business partner of Full Tilt. Hintze confirmed that 135 additional petitions were denied in November to add to the 1,500 that were also denied back in the spring.
There are still some stragglers in the appeal chain, but it's highly unlikely that the either the GCG or the DOJ will release details of these anytime soon thus drawing a line through one of the most controversial incidents in poker's history.
Partypoker Introduce Two New Games
One company who didn't hang around in the US post the UIGEA was partypoker and this week they continued to try and claw back some of that market share they lost through their honesty by releasing two new games.
The first seems to be a bit of a hit with professionals and punters alike. Progressive Knockout tournaments have been very successful on PokerStars and partypoker will be hoping for much of the same.
The bounties increase each time a player is eliminated giving players the opportunity to win some big money aside from the main prize pool, and it also introduces an interesting new dynamic into the strategy of the game.
Speaking of Progressive Knockout tournaments, Ilan Boujenah told me that he thought they were 'successful' and that it wouldn't be long before we saw them on the live tournament scene.
"I personally think they are the way of the future," said Dion Learning. "With tournaments as small as $3 buy-ins getting over $30,000 prize pools, it's obviously the most popular format of poker, today."
Partypoker will start with three Progressive KO events daily but will increase availability over time.
Here they are:
Monday to Saturday
• 8pm (GMT) – $5.50 buy-in $1k GTD $2.50 starting bounty and $1.25 progressive.
• 8pm (GMT) – $22 buy-in $2.5k GTD $10 starting bounty and $5 progressive.
• 8pm (GMT) – $109 buy-in $10k GTD $50 starting bounty and $25 progressive.
Sunday
The action is the same except the guarantees are higher – $2,000, $3,000 and $15,000.
 The other new game is a cash derivative called Fast Five. Ostensibly, the action is six-max cash with each player starting with only five big blinds. The action is fast enough to reduce the need for skill thus making it a game that everyone can play. The smallest buy-in starts at just $2.50.
Comments