Hakim Zoufri and Noah Boeken take down the Master Classics of Poker Amsterdam Main Event and High Roller respectively. Charlie Carrel makes the final table of both.
One of the most celebrated and prestigious events on the European live tournament calendar has come to a close with Hakim Zoufri and Noah Boeken winning the two main titles.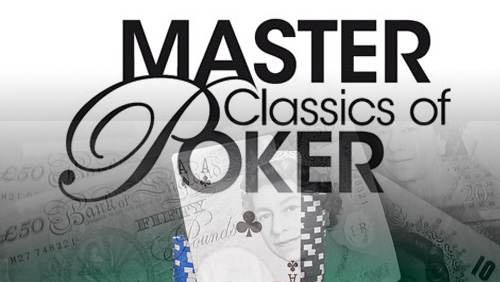 The Master Classics of Poker (MCOP) in Amsterdam has been rocking and rolling since 1992. Former winners of the MCOP Main Event include Surinder Sunar, Ram Vaswani, Ole Schemion, Noah Boeken, and Ruben Visser.
Joining that elite list is Hakim Zoufri who defeated Fabio Sperling in heads-up action to take the title and first prize worth €275,608. Before the MCOP event, Zoufri was relatively unknown amongst the headlines of the poker media. A €30,340 cash in a €5,200 Turbo event at the European Poker Tour (EPT) Barcelona festival was his previous highest cash.
MCOP Main Events between 2004-13 carried a €5,000 or €6,000 buy-in before flagging attendances resulted in the price moving down to €4,000. The event attracted 356 players amongst which were the previously mentioned Fabio Sperling (2nd), the experienced Juha Helppi (4th), and the young British hot shot Charlie Carrel (9th).
Other notables to run deep in the event were former EPT Champions Anton Wigg (24th) and Jan Bendik (20th); former MCOP Champion David Boyaciyan (19th), and Charlie Carrel's buddy Ben Heath (12th).
Final Table Results
1. Hakim Zoufri – €275,608
2. Fabio Sperling – €184,820
3. Ivan Arbatsky – €128,147
4. Juha Helppi – €92,057
5. Stefan Fabian – €68,514
6. Samuli Spilia – €52,584
7. Michiel Brosky – €41,447
8. Rashed Zade – €33,411
9. Charlie Carrel – €27,349
Noah Boeken Wins The MCOP High Roller
 Juice bar owner Noah Boeken doesn't play many live tournaments these days, but he once again proved that the greatest players never forget the tools of their trade with victory in the MCOP €10,250 High Roller.
The event attracted 73 entrants and Boeken – the 2013 MCOP Main Event Champ – defeated Charlie Carrel in heads-up action to take the €217,069 first prize. The win moves Boeken over the €2m mark in lifetime live tournament earnings.
It was another excellent performance for Carrel. The British pro, who has made a startling transformation from online grinder to live high stakes tournament pro, also made the final table of the Main Event (see above) finishing ninth.
MCOP High Roller ITM Finishers
1. Noah Boeken – €217,069
2. Charlie Carrel – €144,615
3. Kees van Brugge – €98,901
4. Jans Arends – €69,524
5. Luuk Gieles – €50,330
6. Enzo Del Piero – €37,656
7. Rashed Zade – €29,087
8. Stefan Wolzak – €23,297
9. Rob Buky – €23,297
10. Wim Emo – €19,414
11. Karl Herold – €19,414