After PokerStars wins the EGR Operator of the Year award for the third successive year, Lee Davy, shares player opinion and questions justification of the award.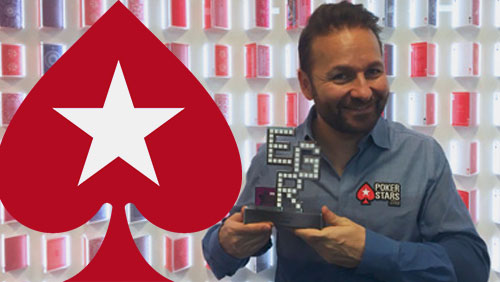 When not writing about poker, I am helping people quit alcohol through my company Needy Helper. I have been working hard to understand my customer, provide them with the value they crave and grow my business. A friend suggested listening to the This is Your Life podcast with Michael Hyatt.
I listened to five or six episodes. Instead of feeling positive and accruing new ideas to introduce into my business – I came away with a nasty taste of distrust.
Each episode was carefully designed to manipulate the listener into purchasing a particular product. In one sense, this is a good thing. Hyatt understands the worldview of his customer. He provides training courses, webinars and books that solve some of his customers biggest issues. He then sells these through his carefully choreographed podcasts.
But it made me feel uneasy.
Hyatt's strategy was fighting with my values, and the fight was familiar.
I had been in this situation before.
PokerStars Win The Poker Operator of The Year Award
The EGR Operator Awards are a big thing. They celebrate the movers and shakers in the gambling industry. PokerStars won The Operator of the Year award for the third consecutive year. Amaya – PokerStars' Daddy – won the award for Customer Service Operator of the Year.
I asked a selection of professional poker players to voice their opinion on the award. Not one of the responses was positive. Most of them didn't want to provide a printable quote. Here are some of those that did.
Daniel 'Jungleman' Cates didn't believe PokerStars were deserving of the accolade bestowed upon them by EGR.
"I don't think PokerStars cares at all about the players, and have been using any excuse they can to raise the rake, while at the same time using bullshit reasoning. I am also suffering problems with cash outs over $5k. I can't withdraw money from the site very fast at all."
Here is a viewpoint from Paul Vas Nunes:
"The decision is shocking considering their rake increases and decreasing customer focus."
And one from Anton Wigg:
"I don't know the criteria for the prize, but as a customer, I feel less and less valued by them. The changes made over the past couple of years have been more or less a money grab and not at all in the interest of their customers or for the future of poker."

How can the views of the customers vary so wildly from those of EGR?
Maybe I didn't ask the right customers?
Pros
They understand the worldview of their customer and create products they value such as Spin & Go, Zoom and Beat The Clock.
They attract a lot of attention through their relationships with Cristiano Ronaldo and Neymar Jr.
They do a lot of good work for charity through Helping Hands.
WCOOP, SCOOP and Micromillions remain the benchmark for online tournament series.
Estimated 71% of player traffic as of Q2 2016 (10x larger than any competitor)
2.4 million quarterly active unique players as of Sep 2016 (5% increase year-on-year)
Cons
Poor communication
Poor customer service
A focus on cost cutting as the primary objective
Changes to the VIP Rewards system impinging upon loyalty
Summary
If you have chosen poker as a profession, then this award is a joke. If you are a recreational player, then this award is justified.
Put yourself in PokerStars shoes for a moment.
They have a duty to understand the worldview of their customers. They need to understand their customer's daily lives, challenges, hopes and dreams. To learn what they are most proud of? They need to know what they want to do, but can't?
They need to learn what is holding their customer back? What are the things they care about? What gets them out of bed in the morning and prevents them from turning off the light at night? Who do they trust? Who do they listen to? What brands influence them?
They need to understand how they spend their time both online and offline. Where they spend their money? And most importantly, how much spare time they have and what would they like to do with it?
It's difficult to gauge a worldview when you have 2.4 million customers. What I have learned in business is to find a commonality. Of those 2.4 million customers, how many of them are professionals? It's a tiny fraction, but they have the loudest voice.
PokerStars have to direct their focus onto their largest customer base. It makes sense in every way. What they also do well is to find a commonality between both recreational and professionals alike – they provide an A+ playing experience.
We have to remember that throughout this fight between PokerStars and the grinders, the number of players using the site has increased by 5%. They must be doing something right. According to Eric Hollreiser, they have 71% of the market, so they are also retaining players.
I also asked players a second question:
"If not PokerStars, then who else do you think deserved this reward?"
The responses were barely worth printing such was the sparse feedback I got.
I don't know what metrics EGR use to determine who is worthy of this award, and that's important because to know this would shed more light on who could potentially be a worthy winner. I don't think it would matter one way of the other. The only bugs in the PokerStars machine are trust, integrity and the decision to put cost ahead of customer service. But if you were to ask their largest customer base how they felt PokerStars did on these three scores I am sure they would say, "okay."
Michael Hyatt's This is Your Life podcast no longer sits in my playlist. I understand that what he is doing serves a purpose for the greater good, but because his method clashes with my values I cannot continue to be his customer.
And I guess that will be PokerStars message moving forward.
If you don't like what we stand for, then go and play somewhere else.