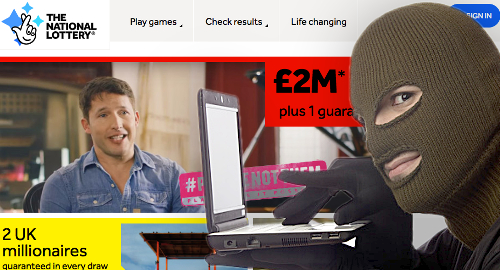 UK National Lottery operator Camelot has warned its digital customers that their personal data may have been compromised.
This week, Camelot issued a release stating that its online security monitoring had revealed "suspicious activity on a very small proportion of our players' online National Lottery Accounts." Camelot said around 26,500 accounts were unlawfully accessed, and the company is requiring these players to reset their passwords.
Camelot said fewer than 50 of the affected accounts saw "some activity take place within the account since it was accessed." Some of the personal details in these accounts were changed, although Camelot suggested that the changes may have been made by the players themselves. These accounts have been suspended until Camelot can contact each customer to work with them to reactivate the account.
Camelot said it's still trying to ascertain the full extent of the digital intrusion, although it suggested that email addresses and passwords may have been acquired from hacking another website for which National Lottery customers used the same details.
Camelot stressed that it doesn't hold full debit card or bank account info in player accounts and no money has been taken. Camelot also said the hackers hadn't accessed systems that would affect lottery results or prizes. Regardless, Camelot apologized to players for the inconvenience and says it has enlisted the help of the National Crime Agency and the National Security Center to get to the bottom of this matter.
It's not been the greatest year for Camelot's digital division. In late October, Camelot was forced to pull its National Lottery mobile app after players complained it was incorrectly verifying winning tickets as losers. The app was withdrawn for nearly a month until Camelot could issue a fix, and even then only for the iOS version.
Earlier this year, the UK Gambling Commission fined Camelot £300k for publishing incorrect winning number information on the National Lottery website. The digital missteps are all the more concerning given that Camelot's retail sales are on the decline, making the online and mobile channels crucial to the company's future.