Lee Davy investigates how recreational poker players might handle a confrontation with William Kassouf and turns to the Stoics for inspiration.
Imagine you're a social butterfly preferring solitude over sound; peace over people, but you love your poker, and one day, playing online you accidentally enter a satellite for the World Series of Poker (WSOP) Main Event and win the seat.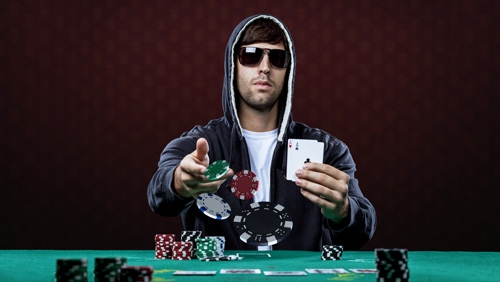 Shit.
It's non-refundable.
You put on your best frock, jump on a jet plane, dump your suitcase in your room at the Rio and sit down to compete in the $10,000 WSOP Main Event. You tweet to your one follower, your Mum, showing her a photograph of your seat card and chip stack.
"Shuffle Up and Deal."
You pick up aces in your first hand. You open, and a man sitting next to you three-bets, you four-bet, he five-bets, and scared out of your wits, you call. The flop falls [Qd] [Jc] [Th], and after a raising war, he puts you all-in.
Your wings look frail, and you flap around like your brethren did in Virginia Woolf's window ledge.
The man who has put you all in introduces himself.
His name is William Kassouf.
I don't care what form of verbal diarrhoea comes out of Kassouf's mouth when facing a pro. The pro is a pro for a reason. Handle it. It's part of the territory.
But a recreational player is a very different kettle of fish. For a recreational player, facing a volley of Scrabble tiles from a man like Kassouf, you may never play poker again. Hell, you may never leave your house again.
So what can the recreational players do to prepare for the Will Kassouf's of the world?
Why not take a lesson from the Stoics?
The Stoic Way of Dealing With William Kassouf
Think about your day thus far.
I bet you spent most of your time complaining about this and that, wishing your life was different, and blaming everyone for the worries that you currently hide beneath your Las Vegas Moneymakers hoodie.
This line of thinking takes you away from the moment, and if you ask Eckhart Tolle, you wouldn't want to do that.
Another way to lose the moment is to allow someone like Will Kassouf to steal your attention. If you focus on his words, you enable them to permeate the thin veil protecting you from fear and loathing. If you do that, he will hurt you because you won't be able to think about anything else but Will Kassouf.
And I'm not talking about that one hand. The Kassouf's of the world are like that long worm in Africa that Philipp Gruissem donates gazillions of pounds to – trying and prevent them from burrowing underneath the skin of children.
He can create pain and can emerge and erupt anywhere.
You will be thinking about him level by level and will dream about him at the end of the day.
The Power of Choice
The Stoics talk a lot about the power of choice.
By allowing Kassouf to affect you, you are choosing to allow him to do so. Your choices govern your responses, and your responses control your moment. Don't give him your moment. Like Act like Mark Renton and choose something else.
Choose not to listen.
Choose not to get involved.
Choose to laugh.
Choose to prevent him from burrowing.
Stoic philosopher, Epictetus said: "The chief task in life is simply this: to identify and separate matters so that I can say clearly to myself which are externals not under my control, and which have to do with the choices I actually control. Where then do I look for good and evil? Not to uncontrollable externals, but within myself to the choices that are my own."
You can't prevent a poker player from talking to try and gain an advantage. It's within the rules and an integral part of the lifeblood of poker, in my humble opinion. Without table talk, there is no game because there is no enjoyment. It's the connections and the interactions with people that make this game so unbelievable.
So prepare.
When that other Stoic great, Marcus Aurelius, said, 'that cucumber is bitter so toss it out!' he was making a statement that you should not have to put up with the nuisances that come your way in life. Will Kassouf is a nuisance. Don't put up with it. Leave the game, or face him, but make a different choice that will lead to a different response.
Take 100% Responsibility For Your Life
After reading Jack Canfield's Success Principles, I stopped complaining about my crappy job on the railway and quit to play poker for a living.
Don't complain about Kassouf.
Deal with it another way.
You can't control him or his flow of words and to think so is an illusion. He bothers you because you are afraid of him. He is producing fear. What is it? Are you worried he is a member of X-Men and can see your cards? Are you afraid that he will make you look like a mug in front of all these people? Yes, that's it. It's the ego. You don't want to look stupid.
So don't think about the future.
Think about right now.
This moment.
And to do this, you need to make a choice to find a spot anywhere in the room and stare at it until the hand is over. Then you laugh, move on to the next hand, and inwardly congratulate yourself. It takes more courage, resilience and grit to behave in this way than to admonish him for his behaviour.
Remember, it's not Will Kassouf that's making you feel uncomfortable.
It's you.