It's finally happening. Dana White has brought the Ultimate Fighting Championship to one of the most hallowed sports venues on the planet. Madison Square Garden will host the biggest and best card that the UFC has ever put forth, and it's headlined by a Champion-vs-Champion title fight featuring Conor McGregor and Eddie Alvarez.
From top to bottom, UFC 205 has it all. Three title fights serve as the headliners, with three more fights featuring Cerrone, Weidman and Meisha Tate. On top of that the preliminary card has names like Frankie Edgar, Rashad Evans, Jim Miller, Thiago Alves and Jeremy Stephens. It simply doesn't get better than this.
But the main event is Eddie Alvarez defending his lightweight title against Conor McGregor, and it's a matchup that could absolutely set up an even bigger, monster draw for Dana White and the UFC. It's a well planned, no-lose strategy to build for things further down the road.
I'll have a full main card preview next week, but for now I need to focus on this tantalizing main event. It's just so intelligently put together that I must marvel in all its glory.
THE LIGHTWEIGHT DIVISION IS PERFECT FOR MCGREGOR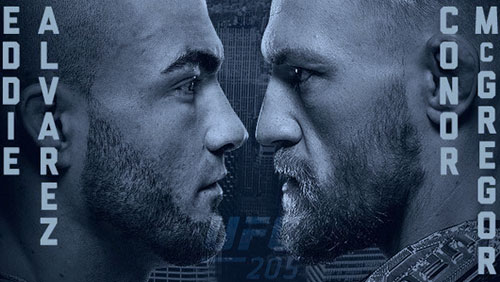 McGregor's last two fights have both been against Nate Diaz and you know the results. The difference here is that Diaz was a welterweight, which means he's at least 170 pounds. Alvarez is the lightweight champion, meaning that he's clocking in at a max of 155 pounds.
You can very much argue that the lightweight division is Conor McGregor's ultimate destiny. Notorious has laid waste to the featherweight division, eviscerating Jose Aldo and everyone there. McGregor says a lot of obnoxiously entertaining things, but one thing he's completely right about is being done with featherweights. There's nothing for him to gain and everything for him to lose by going up against those guys.
Why would Dana White, Conor McGregor and the UFC risk trotting him out against a division he's wasted already? They wouldn't. Not when they can do so much more.
WHITE PROTECTS HIS MONEY MAKERS
Let's back up here a second and talk about McGregor for a bit (because I know you guys want to). He's the biggest money maker that the UFC has, and the brass knows this. No offence to Ronda Rousey, whom Dana White referred to as their biggest star, but nobody offers a more massive financial typhoon than McGregor.
In most instances such as these, the UFC opts to protect their biggest stars. That's why McGregor got a non-contender like Nate Diaz at UFC 196 to begin with, and why a beast like Brock Lesnar got to beat up on Mark Hunt instead of someone more substantial.
White has a history of doing this, especially with Ronda Rousey (who I'm not picking on by the way). In divisions where he has an ample amount of contenders, he just rolls them out there with no problems. That's why you see middleweights, welterweights and heavyweights turnover the belt so often.
Sometimes the strategy pays off. Sometimes it doesn't (see: Northcutt, Sage). No system is perfect because this isn't professional wrestling where outcomes are scripted. But White needs to do this in order to build stars. It's one thing to sell to an MMA audience that will show up if good fighters are there, but it's another business reality to sell to the non-MMA fans. You have to lure them in and hope that they buy in on the bloodshed. That's White's plan in very simple terms.
Those that saw UFC 196's ending witnessed White looking unhappy, not because the Diaz-McGregor fight disappointed, but because it slammed the breaks on the rumored GSP-McGregor superfight he could've put together.
If you believe in this conspiracy theory even a little, you could argue that Tyronne Woodley was just a stop-gap for Rafael dos Anjos, who had developed a feud with McGregor prior to breaking his foot. Woodley was 3/1 underdog in his fight against then-champion dos Anjos, and continues to serve as an underdog at UFC 205 even though he's the champion.
The best laid plans often go awry, but White has always been exceptional at pulling the trigger on the best possible pivot. He's done it countless times which is why the UFC has grown exponentially during his tenure. The man just knows how to promote a sport and manage his given talent.
Moving McGregor to the lightweight division is by far the smartest move White could've supported and there are two main points to consider here. First, I don't think Notorious is truly big enough to fight in the welterweight division full time. Second, there are huge fights within the lightweight division for him already. Alvarez is one, Rafel dos Anjos is another. And then there's the fourth guy in UFC's own rankings within the lightweight division – Nate Diaz.
BUILDING TOWARDS MCGREGOR-DAIZ III
If McGregor loses this fight, White still has a draw in the final chapter of the trilogy with Diaz while building up Alvarez as a legitimate superstar. Should McGregor win, then you still have that final chapter but with a title on the line. That's the monster draw.
Generally speaking, White is absolutely covered from all angles in this one. McGregor has developed such celebrity that he could literally go on a four-fight losing streak and still be a major cash cow for the UFC. But as you can tell by the odds, which favor him, McGregor has an edge in this fight in more ways than one.
BREAKING DOWN ALVAREZ-MCGREGOR AT UFC 205
For starters, McGregor has a pretty decent, five-inch reach advantage. That's a decisive metric for UFC 205 betting when it comes to a matchup between two strikers. Between the two of them, McGregor and Alvarez have earned victories via knockout in 66% of their wins. And both will go head hunting in this one.
There's also the decisive quickness that McGregor displayed when he was fighting as a flyweight (and probably competing as a lightweight after making weight). Notorious bounces around the octagon like a bullet in a bank safe. I'm not entirely sure that Alvarez can keep up with it to be honest.
McGregor fighting at an optimal weight will benefit him in a lot of ways and one of those is endurance. Carrying an extra 15-20 pounds at welterweight obviously bagged him in his fights with Diaz. Shedding that weight will only make him more dangerous over the course of a five-rounder.
The length of this fight is a dangerous dangle for Alvarez. He hasn't gone the distance for five rounds since defeating Michael Chandler via split decision at Bellator 106 three years ago.
There's also no telling just how good Alvarez is at this point. His 28-4 record notwithstanding, he earned two split decisions prior to unexpectedly knocking out dos Anjos on a card that the UFC gave away for free because they wanted to build up the former lightweight champ's popularity to a mass audience before lining him up opposite McGregor. So much for that. What'd I say about best laid plans again?
Credit Alvarez for being a big time seller for the match of his life. He's going to cash in massively in an opportunity he may have never earned otherwise. At the press conference and in the media, Alvarez has been everything New York deserves. He's lippy, tough, articulate and agitated. He's ideal to line up opposite McGregor for the sake of promotion.
As far as fighting McGregor, I just don't see it. McGregor's striking distance, and his ability to maintain space is just too good. If he's able to handle five rounds of Diaz, one of the better boxers in the sport, then Alvarez shouldn't really pose a serious threat. We've also seen that McGregor's take down defence is adequate. I don't know if there's room to bust through to him and take him down unless you catch him on the chin a few times first.
This is a great fight to headline UFC 205 and the outcomes lead in to some great pathways. Alvarez becomes an absolute star and builds a new rivalry with McGregor, the status of the lightweight division is elevated through the skies and White still has McGregor-Diaz III whenever he wants.
There's no way the UFC can lose with this main event. Unfortunately, somebody has to lose the actual fight and as you can tell I'm leaning towards Alvarez. Part of me just thinks that McGregor is too good for him. The other part wants to see the end of that historic trilogy with a title on the line.
Conor McGregor -150 over Eddie Alvarez +120
Comments