This is a guest contribution by Duncan Patman, a senior copywriter at DroidSlots and MobileSlots4U. If you would like to submit a contribution please contact Bill Beatty for submission details. Thank you.
UK gambling operators are required to offer the option for players to self-exclude from gambling activities, with the intention of allowing those struggling with a gambling disorder to get a handle on their problem with the aid of reduced temptation. There is a clear implication underlying this rule, suggesting that self-exclusion is an effective tool for curbing problem gambling, an implication which means promoting self-regulation has become a key part of operators' responsible gambling literature.
What is less often discussed, however, is whether self-exclusion is really working. Without the assistance of counsellors or support groups, and with access to thousands of alternative gambling sites available at the click of a button, is it realistic to expect problem gamblers to rehabilitate aided by self-exclusion and will power alone?
The efficacy of self-exclusion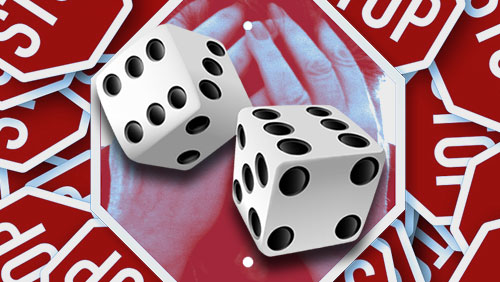 Despite the fact that the relationship between gambling disorder and self-exclusion is of interest to many parties – from online gambling operators and problem gambling support services, to behavioural psychologists and law enforcement – there is a surprising lack of specific research conducted on the efficacy of self-exclusion in relation to online gambling.
In the most comprehensive recent review into the success of self-exclusion as a harm reducing technique for problem gamblers in the UK, "removing the opportunity to gamble from those who struggle with self-control in a gambling-related context will help minimise at least some gambling-related harm." It concludes that, while self-exclusion has little effect on the contributing factors of problem gambling, when executed correctly, it can have a hand in curtailing excessive financial loss through gambling.
Most psychologists agree gambling disorder to be a close analogue for drug and alcohol addiction, with self-regulation being most successful when reinforced by other means of support such as counselling or peer support groups. The question is raised, then, whether the industry investing too readily in the idea of self-exclusion as the solution to problem gambling is making us blind to other methods of addressing it, especially when it still requires so much effort and restraint on the part of the player to be at all effective.
The top five reasons given by problem gamblers who seek profession help for not having taken up the option to self-exclude from gambling are: that they are able to gamble elsewhere, they're not ready to stop gambling, they feel ashamed, they don't trust the system and that self-exclusion is too much effort or inconvenient. Operators leaning too heavily on the idea that offering self-exclusion options is all that's required to promote responsible gambling run the risk of allowing problem gamblers to fall through the cracks of their own complacency.
It's clear alternative approaches are required, however effective substitutes for self-exclusion aren't necessarily welcomed by all. For instance, the suggestion of implementing mandatory 'reality checks' (messages which appear periodically to remind players how long they have been gambling for and/or how much they have spent) often face pushback from operators who fear putting off otherwise healthy gamblers.
One of the most promising options in development at the moment is machine learning algorithms which track the behaviour of known problem gamblers, look for the same patterns elsewhere and push targeted promotion of responsible gambling and self-exclusion to those who exhibit similar behaviour. This research is still ongoing, however, and a costly industry-wide rollout seems unlikely in the short to medium term.
The National Online Self-Exclusion Scheme (NOSES)
Many readers will no doubt already know about the proposed National Online Self-Exclusion Scheme, a joint endeavour between the UKGC, the Remote Gambling Association (RGA) and the Department for Culture, Media and Sport. The scheme aims to address the key pitfall of self-exclusion as it's currently administered – i.e. the fact players must self-exclude from each online operator independently of any other – looking instead to "provide consumers with a single process whereby they can self-exclude themselves from all online gambling operators that are licensed by the Gambling Commission."
It's been over two years since the UKGC began exploring the scheme. At the start of 2016, the UKGC handed responsibility of implementing NOSES to the RGA, who is currently consulting with professional services company KPMG to determine how to build a working framework for its execution.
However, even if the scheme is implemented, there remains question marks over the results it will see. Firstly there is the perennial issue that players will still need to opt-in to self-exclusion; unless there's some structure implemented to identify problem gamblers, they'll still need to identify and admit to their predicament themselves. Moreover, there's a fear that while licensed and regulated UK operators will sign up to the scheme, illegal operators or those legislated overseas will not. Consumers may turn to these in desperation, resulting in them playing in a more dangerous gambling environment.
The most worrying aspect of all is that there's currently no evidence to suggest that the scheme will do anything to address the underlying disorders which lead to compulsive gambling. While here isn't the place for a conversation on how far the industry's duty of care to consumers extends, one must ask whether it's justified to congratulate ourselves over progress on self-exclusion, leaving other avenues which may prove more beneficial for the long-term health and security of our players unexplored.
About the author:
Duncan Patman has been writing for the DroidSlots, MobileSlots4U and online casino brands for nearly five years, drawing on his vast experience in affiliate communications and digital marketing. He has a particular interest and is the in-house expert on social responsibility of gambling operators around the world. All questions and queries are welcome at [email protected].
Comments