Lee Davy talks to Jeff Gross about his plans to take Twitch streaming up a notch by moving into a streaming house with Jamie Staples and co, what he has learned from his mentors, and much more.

Take out a notepad and a pen.
Write down the names of the five people you spend your time with.
Now look at them because that's how you are going to end up.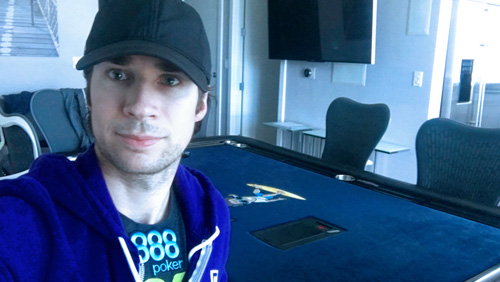 NBA legend John Wooden said, "Whatever you do in life surround yourself with smart people who'll argue with you."
I think Jeff Gross takes that to a whole new level.
In this interview, I talk to Jeff about his recent performance at the World Series of Poker (WSOP). How important it is to diversify in the modern game. Who the people are who have made Jeff Gross such a success in life? The future of his Twitch Channel and plans to move into a dedicated streaming house with the likes of Jamie Staples and Kevin Martin. And what he has learned from the greatest Olympian of all time.
Enjoy.
How was your series?
"I had a pretty good summer. I didn't get the bracelet which is always the goal, but I had a bunch of cashes, cashed in the ONE DROP, took a week off and was pleased with my game overall."
When you decide to play in the ONE DROP High Roller does the result in that event mean everything to you?
"I sell action for the big buy-in events, but I always want to do well for those who are backing me. The ONE DROP and the Main Event are the main two. If you do well in one of the other ones then sweet, but every street does matter that little bit more when you are playing the bigger buy-in events."

When did you realise you had to become much more than just a poker player?
"I like to be well-rounded. There are some guys at the very top, the Wizards, who are super good at poker and don't need to be as balanced. I enjoy travelling, working on different things. Twitch has been a new avenue where I have been able to blend travel, engagement, lifestyle, poker strategy, and have fun with it.
We are doing a stream house with four other guys, and that should be fun. We will stream pretty much every day living under one roof."

Tell me more about the Twitch Stream Team.
"It was Jamie Staples idea, we met in PCA and discussed it. Kevin Martin, who signed a deal with PokerStars lately, will join us. Also Matt Staples, Jamie's brother, and then maybe Parker "TonkaaaaP" Talbot. But the other three guys and myself for sure. We may set up in Vancouver but are on the fence at the moment. We are looking to start in time for the WCOOP in September. Poker Refugees are going to help out with the project."

Who are the people who have made Jeff Gross great?
"My parents for one. My Dad, in particular, accepted me in my choice to play poker so I didn't have to go through that acceptance hurdle. My parents made it easy from Day 1. Michael Phelps – I lived with him 2008-2015 in Baltimore. In his arena, he is the Top Dog, and I have learned a lot of interesting qualities, skill sets, motivational stuff and what it takes to be successful so I have to give him a big nod on that.

"The way to get better at poker is to engage with other great poker players. Everyone in poker thinks they are the best. When you can step back and realise that you aren't the best, and understand there are a lot of areas you can improve then you can learn from others.

"The players who have been instrumental in my game throughout the years have been Matt Waxman, McLean Karr, and Tim Begley. Charles Hook is a good friend of mine who is so talented and showed me how other players perceive me and that I can maybe switch up my game a little and go into another gear.

"Now in the last year, it's Brian Rast and Antonio Esfandiari in particular. Outside of poker, Bill Perkins and David Silverman have had a big impact in my life, showing me cool stuff about being a father and the real world stuff. They have been strong mentors for me. I can name a lot more, but these are the significant ones in my poker and personal life. They moulded me and were very impactful."

What is the most important thing you have learned from Michael Phelps?

"I think it has to be the importance of setting goals. He also helped me learn that I am my obstacle in life. There was this one time when he was writing down timing goals for individual events he would compete in. He wouldn't show anyone. He made an excellent point. He would set his time-related goal, and he was in control of that. If someone else beat it, it was irrelevant because he had no control over it. He can't control other people's goals. Only focus on the goals you can control.
"It's the same in poker, at the end of the day set a chip count goal, a certain amount of cashes, whatever it is. You can't control how many chips the chip leader will have. It was a powerful thing that I learned. Michael Jordan, Steph Curry, there is a mental edge with these stars, something inside of them, they have what it takes to do the extra practice and be real with themselves."
You are friends with the greatest Olympian of all time and two of the greatest poker players of the modern era, what is that like?
"It's interesting, but you grow numb to the madness that surrounds them in the public sphere. I wouldn't say I feel pressured because they are my friends. Antonio and Brian – they mess around with me about my seconds and third. Winning a major championship would be nice. They take the fun out of me, but it doesn't impact me. With Mike, he is an Olympian, not a poker player. It would be nice to win a title being around Brian and Antonio because they have won some of the biggest titles. They set the bar high. I am younger. You do compare in ways, and that's natural. Once in a while, I think about it, but it impacts me in a positive way. It makes me want it more."

Who is the villain of the Jeff Gross story?
"I try to take on too many things. Twitch has been a struggle. It's fun, but I am on the road a lot I take a portable set up, and the Internet is not always good. That's why I am excited about the Stream House because I can have solid Internet and a nice setup. I get stretched a little thin. I have a great relationship with my fiancee, and that's great I wouldn't change it for the world, but that's also different to when I was running around as a free spirit doing what I wanted when I wanted. Poker gives you freedom but there are long hours, long sessions, and I sometimes struggle finding the balance."

Was there ever a time in poker when you considered quitting?
"I have run through scenarios with my fiancee how life would look when we have a family and what life would be like without poker. I want to segway away from poker in the future. I don't want to play poker my whole life. I love it, and I think I will always play it but less in the future. I have never thought about quitting, but playing less."

If you did leave poker how would you make your money?
"I have already started one thing called ChargeCubes which is a cell phone charging station. I do that with Antonio and Brian. We have ten at Ravens Stadium; we have some more in other poker rooms. I have my hand in a lot of random investments with friends. I am working on a thing called Stake Kings, an auction-bidding site. Twitch is another form of revenue generation. I have always been proactive. Making a living through poker is tough, and you need multiple streams of income. It's nice to have some regular stuff going on alongside the poker."

If I gave you 10,000 hours to work on anything what would it be and why?
"I think I would learn the mixed games. I keep talking about it every summer. I would give me a better chance of winning a bracelet."