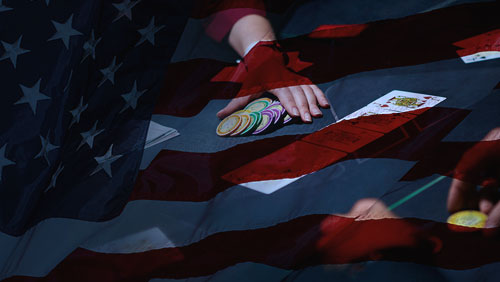 Heads up poker fans, it's the time of the year again.
The main event of the 2016 World Series of Poker (WSOP) is kicking off on July 9, and even if you've lucked out of having enough moolah to stake yourself in the championship, there's still hope—prop betting.
Several online sportsbooks have released a list of interesting prop bets that are bound to get anyone sweating—or at least in on the action—when the main event comes.
Will a player from the United States win the main event?
That's the question fans and bookies alike are asking.
At Oddsshark, a WSOP winner from the U.S. is favored at -120. That's not surprising really, especially since the tournament has been made up of mostly American entrants. Since 2000, an American player won the WSOP tournament nine teams, while a European player won four times, and a Canadian once.
Bovada offers the same odds for a U.S. winning player at -120, while a player from Europe is at +250, Canada at +350, South or Central America at +650, and Australia at +1200.
Statistics, however, is bound to change, especially now that the playing field has started to level out as poker becomes more mainstream.
Young or old?
The age of winner prop bet is also on offer, with the over/under age set at 27.5, and Oddsshark offering -120 on both sides of the line. Current trends have shown that poker is fast becoming "a young man's game." Since 2007, no main event winer has been older than 27 and the average age of the winner has been 24.
Phil Ivey (-130) vs Phil Hellmuth (-110)
It's the battle of the two Phils.
Phil "The Poker Brat" Ivey, who has a record of 10 WSOP bracelets and cashed at 32 Hold'em events, is up against Phil "The Tiger Woods of Poker" Hellmuth, who has won 14 gold bracelets and finished in the money at 115 WSOP events. Of note: Ivey has yet to play in a bracelet event this summer.
Daniel Negreanu (-150) vs Phil Laak (+110)
Daniel "Kid Poker" Negreanu, who finished 11th in 2015's WSOP main event, is one of the favorites to become the last man at the table this year. In comparison, Phil Laak is less experienced cashing out in WSOP events, finishing in the money 21 times in his career.
Doyle Brunson (+110) vs Barry Greenstein (-150)
It's the question of who will last longer at the table. There's a high chance that poker hall of famer Doyle Brunson will skip the main event—as he has since 2014. The guy is 82 years old and has recently underwent surgery to remove a cancerous growth from his face, not that the surgery would've affected his game.
Matt Damon (-120) vs Ben Affleck (-120)
Flip a coin and hope for the best as there's really not many numbers to back either of these two guys, at least at the poker table. At any rate, there's a chance Matt Damon may have picked up some pointers when he played Mike McDermott in the poker classic movie, Rounders. His pal Ben Affleck, on the other hand, bagged the California State Poker Championship in 2004.
Comments