This is a guest contribution by James Isherwood, Editor and Lead Games Analyst at Slotsquad.co.uk. If you would like to submit a contribution please contact Bill Beatty for submission details.
Footballers like shots on target, but they prefer goals, affiliates like registrations, but they need First Time Depositors (FTD). If we are to survive as affiliates within our own competition and tournament, we need to get more shots on target, create set pieces of marketing and put out the best formation to meet the demands of the player. In affiliate marketing, one of the best ways to increase sales output and FTD performance is by closely following major events and keeping current with the times. It sounds like common sense, but learning how to integrate trending topics with your own marketing efforts requires some tactical thinking. Euro 2016 is just one of the big events happening right now that we can work with to help increase revenues.
Shift content towards the extended demographic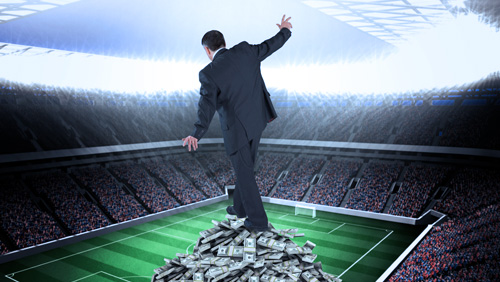 Major sporting events such as Euro 2016 can expand the goal posts for affiliates through an extension of the key demographic as the line between sports betting and casino games becomes finer, advertisement rockets to reach millions and marketing material gets a fine tuning. By taking shots at this wider goal, affiliates can reach customers that were once unchartered, connect with people that were previously unreachable and find common interests through covering more ground. This happens with content and shifting your copy in the direction of the extended demographic.
By mentioning tournament related bonuses, new football-themed games and even football team results within your content, you demonstrate your ability to remain current and your websites interest within Euro 2016 resonates with the customer. A football fan might not be looking to play online slots, but if you're discussing that deflection off the post, or a certain team's early exit and your personal disappointment, whilst at the same time promoting a special offer on that new football-themed online slot, you widen your possibilities of reaching someone new.
Write for the FTD, not the registration
If you're watching prime-time Euro 2016 Football or any other major sports event, look at the advertisements and you'll become very familiar with sports betting offers, but look more closely at those offers. Very rarely are they promoting free play or freebies, but instead free bets normally granted on deposit, therefore a deposit match bonus. These adverts are not aimed at registration, they're aimed at the first time deposit and you should as well. But sports betting customers are already looking to deposit; they're looking to bet on their favourite team winning, the top player scoring or that genius accumulator, regardless of their motive, they are depositing.
So why not write for the FTD instead of the registration and why not guide players in the direction of true play as opposed to the alternative free play, after all, don't the potential rewards exist in the former anyway? Is this not the reason why football fans arrive at their sports betting accounts with a deposit? The enjoyment of possibly winning without the terms and conditions dashing any hopes of that bonus money win? As casino affiliates we could certainly learn something from this, honesty is the best policy and writing your offers in favour of the First Time Deposit will do your business and your reputation much better in the long run.
If you're writing for the FTD, you remove hundreds of potential bonus seekers, fake email address name sakes and bogus accounts from delaying the success of your business and the growth of the industry, and that's just honest practice. Free play does have its place and can be useful for trialing a product, new game or platform, but don't tell your customers it's anything more than that.
Link betting products and diversify your strategy
With a big tournament such as Euro 2016 getting everybody excited, talking, supporting and for some people, betting, it's important to diversify your strategy by linking betting products where you can. There could be a conversation at work about last night's game, how they bet on a certain team to win or even "have you seen that new football-themed slot that this developer has built?" It's your ability to connect and link betting products that can really help to facilitate this information and its movement across the internet.
For example, an article explaining why you should play these top 5 online slots could support offers to play them at websites that contain sports betting applications, or an article for a sports bet bonus could mention the details of a new football game in that particular websites casino section. Placing connections and linking betting products is a very powerful solution that can help build your business, and football is one of the greatest conduits to link those products together. It's about getting your readers, players and customers to think about something else, but something that's not completely off target.
Get behind Euro 2016 and make your readers aware of it
There's nothing worse than robotic copy or websites that promote and discuss football associated bonuses and games in a manner that lacks passion. In the beautiful game, fans are making bets because they're passionate about the outcome, they're playing that new football slot because, (wait for it) they might like football. If you're going to connect with people who like Euro 2016, looking to bet on Euro 2016 and to play new football-themed slots because it's Euro 2016, then you better get yourself and your website behind Euro 2016.
About the author:
James Isherwood is the Editor and Lead Games Analyst at Slotsquad.co.uk, a UK facing information broker to casino players and online slots enthusiasts. Slotsquads key attribute is product rating and games alignment, ensuring their readers get the best possible requirement for their gaming needs.
Comments