Lee Davy sits down with the most successful online tournament poker player in history, Chris Moorman, to ask him his thoughts on signing with 888Poker, personal branding, and a whole lot more.
Chris Moorman is a big deal.
When I was watching the Global Poker League (GPL) Draft, he was one of the players you knew was a dead cert. He is the most successful online tournament player in history. And he recently signed to become the brand ambassador for 888Poker.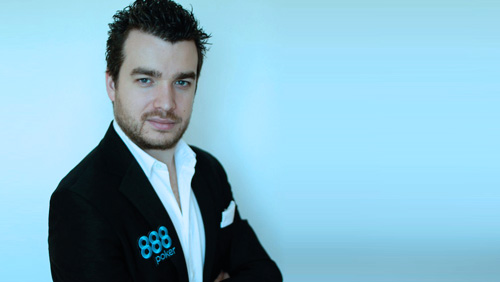 If you have spent time around Moorman over the past decade, you will have noticed a change in his demeanour and willingness to give back to an industry that has given him so much.
I wanted to find out why he had changed and what his inspirations were?
This is what he had to say.
Why has it taken so long for the most successful online tournament player in the world to be signed by a top online poker room?
"The market changed drastically after Black Friday and sponsorships weren't being handed out like they once were. Poker is back on the rise, and I feel honoured to be chosen as an ambassador of such a great site, especially when there aren't many sponsorships being offered even to the best players."
I have noticed a massive shift in your focus on personal branding over the past few years. Take me back to the root of the change and explain the process leading to this point.
"I think the biggest change was meeting my now wife. She had been an agent and manager in poker so she knew the importance of branding and getting yourself out there. I opened myself up to doing things I had never cared about before and honestly am so glad I did. Writing my book was such a huge accomplishment, and I would never have done it without her encouragement."
Talk about your forthcoming Twitch Stream. What are your plans to differentiate yourself from the competition?
"I never thought Twitch was for me before, mainly because you are giving away a lot of information about your game. Signing with 888 though has made the idea attractive to me, and I look forward to streaming the final tables I make on their site and hopefully get a lot of viewers! I got a little taste of streaming when I played the GPL Six-Max matches on camera and had to talk out my thoughts there. I received positive feedback on it, so hopefully, my Twitch appearances will follow suit. I've never done any training videos or coaching before so I think it will be cool for viewers to see some of the plays I make and lines I take which I believe has differentiated me from other top online players and has gotten me to where I am today."
What is the greatest life-forming experience you have ever had and why was it so important?
"Probably having to drop all of my horses and rebuild my bankroll after I had lost millions from backing. After having personal success for seven years previously, it was emotionally tough to start over. It was a lot harder than I thought it would be and definitely character building."
Go back in time seven years. What would you do differently?
"If I had to go back seven years and change something, I wouldn't be backing as many players as I did and I would be more organised with it. That being said I definitely live my life with no regrets and take everything as a learning experience."
Who is the best card-for-card poker player in the world and why?
"This answer is constantly changing, especially when it comes to tournaments where there is so much variance. A year ago everyone would have said Dan Coleman; now everyone would say Fedor Holz and a year from now people will probably say someone else. Cash games are a lot more consistent, and people would say names such as Ben Sulsky, 'OtB_RedBaron', and Doug Polk as some of the best."
If I gave you 10,000 hours to master anything, what would it be and why?
"I would master all the mixed games as then it would be much easier to win a bracelet!"