There was a time when interest in UFC 200 was vanishing. A card that was supposed to be headlined by Conor McGregor and Nate Diaz in a rematch would've been the easiest sell in the world, but that fight evaporated somewhere over Iceland. Dana White had to do something big to get the spotlight back on this event.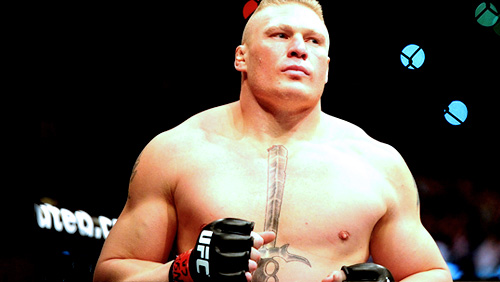 If you need a big money attraction to draw attention to whatever your organization is doing, then Brock Lesnar is the guy you call. Vince McMahon knows it. Dana White knows it. The Minnesota Vikings knew it too. Hell, I wouldn't have been surprised if Tim Cook called Brock to punch Windows Vista in its face onstage at the Apple WWDC.
Mainstream attention had already been spiking in a way that it wouldn't have unless McGregor and Diaz were featured on the card. Lesnar has that type of effect on people, and we know this because his career has been a bizarre and fascinating story of a warrior vagabond. He's led a life that seems unbelievable because it is.
Lesnar climbed to the top of the WWE by pinning The Rock for his first title reign, becoming the youngest champion in the company's history at the time. Poised to be (quite literally) "The Next Big Thing", Lesnar left millions of WWE dollars on the table to go try out for the NFL. Everyone thought of it as a joke, but how often do you hear about guys walking on to an NFL team to play defensive lineman? It doesn't happen. That's how much of a freak this guy is.
Ultimately Lesnar was physically ready to play in the NFL but he wasn't there mentally. Assigned a practice roster spot so he could learn how to play a game he hadn't since high school, Lesnar quit the NFL to cash fat checks wrestling in Japan. He then began fighting MMA and was quickly scooped up by Dana white back in 2007.
His third fight in the UFC featured Lesnar in one of the biggest fights of all time as he crushed the legendary Randy Couture to become the UFC Heavyweight Champion. Months later, at UFC 100, he was headlining the biggest PPV in the company's history at the time as he retained against Frank Mir at UFC 100.
All that seems like a lifetime ago, and in the midst of it, Brock has gone from being a potential UFC Hall of Fame fighter to an afterthought. The last time we saw Brock Lesnar in the ring, as he was pummeled to death by Alistair Overeem at UFC 141. It really wasn't a fair fight. Lesnar had just overcome a bout with diverticulitis and had 12 inches of his colon removed. Overeem was also jacked up on so many steroids in that fight that he was summarily banned from competition for a whole year.
Brock left the UFC after that bout for good reason. His health was in dire straights. He's never really done anything he can't be truly great at, and the WWE was ready to bring him back on a special contract.
It's well documented that professional wrestlers have quite possibly the worst schedule of anybody that might resemble a professional athlete, and Brock has a very unique deal with McMahon in that regard. He's paid over $2 million a year to appear part-time. The only other people in the universe that eclipse his salary are The Undertaker and The Rock, who are wrestling legends in their own right. Vince knows that Brock means business. Big business.
So yeah, Brock Lesnar gets paid a king's ransom to come and go as he pleases. And where does he want to go? The UFC! TO FIGHT A REAL FIGHT!
When asked why he wanted to, Brock answered in the cave man way that only he can. "My No. 1 objective is to get in there and prove to myself. I'm not proving it to anybody else," he stated in an online interview. "This is for me."
And that's the truly great thing about Brock Lesnar. His entire life has been about him. He's like the ultimate representation of Frank Sinatra's iconic song, My Way. "What do I feel like doing for a living? How do I make heaps of money and still get away with making my own schedule? Can I represent Canada at UFC 200? Can I use my WWE theme music at a UFC event?" Of course you can, because you're Brock Goddamn Lesnar.
You can't tell me you're not absolutely enthralled by the idea of Brock Lesnar in a real fight again. Especially against a walk-off, knockout artist like Mark Hunt. Dana White knows what you and I both do – Brock Lesnar is a PPV saving boss.
The proof is in the numbers. Three of the UFC's most profitable events featured Brock Lesnar as the headline act. That includes UFC 100, UFC 116 and UFC 121. In fact, UFC 100 was the best in the company's insanely dense history until UFC 196 featuring Nate Diaz and Conor McGregor.
And that's the irony in this whole thing: Brock probably doesn't come back to co-main event UFC 200 unless McGregor bows out of fighting Diaz in that weird whirlwind of a controversy that stalled the rematch. Maybe White screwed up Diaz-McGregor 2. Or maybe he knew that he had a Lesnar-sized ace up his sleeve and wasn't about to bow down to McGregor's demands.
Either way, we still win as fans because Brock represents the most unique entity in the fight game today. He's a true prize fighter. You dust him off to draw massive crowds, appeal to the mainstream and sell tickets. He's such a gravitational force of nature that he's even bridged an otherwise rocky relationship between the UFC and WWE.
Everything about Brock at UFC 200 is going to be bananas because everything leading up to has been absolutely bonkers. Lesnar even had to arm-wrestle Vince McMahon to get permission to return to the UFC. Reputed MMA reporter Ariel Helwani was even banned for life (but since reinstated) for breaking the news in the first place. I mean, you can't make this stuff up.
This whole party might be upended by another, crisp and devastating Mark Hunt fist to the face but I'm going to enjoy the ride while I can. Brock is a +140 underdog as we approach UFC 200 next Saturday, July 9th. Hunt is strongly favored, as he should be, at -170.
Do you really think that I'm going to miss my last chance to shovel coals in to the roaring engine of the Brock Lesnar party train? No way. Just take my money.
Love him or hate him, it's good to be Brock Lesnar…even if it might not be come July 9th.
Light Heavyweight Title Match – Jon Jones -305 over Daniel Cormier +235
The odds in this fight pretty much tell the story. Jones stands as a 1/3 favorite to reclaim sole ownership of the light heavyweight title, and that's totally fair. Despite all of the crap this guy gets in to outside of the octagon, he's still never lost outside of a disqualification dating all the way back to 2009. If you don't consider Jones the best pound-for-pound fighter, you'd have to at least admit he's top-3 without a doubt.
To be fair, I don't love Cormier. In fact, I sports hate him as much as anyone could (as in "not real life" hate). I didn't expect him to beat Rumble Johnson. It's questionable as to whether he beat Alexander Gustafsson in his only title defense. What I do know is that he was worked over for five full rounds the last time he fought Jones.
Is Cormier a better fighter than he was the last time they met over a year ago? I don't know. It doesn't feel like it. But Jones hasn't lost a step, as he proved by outclassing Ovince Saint Preux at UFC 197. The UFC sells this fight as a grudge match, but I'll call it what it is – this is a mismatch of immense proportions.
Women's Bantamweight Title – Amanda Nunes +195 over Meisha Tate -250
There's a reason that UFC 196's main card opened with Amanda Nunes. This woman is a goddamn tornado. Meisha Tate is absolutely deserving of the title after beating Holly Holm straight up, but there are also holes in her game and I remain unconvinced that she can handle a relentless opponent that will take the fight to her.
This division is also more wide open than anyone wants to admit. Holm is still in contention and Rousey is looms large despite an ongoing recovery from her first career loss. Nunes is right there and is definitely worth a gamble as a near 2/1 underdog.
Featherweight – Jose Aldo -110 over Frank Edgar -120
You can't convince me to bet against Jose Aldo in a rebound fight after he was knocked out in the blink of an eye by Conor McGregor. The former, top-ranked, pound-for-pound fighter just has to bounce back. He has to.
Synching up with Frankie Edgar will be the ultimate test. Edgar has ripped off a five-fight win streak after Benson Henderson and Aldo combined to hand him three consecutive losses that almost sunk his entire career. I love what Edgar's done, and you're right to be fearful of backing Aldo, but there's no way I can bring myself to leverage against the best Brazilian in the game.
Heavyweight Match – Cain Velasquez -305 over Travis Browne +235
Does anyone actually care about Travis Browne outside of the fact that he's dating Ronda Rousey? I don't. You shouldn't. Cain Velasquez won't.
Odds Courtesy of Bodog