France and Wales have the luxury of competing against a third place qualifier after topping Groups A & B respectively. Switzerland and England go through as the runner-ups. Albania and Slovakia face a sweat to see if they can sneak through in third.

France and Switzerland epitomised the Euro 2016 vibe with a goalless draw in Lille. The hosts came into their final group game knowing their 100% record had guaranteed them a berth in the Round of 16 but were eager to finish as Group A leaders.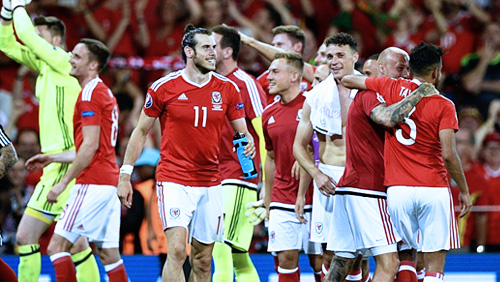 Paul Pogba, left out against Albania, returned to the side and looked as hungry as ever. The Juventus midfielder coming closest to scoring hitting the woodwork on two occasions, and having a smart shot saved by Yann Sommer in the Swiss goal. Dmitri Payet came on in the second half and also hit the bar.
It was a good point for the Swiss, who go through to the Round of 16 in second place. The French will face a third place qualifier in their Round of 16 match; Switzerland are likely to face Germany or Poland, and neither of them will be particularly quaking in their boots at the thought.
Albania finished third after a historic win over Romania who head home after a disappointing tournament. Armando Sadiku's 43rd-minute header was the first goal Albania had scored in a major sporting final, and they will have to wait until the rest of the group stage matches before they know if their three points are enough to book a place in the qualifying round.
Group A Results
France 2 v 1 Romania
Switzerland 1 v 0 Albania
France 2 v 0 Albania
Romania 1 v 1 Switzerland
France 0 v 0 Switzerland
Albania 1 v 0 Romania
Group A Final Table
1. France 7 pts.
2. Switzerland 5 pts.
3. Albania – 3 pts.
4. Romania – 1 pt.
Group B: Wales Top Group; England Second
Assessing England's prospects in this competition has been difficult. They have turned up to compete on three occasions. The bus has been parked in front of them every single time.
The Russians did it, the Welsh followed suit, and the Slovakians have finished things off. Three sides who knew they were second best before kick off and settled for nothing but a sturdy defence and fingers crossed for a breakaway goal.
The Slovakians intent was clear from the first kick in St. Etienne. A draw would likely be good for third, and a place in the knockout stages, and it would have heartened them to see how difficult both Russia and Wales made it for England to break them down.
The England manager surprised everyone by making six changes to the side that beat Wales. Hodgson rewarded Jamie Vardy and Daniel Sturridge for their strikes against the team from Gods country; Jack Wilshere and Jordan Henderson came into midfield, and he rested both full backs with Ryan Bertrand and Nathaniel Clyne given the task of patrolling the flanks.
Of the six changes, it was Clyne who gave the manager the biggest headache going into their Round of 16 game against the runners-up of Group F. The Liverpool full-back carried on where Kyle Walker left off and was the main attacking threat of a frustrating 90-minutes for the English. Their next match could be against the Portuguese, if Cristiano Ronaldo's side fail to win their group and finish as runners-up.
It was a different story over in Toulouse where the Welsh destroyed Russia to finish as group leaders. Aaron Ramsay put the Welsh ahead with a smart dink over the keeper; a rare goal from full-back Neil Taylor made it two, and Gareth Bale has now scored in all three of Wales matches as his second-half strike gave the Welsh a comfortable 3-0 lead. Bale is now the tournament's top scorer with three goals.
Group B Results
Wales 2 v 1 Slovakia
England 1 v 1 Russia
Slovakia 2 v 1 Russia
England 2 v 1 Wales
Wales 3 v 0 Russia
England 0 v 0 Slovakia
Group B Final Table
1. Wales 6 pts.
2. England 5 pts.
3. Slovakia 4 pts.
4. Russia 0 pts.
The Welsh will take on the third-place finishers in either Group A/C/D, England take on the runner-up of Group F, and Slovakia will have to wait until the rest of the group matches have been completed to learn their fate.
Comments