Rainer Kempe is the newest Super High Roller Bowl Champion after defeating his compatriot Fedor Holz in heads-up action to capture the $5m first prize at the ARIA Resort & Casino in Las Vegas.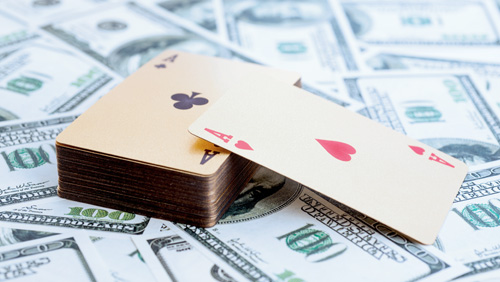 In most sports there is a predictable picture when the confetti flies into the air, and the nerves slither back to their perch. One person is elated. The other wears this face of utter 'get me the hell out of here' dejection. But poker is not like 'most' sports.
When Rainer Kempe stood triumphantly behind his winning hand and $5m in bricks it was a nice to see the man he defeated in heads-up action, Fedor Holz, with one hand on his shoulder, and the other punching the air with delight.
It was a final table cast that would have created a glint in the eye of any Hollywood producer. There were young German wizards, old all-American sages, a multi-million dollar businessman, one of the greatest card for card
competitors in the modern game, and even an underdog tale to be told.
Rainer Kempe and Fedor Holz entered the final day one-two in the chip counts. And that's how it ended when Poker Central and CBS Sports stopped rolling after a long, hard days graft.
Here's what happened in between:
The first player eliminated was Dan Shak. The trader by day, poker player by night, shoved over a Holz raise holding [Kd] [Js], and a reluctant Holz called holding [As] [9d]. Shak nailed a pair of jacks on the river, but the board of [Th] [7h] [3c] [8s] [Jd], gave Holz a straight.
Back on Day 2, Matt Berkey was the chip leader. While it's tough to pick out an underdog in a $300,000 buy-in event, you would have to pitch Berkey in that range. With close to $2m in live tournament earnings, the man is no slouch, but this level of competition and this high a buy-in is different gravy.
There Goes King Kenney
Berkey started the day well, doubling through Bryn Kenney when he needed it most after moving all-in searching for a flush draw against the top pair of Kenney. The turn brought Berkey all that he could eat. The Global Poker League (GPL) New York Rounders Team Manager exited soon after; open jamming the button holding pocket sevens, and Holz woke up with jacks in the small blind. It was tough for Kenney with $5m up for grabs, but it was another excellent performance from a man who seems to be at the peak of his powers.
No Underdog Tale
Berkey was next to go in fifth place for a personal best haul of $1.1m. He limped the button holding [As] [9s], and then called off a Kempe shove. The German's pocket sevens improving to a set on the flop and Berkey's moment in the brightest of poker lights had come to an end.
Berkey's elimination gave Kempe a stranglehold on the match as they went into Level 23 with blinds at 40,000/80,000 Ante 10,000 in the following shape:
• Kempe 9.1m
• Holz 4m
• Hellmuth 1m
• Seidel 525k
Wizards and Sages

If there's one person, who can give you a valid opinion on the Daniel Negreanu claim that it's easier to win money today than the pre-Internet era, it's Erik Seidel. He crushed it back then, and he still crushes it today.
Seeing Seidel in the last four of a big tournament like this is as sure as seeing a deck of cards, and he flourished like a brass section after doubling through Holz [Qc] [9s] v [8c] [7d].
I wouldn't put Hellmuth in the same bracket as Seidel. However, the numbers don't lie. The 14-time World Series of Poker (WSOP) bracelet winner knows how to survive. He rarely plays in these big events but when he does you can often find him in the mix as the pack dwindles.
There was an $800,000 pay jump between third and fourth, and it was always going to be a battle between Hellmuth and Seidel. Ultimately, it would be Seidel who got the extra spondoolas after Kempe axed Hellmuth in fourth. White Magic completed from the small blind before calling off a big bling shove from the German. Kempe's [Kd] [Jh] dominated Hellmuth's [Qd] [Js], and the kicker played to send Hellmuth to the rail.
With Hellmuth out of the way, Seidel was the only player preventing an all-German heads-up encounter. He doubled through Holz for the second time but wasn't as fortunate when all-in against Kempe. Once again Kempe ending up in a dominating position when his [Ah] [Td] crushed the [Ac] [7d] of Seidel, and five community cards later he was out.
2:1 Chip Lead For Kempe

Seidel's axe meant Kempe started heads-up with a 2:1 chip leader over his friend Holz. They were even not long after when the pair got it in on the [Td] [9c] [4d] flop in an unraised pot with Kempe holding the top pair and Holz holding pocket kings.
Holz used that momentum to put some distance between the pair in the next few orbits, but Kempe fought back doubling with [Ah] [Qs] v [Kc] [Qd]. As the pair battled one way and then the next, they decided to skip Level 26 (a decision that leads me to believe the couple had agreed on a deal). Not long after, Kempe was eventually thrust into the middle of that winner's photo after an all-in confrontation saw his pocket eights dwarf the pocket deuces of Holz.
Although Holz couldn't finish the job, there was a reason he had a smile on his face. He picked up $3.5m for his runner-up spot, making it the largest score of his career and the third seven-figure score since Dec 2015. Kempe wins the $5m first prize and who knows what this will do for a career that was already projecting north before he even sat down.
The Million Dollar Freeroll
Poker Central promised a million bucks to anyone who could correctly predict the order of the merit.
Looking at the final positions, I doubt anyone got anywhere near it. One lucky winner will pick up a check for $10,000 for getting the closest via a points system created by the organisers.
Super High Roller Bowl Results
1st. Rainer Kempe – $5,000,000
2nd. Fedor Holz – $3,500,000
3rd. Erik Seidel – $2,400,000
4th. Phil Hellmuth – $1,600,000
5th. Matt Berkey – $1,100,000
6th. Bryn Kenney – $800,000
7th. Dan Shak – $600,000