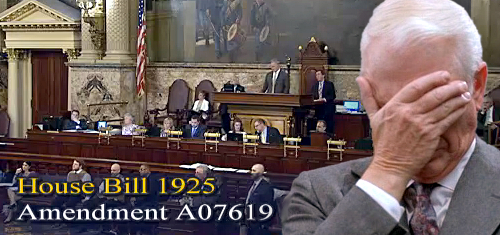 Pennsylvania's House of Representatives appeared to have rejected efforts to pass online gambling legislation on Tuesday, only to immediately perform CPR on the bill for further debate at a later date.
After prolonged debate and furious filing of legislative amendments, the House voted 107 to 81 against the omnibus gaming legislation proposed by Rep. John Payne, whose oratory skills failed to sway legislators regarding the need to modernize the state's gaming laws.
However, a motion to reconsider the vote was immediately filed and was eventually approved by an even larger majority. The contradictory votes reflected the confusion that reigned on the floor regarding a pair of competing amendments, with video gaming terminals (VGT) playing the starring role.
Payne's original HB 649 legislation was passed over in favor of a proposed amendment to HB 1925, a bill introduced in March to clarify how the state spends its gaming tax revenue. The amendments have yet to be posted online, but according to Payne's introductory speech, amendment 7619 was the "mirror" of his HB 649 bill.
Payne said amendment 7619 concerned online gambling, tablet gaming in casinos, online gambling and slots at airports, slots at off-track betting parlors, 24-hour liquor sales at brick-and-mortar casinos and other changes. In response to a question from a fellow rep, Payne confirmed that VGTs were not part of his amendment.
An earlier amendment (7622) introduced by Rep. Mark Mustio that did include VGTs was voted down prior to Payne putting forward his 7619. This other amendment was also revived via a motion to reconsider, further underscoring the confusion that legislators appear to have suffered in determining just what they'd been voting for or against.
One legislator attempted to suggest that allowing local bars and taverns to host VGTs was akin to supporting "Main Street" while supporting online gambling would be of primary benefit to "Wall Street," and insisted that he would be supporting "Main Street over Wall Street."
Other reps attempted to express their reasons for voting certain ways, which didn't necessarily shed much light on the whole process. One rep claimed he didn't want online gambling because he feared problem gamblers would bring themselves to ruin by gambling with their credit cards.
This claim was debunked by Rep. George Dunbar, who pointed out that online gambling via credit card was already happening via any number of internationally licensed operators. Dunbar got off the day's best line by capping his speech with the phrase: "Free my poker!"
Payne expressed frustration that some of his colleagues were still in the dark as to what was at stake, pointing out that there'd been some 47 different hearings and meetings on the subject. Payne also brushed back the notion that he was pro-gambling, saying the only thing he was in favor of was "business."
It remains to be seen what will happen when legislators reconvene on Wednesday. The VGT issue is said to be a non-starter in the state senate, meaning even if some House compromise emerges that includes both VGTs and online gambling, the VGT language could prove a gamble too far for state senators.
Comments