Justin Bonomo tried to make a statement at the recent European Poker Tour Grand Final in Monte Carlo by refusing to take a winners photo after taking down a side event, but did his intentions go far enough?
Justin Bonomo, the Global Poker League (GPL) London Royal's star, made it very clear to his 30k+ Twitter followers that he would not be playing 'media' ball with PokerStars officials during his time competing at the European Poker Tour (EPT) Grand Final in Monte Carlo in protest to what he believes are actions taken by PokerStars that 'defrauded many thousands of players.'
2/2: At this point in time, I see no reason to do unpaid promotional work from a company that has defrauded many thousands of players

— Justin Bonomo (@JustinBonomo) April 28, 2016
Generally, his announcement wouldn't make much of a ripple. The EPT Grand Final attracts the greatest poker players in the world. Bonomo is a great player, and provides an insightful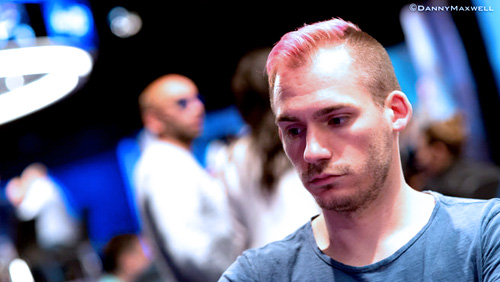 interview, but there are plenty more sharks in the sea. Those operating the PokerStars blog, and doing the live reporting for PokerNews would have avoided him like my local shops like to avoid handling £50 notes. Bonomo wouldn't have gone looking for them either. Things changed when he entered Event #47: €2,200 No-Limit Hold'em and was about to face Ahmed Fatah in heads-up action after the Italian Francesco Di Profio departed in third. The pair began to cut a deal. Fatah took €10,000 more than Bonomo, because he had the chip lead, but he allowed Bonomo to book the win and the trophy. Fatah didn't want the limelight, but Bonomo was desperate for it. In true Dan Colman style, Bonomo saw the opportunity to use his five minutes of fame to cause PokerStars some grief in reaction to the injustice he believes they have doled out to him and his fellow players. Unfortunately, he hadn't read the fine print.
Part of the deal is that I get the trophy and the win, which I really wanted so I can say fuck you to Amaya and refuse to do a winner photo — Justin Bonomo (@JustinBonomo) May 4, 2016
Reading between the 'Twitter lines,' it appears Bonomo told PokerStars officials about his 'no camera zone.' A floor person then said he wouldn't get his €110,600 prize money if he didn't say, 'Cheese!"
Afatwyahwhrhsjqo. Floor man says they won't pay me if I don't do the photo 🙁

— Justin Bonomo (@JustinBonomo) May 4, 2016
Upon reflection, Bonomo thought the winners photo might give him an opportunity to pile on the pressure so he came up with this quite decent three-bet.
This sign I made is why they're not making me take a winner's photo: pic.twitter.com/v81Fw37kCq — Justin Bonomo (@JustinBonomo) May 4, 2016
PokerStars folded.
Or so we thought.
Then came the four-bet.
Update on winner's photo situation: They say they would never not-pay, but I am banned from all PS Live events if I don't take the photo

— Justin Bonomo (@JustinBonomo) May 5, 2016
Bonomo folded.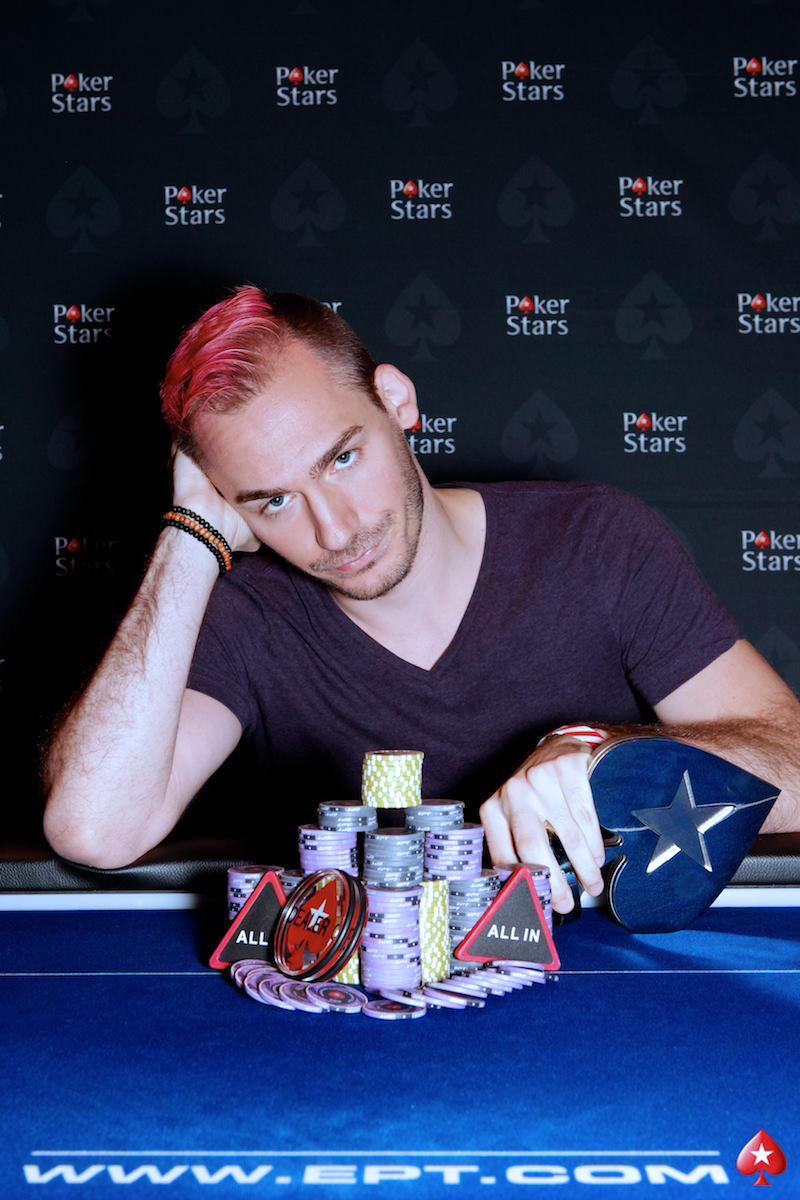 However, it seems likely that PokerStars was bluffing.
I reached out to a PokerStars representative who told me that he could 'broadly confirm that we've never banned a player to my knowledge from PSLive events for not taking a photo.'
I do admit, it does sound a little harsh.
Here is the official word from PokerStars:
"The European Poker Tour has not – and will not – withhold player funds for declining to take part in a photograph. 
"As a condition of participating in the PokerStars and Monte-Carlo Casino European Poker Tour Grand Final, all players agreed "to carry out any reasonable request by PSLive during any Event in which you participate to assist in publicising, televising, webcasting or promoting the Event."  This rule is long-standing and available online at http://www.europeanpokertour.com/about/rules/
"PSLive events are only open to players who agree to abide by the rules. If a player declares that they will not abide by the rules that govern PSLive events, then they will obviously not be able to play in future PSLive events."
Was Justin Bonomo Right to Protest?
Leafing through 2+2 and social media, once you have thrown the 'I don't like Justin Bonomo crap' over the rail, you are left with a viewpoint that seems to fall somewhere in the middle.
There are those that support his decision not to do 'unpaid promotional work' (despite every player contractually obliged to), and there are those that feel he is taking the wrong type of action, and doesn't go far enough. Most of these people believe Bonomo is slightly hypocritical.
The view from the hypocrisy corner is that Bonomo is already promoting PokerStars by appearing in their event. There are also fewer tears spilt because Bonomo paid rake to play in a competition organised by the very company his protest was arranged to hurt.
"Playing the event but not taking a picture is a very lame way to protest. It's like owning an iPhone, but not using Safari, because of Capitalism." Wrote 2+2 poster DaveShoelace.
Talal 'raidalot' Shakerchi admitted in the same thread that he decided not to compete at the EPT Grand Final because he, like Bonomo, was also angry at the way PokerStars had treated their customers. Shakerchi then went on to support Bonomo when he wrote, "If you're a tournament poker pro it's not practical to ply your trade without paying rake to PS as they have a near-monopoly position online and control some of the most important live events especially MC and PCA."
Money v Values
Isn't this a simple matter of money?
When the online poker industry collapsed in the United States, there were people who lost their income overnight. Thousands of players had to do something and quickly otherwise bills were not going to get paid, the food was not going to end up on tables, and life was about to get a lot more complicated.
And what happened to those thousands of players?
Obviously, I don't know, but at a guess, I imagine the vast majority of them survived. Most of them found different games to play in, and some would have changed careers altogether.
PokerStars might have a near-monopoly but had Bonomo received a lifetime ban, both online and live; I fully believe he would have continued to play poker professionally, and would have found different games to beat.
Complaining about PokerStars and continuing to pay them rake is the path of least resistance. The myriad of excuses that come with financial responsibility conveniently clears the way. However, in the end, it's an excuse to mask the fear of doing the right thing and leaving.
PokerStars have done nothing wrong in this instance. Reading through their terms and conditions they were quite in their rights to remind Bonomo that there would be consequences should he refuse to take his photo.
I think Bonomo's stance is admirable, in particular, the lengths he went to try and increase awareness of behaviour that apparently goes against his values and those of his peers.
But for me, it keeps coming back to the same thing, and that's taking 100% responsibility for your life. Complaining about the way PokerStars treats its customers, and then playing on the site, because you need the money, is not doing that. It's passing responsibility. There is a lot of money in the world. There are a lot of ways to get hold of it. PokerStars don't hold the near-monopoly on all of it.