Liv Boeree is scheduled to talk at the Oxford Union; the Women in Poker Hall of Fame open voting up to the members of the public for the first time, and Cate Hall sits on top the Global Poker League Female Rankings.
The Women in Poker Hall of Fame (WiPHOF) have changed their voting system.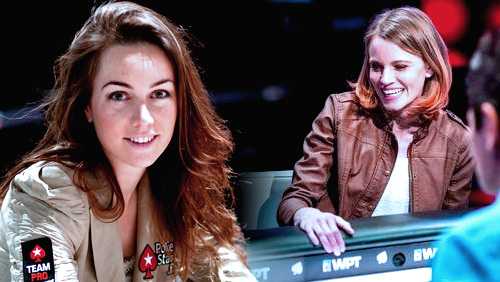 For the past eight years, the short list for the WiPHOF has been formed by members of the public but that's as far as their involvement went. The final decision to elect someone into the WiPHOF has always been in the hands of the Board of Directors, inductees and selected media members.
All that will change for the class of 2016 after the WiPHOF decided to deepen the role of the general public by allowing them to have a say in the final vote. If you want to get involved then press the following link and click on the name of the person you believe is more deserving of the award.
Seven women have made the cut for this year's shortlist.
Debbie Burkhead
Debbie Burkhead has competed in the poker industry since 1995 as well as working with several media outlets including Poker Player, and Ante Up magazine. She also serves on the Board of Directors of the WiPHOF.
Karina Jett
Karina Jett has been racking up live tournament cashes since 2002 earning close to $500,000. She has four World Series of Poker (WSOP) final tables under her belt including a runner-up finish in the $1,000 Ladies Championship in 2011 where she earned $119,010. She also serves on the WiPHOF board of directors.
Victoria Coren Mitchell
Victoria Coren Mitchell is the only player ever to win two European Poker Tour (EPT) Main Event titles, is a former member of Team PokerStars Pro, and has over $2.4m in live tournament earnings. She is also an accomplished author and TV presenter. Unfortunately, she is also British so there is more chance of them inducting Shaun Deeb.
Mandy Glogow
Mandy Glogow has helped attract more people into poker than most of us will ever dream of. She is the supervising producer of the WPT television show aired on FS1 and has played a significant role in the development of women's involvement in poker with the creation of the WPT Anchor position that saw Amanda Leatherman rise to fame and is now the hot seat belonging to Lynn Gilmartin.
Shirley Rosario
Shirley Rosario was the owner of the PokerBabes.com website before selling it to PokerStars in 2010. She has close to $450,000 in live tournament earnings including a final table appearance in the $10,000 Limit Omaha Hi/Lo event in the 2014 WSOP finishing fourth for $146,522.
Esther Rossi
Esther Rossi is the youngest female poker player to rack up WSOP cashes in the past three decades, making six WSOP final tables, and earning over $300,000 in live tournament dollars.
Jennifer Tilly
Actress Jennifer Tilly needs no introduction but I need to write something about her to get my word count up. The accomplished actress and poker player is a WSOP bracelet winner after winning the 2005 Ladies Championship for $158,335. She has since gone on to earn close to a million dollars in live tournament earnings and is a mainstay in the live televised cash games.
The voting process is very transparent. If previous years are a good indicator of things to come then, two women will be inducted this year. As I type there have been 932 votes and 33% of them, have gone to Shirley Rosario. Mandy Glogow is in second place with 26% of the votes.
You have until Friday, 13 May to have your say.
Liv Boeree Appears at the Oxford Union
Liv Boeree could start a career as a public speaker at this rate.
The PokerStars Team Pro star, Raising for Effective Giving (REG) board member, and Global Poker League (GPL) London Royals team manager, will be heading to the prestigious Oxford Union on 10 May to talk to students about, 'poker, life, and everything in between.'
Boeree will be in good company. Other people on the list to speak this month include the former boxing world heavyweight champion and kitchen equipment genius George Foreman, the beefiest Batman to date Ben Affleck, and former Spice Girl Geri Halliwell.
Cate Hall Rises to the Top of the Female GPI Rankings
The ad for Boeree's appearance in Oxford celebrates her as the #1 Female in the Global Poker Index (GPI), but Cate Hall has temporarily tipped that tiara from her head.
Hall has had an outstanding 12-months after switching from live cash games to live tournaments – a decision she took to enable her to reach a wider audience of female poker players.
Since the switch Hall has made two WPT Main Event final tables; cashed in seven WPT Main Events: and ran Mike Shariati close to picking up the WPT Player of the Year award.
GPI Female Rankings Top Five
1. Cate Hall – 2,202.98 pts.
2. Liv Boeree – 1,953.03 pts.
3. Loni Harwood – 1,797.98 pts.
4. Kitty Kuo – 1,796.93 pts.
5. Xuan Liu – 1,556.65 pts.