Three poker tales with a difference as Fatima Moreira de Melo gives her vocal chords an airing, David Williams gives his apron a good cleaning, and Pierre Neuville shines those pearly whites.
Fatima Moreira de Melo is a polymath.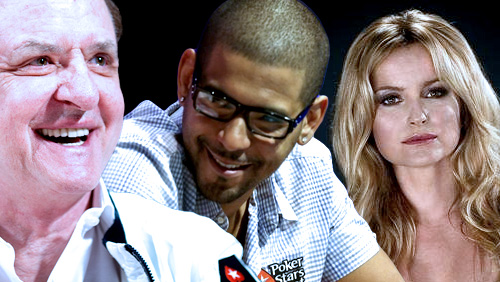 I am serious; this girl can do anything.
She is an Olympic gold medallist. She represents PokerStars. She is a television personality who once won the Dutch Survivor show, Expeditie Robinson. She is a philanthropist. She is a snake charmer. And in the past few weeks, she has become a little warbler.
The Dutch maestro appeared on the Dutch Reality TV show It Takes 2! Celebrities pair up with expert singers to compete in a singing competition. Moreira de Melo paired with the former Dutch Eurovision Song contestant Glennis Grace. She made it to the finals, but couldn't pinch the win.
Here she is belting out one of my favourite hits: Aint Nobody by Chaka Khan.
Moreira de Melo is currently representing PokerStars at the European Poker Tour (EPT) Grand Final.
David Williams and the Chef
If anyone has reaped the rewards of peaking during the poker boom, it's David Williams. The World Series of Poker (WSOP) bracelet winner and World Poker Tour (WPT) Main Event winner hasn't won anything of note for six years, but that hasn't stopped him from being selected from the poker glitterati whenever the opportunity comes knocking. The man must have a great agent.
Williams is set to star in the seventh season of MasterChef on Fox. Gordon Ramsay and Christina Tosi host. Wolfgang Puck, Aaron Sanchez, Edward Lee, Kevin Sbraga, and Richard Blais will judge.
The former WSOP Main Event runner-up will feature alongside 39 other amateur chefs vying for a cookbook deal and $250,000 first prize. The show starts in June. Ramsay signed a two-year deal with Fox last year.
In the first advert for the show, Ramsay, who is notorious for his unsympathetic outbursts, is seen trying to convince Williams not to quit. Williams got lucky. Ramsay is usually spitting a series of Wolfgang Pucks in your face.
Are you ready for the most intense season of #MasterChef yet? The new season starts Wednesday, June 1 on @FOXTV!https://t.co/mMil8ue14P

— MasterChef (@MASTERCHEFonFOX) 30 April 2016
Pierre Neuville and the Dentist
I'm a fan of the entrepreneur James Altucher. He teaches you to flex your idea muscle by thinking of 10 ideas per day, including a form of idea creation known as Idea Sex.
I have a feeling Pierre Neuville is also a big fan.
The WSOP November Niner has somehow managed to have idea sex with poker and dentistry and come up with a sponsorship deal which must rank as a first of its kind.
Neuville has teamed up with German dentist Dr. Jochem Heibach, Belgian poker player Fabrice Halleux, and his wife Claudine Neuville, to create Team Dental Suite Cologne carrying the tagline 'Making Winners Smile.'
The team is currently at the EPT Grand Final in Monte Carlo where they are promoting Dr. Heibach's dental treatment, including flights to Cologne, and a promise for all treatment to be carried out within 48hrs.