By now you've learned and read about Steve Kerr winning Coach of the Year award, despite only having coached for half the season due to a chronic back injury that required extensive recovery.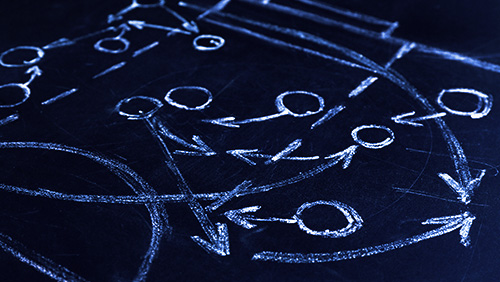 I'm not going to rant and rave about Kerr as the recipient because there's part of me that believes he deserves it. Yes, he wasn't around till the All-Star break, but it goes without saying that he instilled a system and culture that resonated wildly with his roster. There's no denying his impact on this 73-win team.
Even saying that, there's another part of me that's all, "WTF?! He only coached for half the year!" It's hard to give the award to anyone else when the Golden State Warriors broke a record nobody thought anyone could, so I can understand why the pollsters were in a tough position. But I think that there's a better way to acknowledge other coaches.
There are arguments for others in the conversation, especially Gregg Popovich, who has reigned supreme as the best coach in the business.
The simple solution: appoint a coach for the honorary All-NBA Teams.
I think it's a totally fair compromise because it always allows us to honor up to two more coaches in the discussion. There aren't many angles in which a Coach of the Year wouldn't be the First All-NBA Team coach, but there's definitely no shame in acknowledging the "best coach of the year" and the "best coach in general". It allows for some wiggle room, the same way that the NFL has the Bert Bell Award for Player of the Year and the NFL MVP award (for the record, Aaron Rodgers won the MVP in 2014 and J.J. Watt won the Bert Bell. Cam Newton won both in 2015. See what I mean?)
The NBA made the change to three All-NBA teams at the end of the 1988-89 season as a result of the surging volume of talent that deserved proper recognition. We're at the point with coaching in the NBA. It's valued these days.
So who do I think are the most deserving First, Second and Third Team coaches for the All-NBA rosters?
ALL-NBA FIRST TEAM COACH – Gregg Popovich (Spurs)
One of the elements that went undersold this season was that the Spurs left a shot at the 73-9 record on the table. They could've absolutely gone for it. Instead they finished at 67-15 after punting several games during the regular season, realizing that the ultimate goal of a championship was more important. Even being as conservative as Popovich is known to be, they still finished with the seventh best record of all time.
The Spurs' chances to win the championship have also skyrocketed because of what Pop has done with Kawhi Leonard, turning him to a ferocious reincarnation of Scottie Pippen. The Spurs now have +180 odds to win the NBA title, with the Warriors showing just +145. A lot of that is due to their coach keeping his much older roster fully healthy and ready for the gauntlet of the playoffs.
Simply put, there's no better coach in the league than Popovich. He might not have done the best job "this year", but he's undeniably the first coach you call to build a franchise.
It should go without saying that Pop is the best coach in the league. We all know this. That doesn't make him an automatic entry as the First Team coach. He could have down years, a bad injury or just some awful luck that disables him from registering one of the better records in any given season.
But for the totality of this season? My vote goes to Pop.
ALL-NBA SECOND TEAM COACH – Steve Kerr (Warriors)
I already discussed this at great length above so there's no reason in ramping up my word count here. In any other year, Kerr would be both the Coach of the Year and (the fictitious) All-NBA First Team Coach. That's what makes this type of award cool. In a season where he was only on the bench for half the games, I just can't pull that trigger.
We won't see how good Golden State is until the next round, when they face (probably) Portland. So far so good. But we all know that they're going to be no match for San Antonio at full strength without Curry, regardless of Kerr's credentials.
Unless, of course, Kerr is that good. And believe me, it's closer than we want to admit.
ALL-NBA THIRD TEAM COACH – Terry Stotts (Blazers)
Flying well under the radar is the patchwork job that Terry Stotts did in Portland. I mean, turning this rag tag group of misfits in to something special takes a mastermind in both game planning and personality management. It's a tough task to handle the personalities of millionaires that usually make more money than you do.
Lillard and McCollum form one of the most promising backcourts of the future, but after those too the talent drop-off is immense. Stotts has done such a tremendous job with this team that he deserves a nod in some form, and coaching the All-NBA Third Team would be great. It'd always pop in the history books and spark conversations.
The Blazers hold all the cards in their series with the Clippers, especially since Chris Paul and Blake Griffin are no longer in the picture. Are Lillard and Stotts good enough to clear past the undermanned Clippers and the Curry-less Warriors?
If they are, then a Western Conference Finals appearance represents ideal vindication for Stotts as he worked through a tough season to finish fifth in a grizzled grouping. You have to be lucky to be good, and good to be lucky. Right now, Stotts is both.
Honorable Mention – Brad Stevens (Celtics)
There's no shortage of praise for Brad Stevens in NBA circles and for very good reason. Stevens turned the Celtics in to the third most efficient offense in the league during the regular season. He's ignited a cultural revolution and provided hope to a city that demands basketball greatness again. Nobody should be backing the Celtics as Eastern Conference Champions without Avery Bradley, but with him, they'd have a fighting chance. With Stevens, anything is possible. That's the kind of feeling a fan wants to get behind.
THE REST OF THE PLAYOFF TEAMS
We're still slugging our way through the first round of the playoffs. I think it's relatively ludicrous to laud the efforts of any coach other than the four mentioned above, but it's not like I don't have something to say about how the rest of the guys calling the shots in the NBA playoffs. Some have been outstanding. Unfortunately, the others have been brutal.
*odds listed are to win NBA Championship courtesy of Oddshark.com
Dwayne Casey (Raptors +3300) – I want to address this right away, because the Raptors have been a complete basket case in the first round. People will blame DeMar DeRozan's lack of defense, or Kyle Lowry's flaring elbow injury that nobody wants to talk about. But Casey deserves the blame.
His game plans for the Raptors have been straight up cowardly. Frank Vogel has forced him to push away from Lowry/DeRozan instead of leaning on them like he should. In the process, Casey's two best players have basically checked out mentally from the series. The Raptors have relied on Corey Joseph and Bismack Biyambo to close out games. I mean…you've got to be freaking kidding me.
This is the second best team in the conference. They should be outright slaying the Pacers right now, instead of hoping for some sort of miraculous, fourth quarter meltdown like they did in Game 5. If anyone still thinks that the Raptors are deserving of their 33/1 odds to win the NBA title, or upset Cleveland in the conference, they're dreaming.
The Raptors are about to live a nightmare. I don't even expect them to survive the first round. This feels like Brooklyn all over again. Even if they survive, there's no way in hell they get past the next round. Yes, Charlotte or Miami would chase this team off the court.
The sad part? Toronto's pretty damn good. There are pieces there. I don't know why Casey isn't playing James Jones at all. I don't know why Joseph and Biyambo aren't leading a brigade of relief players, and I barely recognize this team in the fourth quarter of games. You can't meddle with your lineups at this stage in the game, and that's exactly what Casey has done. The whole experiment has literally blown up in his face.
Casey's job was dependent on an Eastern Conference Finals appearance. That felt like cake two weeks ago when the playoffs started. Now it feels like an uphill battle, and one the Raptors will never overcome.
Rick Carlisle (Mavericks) – Carlisle is routinely working with less than he deserves. The sad part is that we don't know what Carlisle is capable of with a fully flushed out roster because it's never really happened. Because of Dallas's inability to land any remarkable free agents, Carlisle has been left with scraps and still somehow manages to be competitive. He's one of the top-5 coaches in the league, and is constantly overlooked because the Mavericks have exited the playoffs in the first round on four consecutive occasions. Sadly, this season was no exception.
Frank Vogel (Pacers +30000) – If you end up with Frank Vogel as your coach, you're probably pretty happy. But he's also been absolutely brutal as a coach in the playoffs. Remember his complete butchering of Game 1 during the 2014 Eastern Conference Finals, when he subbed out Roy Hibbert for no apparent reason? Well he did it again in Game 5 against Toronto by leaving his horrific bench on the floor for far too long. Vogel has these brain farts sometimes. If you're going to be known for something, it might as well be "brain farts".
Erik Spoelstra (Heat +6600) – Spoelstra gets a bad rap because he's ridden the coattails of LeBron James to two titles and was coached out of his shoes in two other finals appearances by Carlisle and Popovich. That's fair to a certain extent, but it also undermines just how good he is at his job. Every coach needs reasonable talent to work with, and if Bosh were healthy and active this post season, we'd be talking about the Heat as actual contenders. Credit goes to Spoelstra in to turning this team in to a viable contender and managing Dwyane Wade's season perfectly so that he can be a heavy impact player in the playoffs.
Doc Rivers (Clippers) – You either love Doc Rivers or you hate him. I despise how much he bitches and moans to the refs (a cultural behavior that's bled in to Blake Griffin and company), but he is a player's coach through and through. The way he handled the disastrous Donald Sterling exit has probably made him the Clippers' coach until he doesn't want the job.  As a coach, he's solid. With a need to blow up this roster this summer, we'll see how good he is as the President of Basketball Operations. Or as we usually call it, "general manager".
Tyronne Lue (Cavaliers +333) – Lue deserves as much credit for the Cavaliers' success as Channing Frye. A corpse could hold the clipboard for this team and they still would've rolled the whole Eastern Conference. We know that empirically because David Blatt was the coach for the first half.
Getting to the NBA Finals is half of logging a reasonable NBA bet in the futures market. The Cavs are a relatively good wager in the finals long term, but they're a lock as the Eastern Conference favorites with -325 odds to win. And nope, I'm not giving Lue any of the credit here. Nobody should. The guy's a blowhard.
Billy Donovan (Thunder +900) – The Thunder already took a flier bet from me right before the playoffs started at this number, and I'm still sold on it. It's mostly because of my undying affection for the combination of Kevin Durant and Russell Westbrook. It's not because of Billy Donovan. I'm not sure if he's just a more eloquent Scott Brooks. By the way, congrats to the Wizards! Also by the way, neither of those statements were meant as compliments.
Mike Budenholzer (Hawks +4000) – Speaking of Coaches of the Year…how about Mike Budenholzer? The Atlanta Hawks are good enough to contend with the Cavaliers, but I'm not sure if the former protégé of Gregg Popovich is the man to get them over the hump. His team has seemed lifeless since January of 2015. He did a masterful job retooling Atlanta last season, but this year I'm not sure we can put him in the conversation as one of the best coaches in the league. It helps to have a first round matchup against a team that can't stop your frontcourt marauders. We should simply have a better notion of what Atlanta is at this point, right?
Steve Clifford (Hornets +15000) – Clifford has been remarkably consistent in his three years as the coach of the Charlotte Hornets. This franchise has turned a corner and are on the verge of stealing their first round series against the Hornets. Clifford's been great and Charlotte is fortunate to have him. I don't have anything weird to say about the man. He's just good at his job and assembling a ruthless reserve lineup, and pairing Jeremy Lin with Kemba Walker in fourth quarters has worked wonders.
Stan Van Gundy (Pistons) – What the fiery Van Gundy has done in Detroit this year shouldn't' go unnoticed despite a sweep in the first round to the Cavaliers. The Pistons came together later in the season, and if they actually change the hack foul rule (on principle, I don't call it the 'Hack a Shaq' because I think hack foul is enough) then Andre Drummond is about to be unleashed. Detroit is looming in the background of the Eastern Conference, but we'll have to wait until next year to see if van Gundy can really make this team a spoiler.
David Joerger (Grizzlies) – Joerger was dealt the worst hand heading in to the playoffs, losing three of his best players in the forms of Marc Gasol, Mike Connelly and Tony Allen. He leaned on an ancient Vince Carter and Matt Barnes. His emotional press conference following his first round sweep against the Spurs should endear him to you if It hasn't already.
J.B. Bickerstaff (Rockets) – Easily the worst of the bunch, Bickerstaff has taken a dysfunctional team and somehow made them even more of a hot mess. In what world is a legend like Kevin McHale the problem for a basketball team? The Houston Rockets have tons of question marks heading in to this off-season, and the biggest isn't what to do with Dwight Howard. It's who replaces Bickerstaff. My vote? McHale! With a fat set of post-dated checks with the words "Because we're idiots" on that line in the bottom left corner.
Comments