The developer that is applying for Massachusetts' third and final license has failed to impress the state's gambling regulator.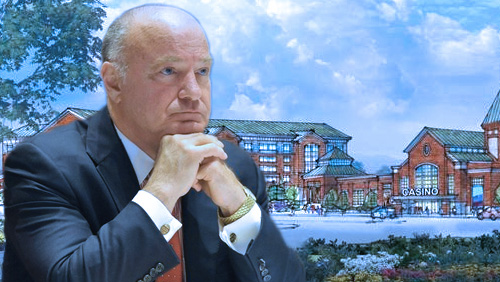 The Massachusetts Gaming Commission began its deliberations on Thursday on whether it will issue a license to Rush Street Gaming. The Chicago-based casino company partnered with Brockton businessman George Carney to form Mass Gaming & Entertainment, which will be in charge of developing and operating a $677 million resort on the Brockton Fairgrounds.
But Rush Street Gaming's owner Neil Bluhm's hope was dashed to ground when Commission Chairman Stephen Crosby ripped his proposal for not having enough "wow factor."
Crosby delivered a blistering presentation, in which he described Mass Gaming & Entertainment's project as a "convenience casino" that does not only stand out, but also doesn't pay enough homage to its would be host city and state, as well as would be unlikely to improve the surrounding area.
The MGC chairman said MGM's plan for Springfield was "genuinely ambitious" that it elicited a "broad enthusiasm" from the commission, the governor and even its casino rivals. In comparison, Crosby said his impression with Mass Gaming & Entertainment was that it wasn't compelling or committed enough.
"The approach of the applicant seemed to be: 'We will do good things. Just trust us,'" Crosby said. "This proposal has virtually none of [MGM's] features. It sits in the middle of a vast parking lot, completely isolated from any other operating part of the community, with no links or coherent strategies for broader urban renewal or economic development. In this respect, it is a great disappointment."
Mass Gaming & Entertainment will have the opportunity to respond to Crosby's criticisms.
Brockton Mayor Bill Carpenter said the casino, which promises $10.3 million in annual revenue and 1,800 local jobs, would have caused a major economic boom for his city.
"Chairman Crosby is worried about our economic future. What's our economic future without the casino?" Carpenter said, according to Wicked Local.
If it gets through the gaming commission and Crosby, the Brockton project will be the latest addition to Massachusetts' crowded southeast. The state currently has two licensed, non-tribal casino projects—MGM's $950 million Springfield casino and Wynn's $2 billion casino in Everett—and one tribal project from the Mashpee Wampanoag tribe, which recently broke ground on its $1 billion First Light Casino project in Taunton.
In addition, the region is also home to the Plainridge Park slots parlor and harness racing track, as well as a full scale casino in nearby Rhode Island, which, by the way, is also asking for its voters' approval on a second facility along the Massachusetts-Rhode Island border.