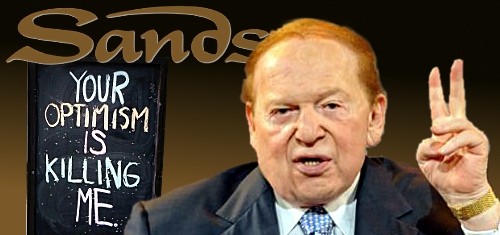 Casino operator Las Vegas Sands took a tumble in its Q1 earnings report, dragged down by Macau's inability to reverse its 22-month long decline.
For the three months ending March 31, Sands' revenue fell 9.2% to $2.72b, while earnings were off 12.7% to $917.6m and net income plunged 37.5% to $320.2m. The decline was pinned on general Macau sluggishness, VIPs getting lucky in Singapore and $35.8m in unfavorable currency fluctuations.
Sands China remains firmly stuck in reverse gear, with revenue down 7.9% to $1.63b, earnings down 2.5% to $518m and profit falling 9.6% to $311.6m.
In keeping with market trends, VIP turnover was down across the board at all four Macau properties, although the Venetian Macao's VIP turnover was down only 3.4%, far better than the double-digit declines at the other three properties, led by Sands Cotai Central's near 41% turnover decline.
Sands China prides itself on being Macau's mass market leader, but mass table drop experienced double-digit declines at three casinos. The Four Seasons was the lone outlier, as the property's mass table drop improved by 31%, although the total sum wagered was still the smallest by far of the company's four Macau casinos.
Macau hotel occupancy was also down across the board, falling to below 78% at the Venetian despite the average daily rate falling 16.3% from Q1 2015.
Marina Bay Sands in Singapore reported overall revenue down 23%, while gaming revenue was off 28.3%. The property's VIP tables reported an abysmal 1.43% VIP win rate, well below the theoretical norm and less than half the 3.41% recorded in the same quarter last year. But mass market win-per-day averaged $4.8m – a new property record in local currency terms – while hotel occupancy rose 3.1 points to 97.9%.
The picture was brighter stateside, as the two Las Vegas properties reported revenue up 2.3% to $385m despite a dearth of high rollers. An influx of party people boosted occupancy by nearly six points, which pushed room revenue up 13% and food & beverage up 7.7%. In Pennsylvania, Sands Bethlehem's revenue rose 8.6% thanks to increases in both table drop and slots handle.
Sands supremo Sheldon Adelson (pictured) repeated his mantra that he saw "signs of stabilization" in Macau, although skeptical investors pushed the stock down nearly 6% in after-hours trading. Addison noted that there have been times when naysayers had viewed Macau as down out only to be proven wrong and he expects the current situation to improve in due course.
In fact, Adelson suggested he was "completely confident, more than confident" that Macau would be on an upward trajectory by the time Sands' new $2.7b Parisian Macao opens this September. Adelson said he had "not a shadow of doubt" that the Parisian would "replicate the success" of the Venetian, the company's flagship property in Macau.