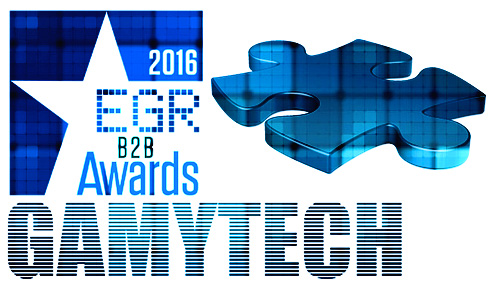 April 18, 2016- GamyTech is proud to announce they have been nominated in three categories for the upcoming EGR B2B Awards Ceremony. Organized by eGaming Review, the B2B Awards are now in their seventh year and have a reputation of recognizing the companies that power and bring innovation to the eGaming industry.
GamyTech has been nominated in three different categories including innovation in mobile, skill games supplier, and social and freeplay gaming supplier. As these are areas GamyTech prides itself in, they are thrilled to be gaining recognition for their successes in these fields. Especially exciting, is that GamyTech is a newcomer competing against billion dollar companies who won multiple categories at the 2015 awards and considers this challenge an honor.
"We are extremely excited to be recognized as an innovative solution for the eGaming industry. We have been working steadfastly for the last two years to build GamyTech into what it has become and are looking forward to continuing to shape the future and lead the industry" said CEO Jonathan Swerdlow in regards to the nominations.
The awards ceremony will be held on Wednesday, June 1, 2016 at the Pavilion at the Tower of London. The event is considered a must-attend for gaming suppliers and service providers as the event not only recognizes those leading the way in numerous eGaming fields but is also a great level of exposure and networking.