Lee Davy catches up with Damien Fearn, Managing Director, of Tipstrr, a new site designed to allow tipsters a platform to prove that they know what they are on about.

We've all been there.
Your mate knows a mate who knows a mate who knows this bookmaker who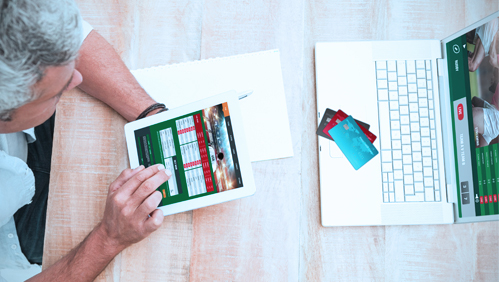 knows a dead-cert. You take a blowtorch to the block of ice containing your credit card, and as you prepare to unload it to the max you think:
"How do I know this guy knows what he's on about?"
Damien Fearn wants to help you out with that kind of mind-bending problem. The Managing Director of Tipstrr is hoping that his new enterprise will give tipsters the opportunity to prove themselves.
I caught up with him on the eve of their launch, and this is what he had to say.
1. What do you see when you look at the world of sports betting?
Sports betting is a great way to immerse yourself deeper into your favourite sports, leagues and events. There's also the satisfaction of predicting something based on your instinct or knowledge, and earning some money from it too. I've been involved in the industry now since 2010, and I'd like to think it's reputation is improving thanks to better regulation and better awareness – technology is playing a massive part in this.
2. How has it changed over the past five years?
The recent mergers and proposed mergers of big sports betting companies only go to show that it's becoming an increasingly competitive industry. From our side of things, the tech firms in the industry have upped their game. So many companies are thinking outside the box to provide useful tools, content and applications for the end user. I believe that it's a great time to be involved in the industry. The introduction and subsequent explosion of Daily Fantasy Sports shows the importance of a social element to sports betting, competing against others, leaderboards and bragging rights.
3. What service does Tipstrr provide?
Tipstrr offers a platform for people to share their sporting knowledge, or to gain an edge by following those with an exceptional sporting knowledge that can be used to make a profit from sports betting. Whether you're an expert yourself, or looking for some extra help for your weekly bets, Tipstrr is the place to be. Our team of developers have built an awesome product that makes the entire process incredibly straightforward. We find odds from 16 sports, more than 50 betting markets and thousands of events every week and make it available in one place. This allows tipsters to share the best odds with their followers, meaning everyone has the best chance of making money in the long run.
4. Where did the idea come from?
The idea came from seeing hundreds of people claiming they make phenomenal profits from their weekly bets, and seeing people trust their word without any evidence at all. There was simply no way to validate the claims of these experts, many of which had fabricated their results (something we monitored ourselves). We wanted a tool that helped the real experts prove themselves. We wanted to help them prove that they play by the rules and aren't out to provide any misleading information to dupe potential followers. By removing the ability to inflate odds, remove losing bets or add winning bets after the event; the bets you see published by the tipsters at Tipstrr.com are always ones you can go and place yourself. Trust is at the very core of our website.
5. Let's say I fancy my chances. I have been profiting from sports betting for some time now, talk me through how I can use your site to my advantage.
First of all, whether you're profitable or not, you can start using our service to track your bets. It's easier than a spreadsheet. Then, once you realise you're profitable, you already have the verified track record to show potential followers. Our system records your history with accuracy and provides relevant statistics. If you genuinely make a profit, you can then look at using Tipstrr climb the leaderboards to that people take notice of you; you 'll gain followers and have the potential to sell subscriptions to followers/users looking for some genuinely profitable advice.
6. I believe the site is free to use. Talk about the financial transactions. How do you and the tipsters earn income?
You're right; Tipstrr is free to use. We're trying to be available to all, so we don't want to restrict anyone with financial commitments or up-front payments. Tipstrr works no different to putting your product on the Apple Appstore, or Google Play; you take all money from sales less a 30% commission (10% for your first three months). But unlike Google and Apple, we don't charge a penny up front to set up an account".
7. Talk to me about your monthly leaderboard.
Our leaderboards are a lot of fun, and a great way for a tipster to get noticed as they do well. We offer all sorts of leaderboards to give our tipsters a real sense of competition. We have leaderboards based on sport, betting market, and time frame – sometimes we'll have competition specific ones too. The monthly leaderboard compares all tipsters on the platform over a one month period. We base it on overall profit, but we also offer more statistics such as return on investment – so our users can understand how good (or bad) a tipster is.
8. Do you have a view on the rise of eSports and the betting markets for them, if so what is it?
We've had our eye on eSports for a long time, and we see it as a huge opportunity that we want to be at the forefront of, so when we decided to upgrade the number of sports we offered, adding eSports was a no brainer. The coverage it's starting to receive, the money involved and its popularity makes me think it's only going to get bigger in the coming years. Saying that, I'm a little surprised US Universities are offering eSports scholarships!
We're excited about having our first eSports tipsters on the platform and seeing how they get on. Maybe we'll see them rise to the top pretty quickly.
9. The same question regarding Daily Fantasy Sports.
I wrote an article on LinkedIn a bit ago about DFS in America after a report was published about sharks making all the money at the expense of the Average Joe. I think it's a concern, but I also believe that some of the data could be a little misleading. I'm pleased to see DraftKings looking at Europe and the UK in particular, as I think it'll be well received if they do things right. With football (soccer) being the main sport, I believe that they'll need to work hard to optimise their offering, but I'm sure they'll do a good job, and I look forward to having a go.
It's certainly not a game of skill in my eyes, it's gambling, but at the same time, I think regulating gambling in the US would be a huge positive.
10. What next for Tipstrr.
We've a lot of ideas and plans in the pipeline, all of which will be of huge benefit to sports bettors, both novice and those that are more experienced. You can expect to see a mobile application in the not too distant future, which we think will take our user experience to the next level. We also want to start using the masses of data we have to offer some nifty tools for sports bettors, so with just one or two clicks, they can find odds on any event in the world.
We have three competitions starting up too. One for the Cheltenham Festival, one for the T20 World Cup in India and another for the Premier League. We're offering some pretty cool prizes for the winners of each of those competitions too, including a Xbox One, T20 tickets and signed memorabilia!
You can check out the new Tipstrr.com website here.
Comments